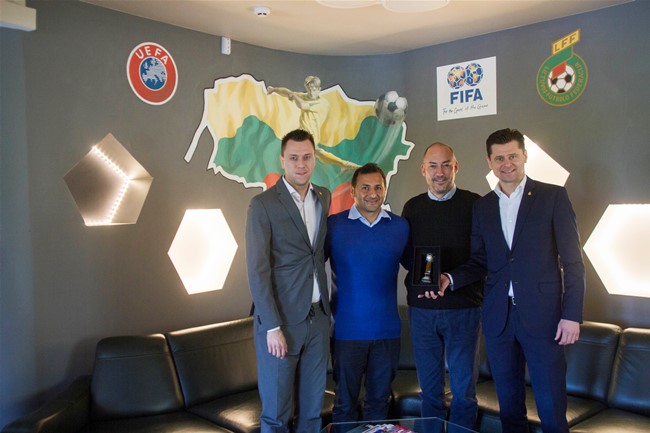 Estimated reading time:2 minutes, 23 seconds
The preparation for the FIFA Futsal World Cup 2020 in Lithuania is gathering pace. This week, FIFA representatives had a strategic meeting with Lithuanian Football Federation (LFF) management – LFF president Tomas Danilevičius and general secretary Edgaras Stankevičius – and have been visiting cities that are being considered as potential hosts for the tournament.
During a four-day visit in Lithuania, Head of FIFA Tournaments Jaime Yarza and FIFA Futsal and Beach Soccer Manager Kasra Haghighi were joined by representatives of FIFA Venue Management, Marketing, TV, and Media to inspect areas in the cities of Vilnius, Kaunas, Klaipėda, Panevėžys and Šiauliai and evaluate their perspectives to organize the FIFA Futsal World Cup 2020.
LFF President Tomas Danilevičius was in high spirits after the visit: "We can only be happy that preparation progress has already bolted, while the work coordination between FIFA and LFF is proceeding according to a previously established plan. Following the visit, we received a positive evaluation from FIFA with regards to the venues we have. The arenas would need only technical upgrades in relation to parquet, design and TV production matters. In the near future, we are going to have negotiations with arenas and local municipalities, also we are set to coordinate budget with FIFA".
"It is going to be the biggest sports event in Lithuania, hence, the perfect opportunity to promote Lithuania worldwide. Host cities will have a great chance to represent themselves globally", – said Danilevičius.
Head of FIFA Tournaments Jaime Yarza was visiting the potential host cities' arenas for the very first time and has been positively impressed. "The visit has been productive – we visited five cities and we are happy with the Arenas that seem to be ready to host the World Cup. Also, we've met a professional local organizing committee team. The most urgent thing we need to decide is which cities are going to organize the championship".
"We started (discussing) about three cities, now we have five, this is the key now to help the federation spread the idea about futsal in the country. Futsal is a dynamic sport that has become very popular lately, hence, Lithuania can expect a fantastic party. I hope Lithuanian people will not miss a chance to see it", – said Yarza.
The FIFA Futsal World Cup 2020 is due to take place in Lithuania from 12 September to 04 October 2020.
If you like the information provided, you can read more articles about global futsal by going to the top bar navigation or click here
If you like this article and would like to keep updated on Futsal news, developments, etc then please submit your email below in the Newsletter section or by clicking on the Subscribe to Futsal Focus option on the header.
Follow Futsal Focus by clicking on Facebook, Twitter or Instagram or on the social media buttons on the right sidebar.