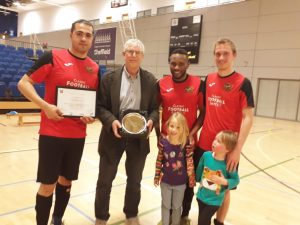 Estimated reading time:2 minutes, 44 seconds
KEVIN BRYANT RECEIVES A PLAQUE FROM SHEFFIELD FC AS RECOGNITION FOR HIS 20 YEARS INVOLVEMENT IN FUTSAL & AN INVITATION TO BE THEIR FUTSAL AMBASSADOR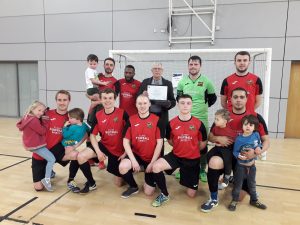 Thanks to Sheffield FC – Worlds oldest Football Club – For taking the trouble to recognize my 20 years involvement with futsal, an interest started initially by making a phone call to FIFA as FA was unresponsive to requests to support the game being played in England at the time. Scotland, Ireland, and Wales all at that point saw futsal as a South American game not likely to take off in the UK. Back then I spend hours explaining what futsal was, how the ball was heavier and the court smaller. 20 years on I seldom have to explain what futsal is, and thankfully I do not have to import futsal balls.
FIFA was most helpful, for three years they corresponded with me, initiating the Iranian national side visiting England to play the then top futsal club Tranmere Victoria. The FA suits watched with respect level of play Iran brought to the game. This again led to FIFA coming to Sheffield and meeting with the FA and other interested futsal people. An 8 team tournament was played including Tranmere and from memory the other early futsal pioneers Santos from Pendle. I took four Grimsby teams.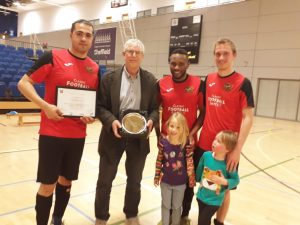 The Sheffield meeting led to the FA forming a futsal advisory group, funded with enough money to buy the tea bags but not the milk. From the advisory committee, I never missed a meeting, an invitation Futsal Cup was formed. There were 12 teams in first tournament (2002 Aldershot Army Barracks). Four from Grimsby, Sheffield, Tranmere, Santos, and an Army select team and others. Two referees from Grimsby, one from Tranmere and FIFA sent us one.
Later with a colleague, I set up the Futsal Premier League, a well-supported league with a North-South play-off final. One winner was Doncaster deaf College; the only disability team to reach a senior European open competition qualify stages.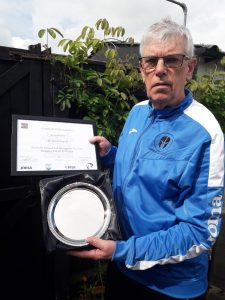 Past 20 years I have refereed 2500+ matches, seen three Grimsby players play for England, one referee attain FIFA status and three others referee FA National League. Add to this 20 years coaching futsal and even I start to realize I might be wedded to the game.
I am not a great believer in re-inventing the wheel; as a consequence, I have brought many top coaches to Grimsby to show us how they the Spanish and Brazilians coach the game.
Never far out of the picture, whether it's been bringing a team into Premier League or delivering coaching sessions has been Sheffield FC. To be asked to be their Futsal Ambassador and to receive a plaque from them in recognition of the past twenty years means an awful lot.
You can visit Sheffield FC Futsal website here: http://sheffieldfutsalclub.co.uk/
If you like this the information provided, you can read more articles about Futsal by going to the top bar navigation or click here
If you like this article and would like to keep updated on Futsal news, developments, etc then please submit your email below in the Newsletter section or by clicking on the Subscribe to Futsal Focus option on the header.
Follow Futsal Focus by clicking on Facebook, Twitter or Instagram or on the social media buttons on the right sidebar.