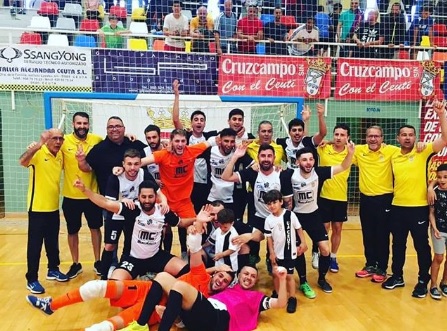 Estimated reading time:3 minutes, 1 second
England Futsal International Liam Palfreeman is a (LNFS) Liga Nacional de Futbol Sala Segunda (Second) Division B champion with Sociedad Deportiva Union Africa Ceuti (UA Ceuti).
To claim the title, UA Ceuti defeated last year's champions Xerez, 6-1 and then followed this with their most recent 3-1 victory over El Ejido to claim their status as champions. Now, the club is only two games away in the playoffs from potentially securing promotion and a place in the Segunda Division. Below is the league table: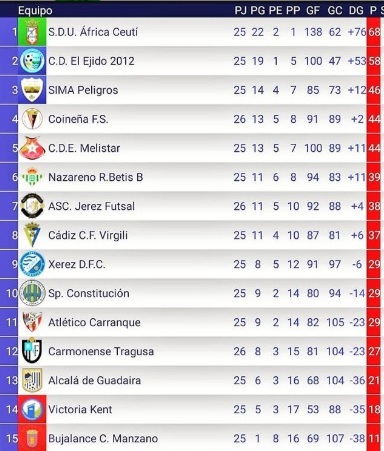 Liam joined the Segunda B champions halfway through their season and was slowly integrated into the team. His game time increased over this period, leading to ten appearances and scoring 4 goals. His achievement has to be applauded especially due to the road he has taken to get this far. Liam was introduced to futsal through his teacher Craig Adey who asked him to play futsal for his national league team called Team Newbury. Reflecting on this experience when talking to Futsal Focus, Liam said, "My first game was against Loughborough University Futsal Club who were one of the best teams at the time, the squad included England Internationals and we got beaten heavily, 13-2. Some people would walk away from that experience and think not to go back, and give up but I came away from the game with a different feeling, I really enjoyed it which was strange considering the result."
The futsal journey and Liam's talent would see him compete for former FA National Futsal League champions and the only club to have had a professional status in the U.K, Baku United. Joining Baku gave him the opportunity to train every day, play with experienced professionals from Spain, Brazil among other countries and be coached by a former Inter Movistar manager, Chema Jimenez. Liam's experience would finish with a title and his first professional contract. Unfortunately, his and all the players and staffs time at Baku would come to an end when the club's investors had to withdraw their funding due to circumstances elsewhere resulting in England's most successful club on the European stage existence coming to an end.  However, Liam would take his chances elsewhere and made his way to Italy where he played professionally for Citta di Falconara, he then returned to England to play for the country's most successful domestic champions, London Helvecia. The opportunity to play abroad came calling again and Liam made his way to Spain to play for UA Ceuti in the LNFS Segunda B Division.
Below is footage of Liam's goal against last year's champions, Xerez:
Liam is a role model for any kid, teenager or adult hoping to make it to the international stage or as a professional in the futsal industry. You can follow Liam on Instagram at @liampalfreeman and UA Ceuti at @au_ceuti
To find out more about Liam Palfreeman, click on this link to read his interview with Futsal Focus: https://www.futsalfocus.net/liam-palfreeman-england-futsal/
If you like the information provided, you can read more articles about domestic futsal by going to the top bar navigation or click here
If you like this article and would like to keep updated on Futsal news, developments etc then please submit your email below in the Newsletter section or by clicking on the Subscribe to Futsal Focus option on the header.
Follow Futsal Focus by clicking on Facebook, Twitter or Instagram or on the social media buttons on the right sidebar.