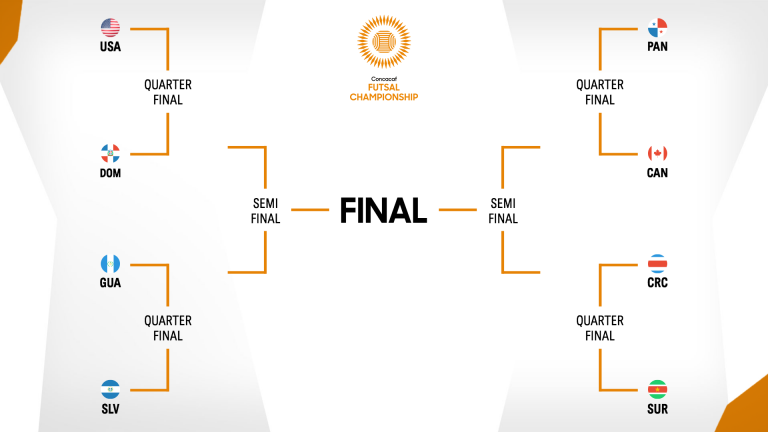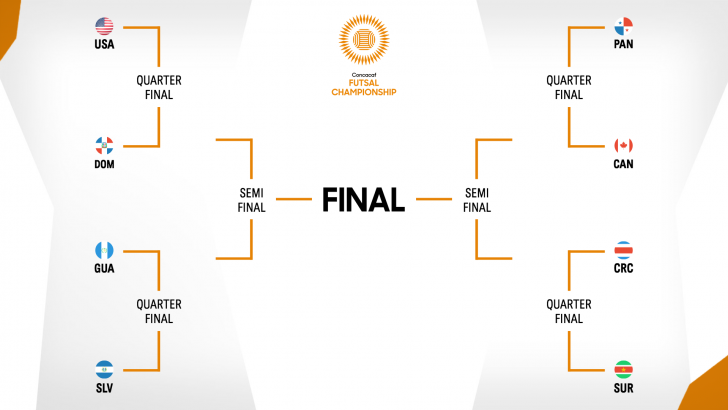 Estimated reading time:3 minutes, 59 seconds
Are you watching the CONCACAF Futsal Championships?? Because if you are not, but have no reason to be missing it, then we recommend you to not miss the quarter-finals kicking off tomorrow.
It has been a wonderful tournament so far with drama, action and great goals!!
This Friday, USA face the Dominican Republic, Guatemala will play El Salvador, Panama take on Canada and Costa Rica will compete against Suriname. This is like four cup finals in one day as the winners of each match will secure their place in the FIFA Futsal World Cup. In 2016, the nations who represented CONCACAF at the world cup were Costa Rica, Panama, Guatemala and Cuba. Cuba have already exited the competition in Group D without a single victory. Who else do you think could possibly lose their place from the three nations left from last world cup qualification at this year's quarter-final stage?
Looking at the nations who have progressed, Suriname lost their opening game against Panama heavily, 1-11, but found their stride against Mexico winning, 4-5. Mexico narrowly lost to Panama 4-5, therefore, Costa Rica can expect a Suriname team who have found their competition mindset and ready to challenge for one of the world cup slots, and a place in the Semi-Finals.  In 2016, Canada defeated their North America rivals, the USA in the qualifying stage for the region's championship but failed to progress to the Quarter-Finals in their last group game to Costa Rica losing 7-4. Now, both of the North American nations have progressed, but how far has Canada's team developed/ progressed as a squad is in question? Eight of the players featured in the last competition, and one of the players is a freestyler. The victory over a Haiti team made up of Canadian players, cannot provide us enough evidence to believe the team has what it takes to progress. Costa Rica would be a difficult match for any nation in the region but Panama who struggled to defeat Mexico could be just the benchmark match Canada needs. A victory here and a place in the world cup would be history making for the country, and hopefully convince more of the state associations to back Futsal's promotion, awareness and development.
Guatemala, like Costa Rica, are an experienced nation but is this team as strong as it use to be. Trinidad & Tobago, a team made up of football players came close to defeating Guatemala but lost out 4-3. Could El Salvador, who drew with the United States and defeated a good developing Nicaragua team be able to overcome Guatemala? Could this be the shock defeat of the competition? We wait and see with excitement and anticipation as to who shall win.
The United States of America are the surprise of the competition so far, the U.S travelled to Guatemala seeking a return to the world stage after failing to qualify in 2012 and 2016. The nation failed to reach the CONCACAF Futsal Championships in 2016, now they have won Group D and are one match away from World Cup qualification. The Dominican Republic, however, have players who have experience in Spain, Italy and France. Although they lost their opening game to Guatemala, 2-4. It doesn't mean they should be underestimated, this competition so far has shown that anything can happen, everything is there to play for and each of these games are open for anyone to win on the day. Imagine, come Saturday, we had:
The Dominican Republic
Canada
El Salvador
Suriname
or
USA
Panama
El Salvador
Costa Rica
If either of the above happened, it would be a shock to the CONCACAF futsal region, but whatever happens, this competition is one of the best CONCACAF Futsal Championships we have watched in a long time.
Related article: How important are the world cup qualifiers for U.S futsal development
You can also listen to former USA National Futsal Head Coach Keith Tozer and Kris Fernandes of Futsal Canada discuss the final group matches and the coming Quarter-Finals
You can watch all the matches via the CONCACAF Facebook page or through their app on CONCACAF GO.
You can read more articles about international futsal by going to the top navigation bar or click here
If you like this article and would like to keep updated on Futsal news, developments, etc then you can now follow Futsal Focus via Google News by following our page which will send you an alert as soon as we publish an article so please click here and follow us on Google.
You can also keep updated on Futsal news, developments, etc then please submit your email below in the Subscribe to Futsal Focus option.
Follow Futsal Focus by clicking on Facebook, Twitter, or Instagram or on the social media buttons on the website.