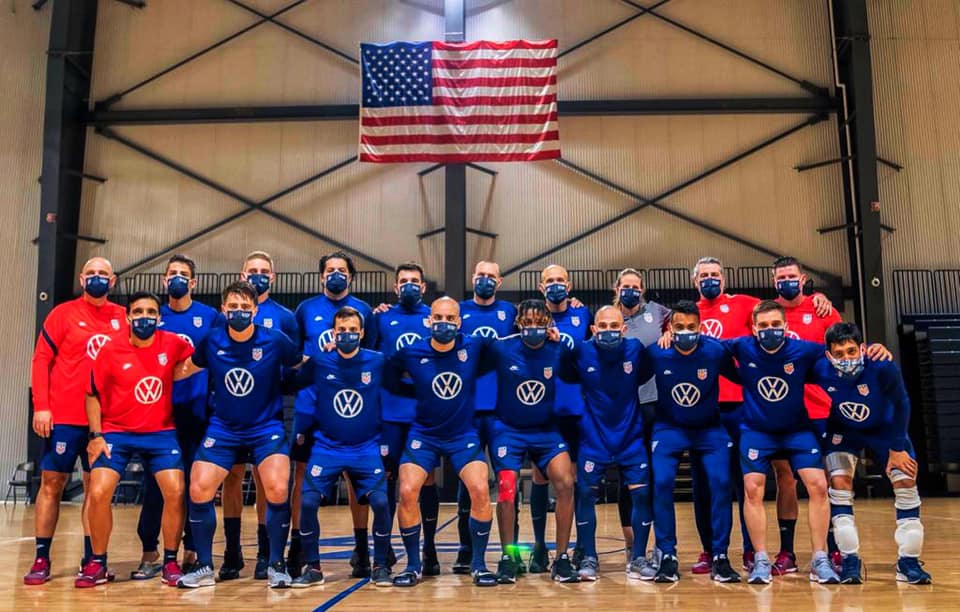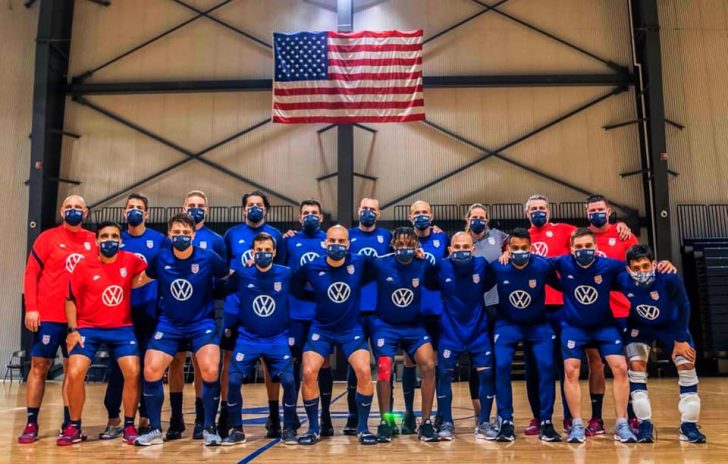 Estimated reading time:7 minutes, 30 seconds
Before, we dive into the importance of the 2021 CONCACAF Futsal Championships/ world cup qualifiers are to U.S futsal development. Here is some information that you may not know about the nation, and the team chosen by their new head coach Dusan Jakica, and his assistant coaches Otto Orf, and Pablo de Silva for the world cup qualifiers. The U.S.A won the inaugural 1996 and 2004 Concacaf Futsal Championships and finished third in 2000 and 2008. Costa Rica (2000, 2012, 2016) and Guatemala (2008) are the only other countries to win the regional championship.
After playing in five of the first six FIFA Futsal World Cups (1989, 1992, 1996, 2004 and 2008), the USA travels to Guatemala in May seeking a return to the world stage after failing to qualify in 2012 and 2016. This is the seventh Concacaf Futsal Championship and fourth time the tournament has been staged in Guatemala (1996, 2008, 2012). The other three championships were held in Costa Rica (2000, 2004, 2016).
Who is on the team this year?
GOALKEEPERS (2): 1-Eduardo Macias (Unattached; Dallas, Texas), 12-Diego Moretti (Petrarca Pavoda/ITA; Ancona, Italy)
FIXOS (3): 13-Eduardo Buenfil (Unattached; San Jose, Calif.), 5-Julian Escobar (Harrisburg Heat – MASL; Hicksville, N.Y.), 8-Guilherme Veiga (Milwaukee Wave – MASL; Milwaukee, Wisc.)
ALAS (6): 14-Luciano Gonzalez (Buldog Lucrezia/ITA; Mendoza, Argentina), 6-Jeremy Klepal (Lansing City Futsal; Lansing, Mich.), 7-Daniel Mattos (Compass United Futsal; Chicago, Ill.), 11-Tomas Pondeca (Paris Acasa/FRA; Dallas, Texas), 10-Ricardo de Maria Sobreira (Florida Tropics – MASL; Lakeland, Fla.), 4-Alencar Ventura-Junior (Safira Futsal; Tewksbury, Mass.)
PIVOS (3): 3-Raphael Araujo (NY Ecuador Futsal; Bound Brook, N.J.), 9-Everson Maciel (Safira Futsal; Milford, Conn.), 2-Zach Reget (Florida Tropics – MASL; Kenosha, Wisc.)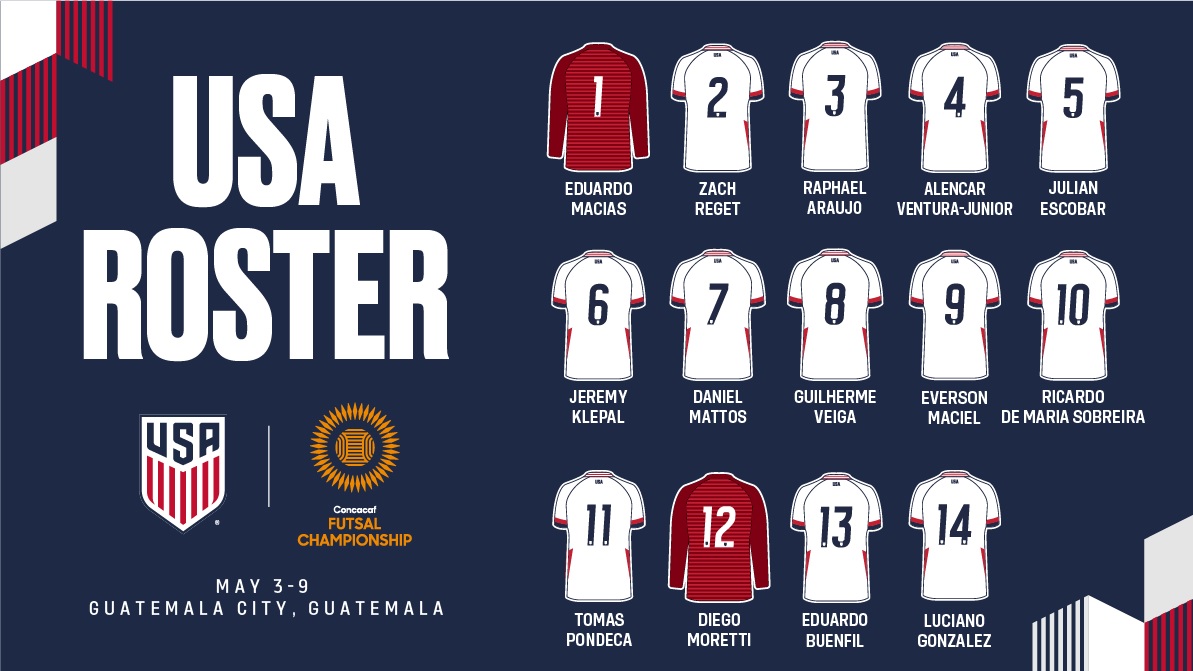 Three players on the USA roster for the world cup qualifiers play futsal in Europe: goalkeeper Diego Moretti in Italy's Serie A with Petrarca Padova, Luciano Gonzalez in Italy's Serie A/2 with Buldog Lucrezia and Tomas Podenca with Paris Acasa in the Championnat de France Futsal D1. Moretti is the second American to play professionally for a club in Padova, Italy in Serie A. Former MNT defender Alexi Lalas played on the outdoor Calcio Padova team during the 1994-95 season.
Four players currently compete professionally in the Major Arena Soccer League: Julian Escobar (Harrisburg Heat), Zach Reget and Ricardinho Sobreria (Florida Tropics) and Guilherme Veiga (Milwaukee Wave). Eduardo Macias and Daniel Mattos return from the U.S. Futsal NT that fell to Canada in a two-legged series during the 2016 Concacaf Futsal Championship Qualifiers in Costa Rica. Mattos scored in both matches.
Five players have played with teams that have participated in the Concacaf Club Futsal Championship: Futsal Club Toronto, which played in the 2014 Concacaf Club Futsal Championship, added Luciano Gonzalez for the 2015 Intercontinental Futsal Cup in Brazil. Additionally, Macias, Sobreria, Veiga and Alencar Ventura-Junior played for Elite Futsal Club (Provo, Utah), which finished second at the 2017 Concacaf Club Futsal Championship and represented the region at the 2018 Intercontinental Futsal Cup in Thailand.
Two players have coached in Major League Soccer academies in New York: Raphael Araujo coached NY Red Bulls Youth training programs and Regional Development Schools camps from 2015-17 while Julian Escobar has coached U-9 to U-15 youth programs in the NYCFC Academy since 2018. At 19, Pondeca is the youngest member of the team, graduating from Marcus High School (Texas) in 2020 before beginning his futsal career in France. The second youngest is Eduardo Buenfil (23), who played four years at San JState University and is set to graduate in late May.
Why are the qualifiers important to the U.S?
Of course, the qualifiers are important to every participating nation but in the case of the United States, the nation is on the verge of a futsal explosion and success at the Concacaf Futsal Championships could be the spark and the light the sport needs. If you don't know what is happening in the United States, here is a short breakdown:
Futsal has been played in America for decades due to the work of organizations such as U.S Futsal, U.S Youth Futsal, United Futsal among others then when you take in your immigrant population, participation is estimated to be over 300,000 though it could be more
U.S Hall of Famers such as Joe Machnik, Anson Dorrance, and former players like Cobi Jones, Landon Donavon, Claudio Reyna among many others are endorsing the game, its benefits to football and as a career in its own right
U.S Youth Soccer are now endorsing the sport and want to develop it across their membership of close to 3 million participants and 1 million administrators according to their director leading on futsal development for the organisation,  Tom Condone
U.S Soccer Foundation wants to link up with futsal providers to utilise their mini-pitch development happening across the nation
Mark Cuban is the principal owner of the Professional Futsal League and Keith Tozer their commissioner that will launch in the U.S who have sold franchise club licenses to the LA Lakers among others
MLS clubs are developing futsal courts across the country
MLS club Houston Dynamo are interested in combining the Soccer Starts at Home mythology with Futsal as a natural stepping stone and their are piloting this at a KIPP school in Houston with the goal of launching it across the KIPP school system in the U.S
More state YMCAs are starting to develop the sport
These are just a number of the developments happening we can discuss, but there are others in progress that we unfortunately cannot mention yet out of respect to our network.  However, if the U.S national futsal team were to qualify for the world cup, the developments mentioned above could use this success to assist their own goals. Hopefully, this achievement would encourage U.S Soccer to support the sport more, and engage the media helping to ignite the sport's development awareness, coverage and promotion further. To get U.S Soccer's increased attention and support, success on the court is imperative. The USA will face El Salvador, Nicaragua and Cuba in Group D. After round-robin group play, the top two teams from each of the four groups will advance to the quarterfinals. The four semifinalists will earn a berth at the 2021 FIFA Futsal World Cup in Lithuania this September. The group is not an easy one, Cuba qualified for the last world cup, Nicaragua won the bronze at the last Central American Games in 2017 and this is a first for El Salvador to reach this stage of the competition.
Looking ahead to the competition, and knowing how important the competition could be if the team were successful, how does their head coach feel about his team? Talking to the U.S Soccer website, this is what Dusan Jakica said,
"We had many difficult decisions in choosing the roster that will represent the U.S. in Guatemala, having evaluated over 600 players since September 2019– when we started preparation for this tournament," said Jakica. "I want to thank all the players who participated- we now have a wide base of players and great potential for the future. We opted for players who at this point we think can bring us what we want. I am very excited and confident that we will play well in Guatemala."
"Covid significantly disrupted our plans, but it also disrupted the plans of other teams. While we did not have the preparation period we wanted, I expect that we will provide good games in Guatemala and the U.S. Futsal National Team will play real, modern futsal."
Before, the team took off to Guatemala assistant coach Otto Orf posted on social media:
"Today our journey begins as we put our efforts of the past 18 months to the test in the 2021 CONCACAF Futsal championships in Guatemala City, Guatemala. Thank you to all those players and supporters who contributed to the cause. Let's go USA"
Where can you watch the U.S play?
Fans in the U.S. can watch all matches on the official Concacaf app. Fans will also be able to follow the team on social media via Facebook, Twitter (@ussoccer_ent and @ussoccer) and Instagram (@ussoccer and @ussoccer_pnt). Other options:
Main picture: Otto Orf
You can read more articles about international futsal by going to the top navigation bar or click here
If you like this article and would like to keep updated on Futsal news, developments, etc then you can now follow Futsal Focus via Google News by following our page which will send you an alert as soon as we publish an article so please click here and follow us on Google.
You can also keep updated on Futsal news, developments, etc then please submit your email below in the Subscribe to Futsal Focus option.
Follow Futsal Focus by clicking on Facebook, Twitter, or Instagram or on the social media buttons on the website.