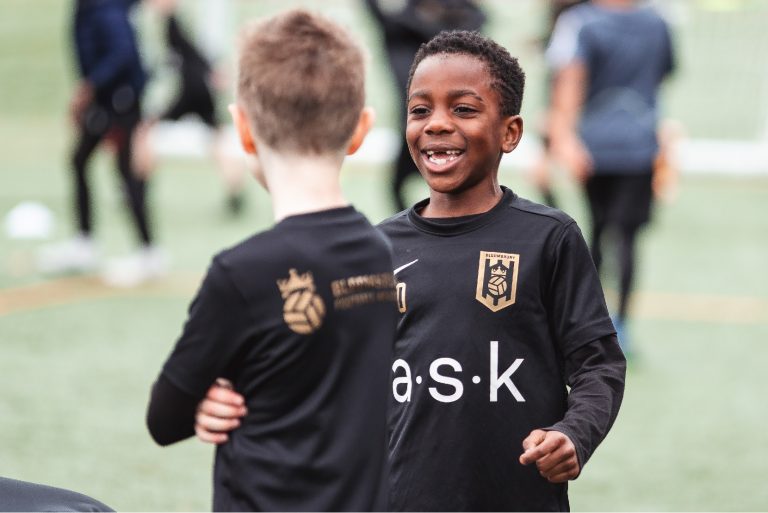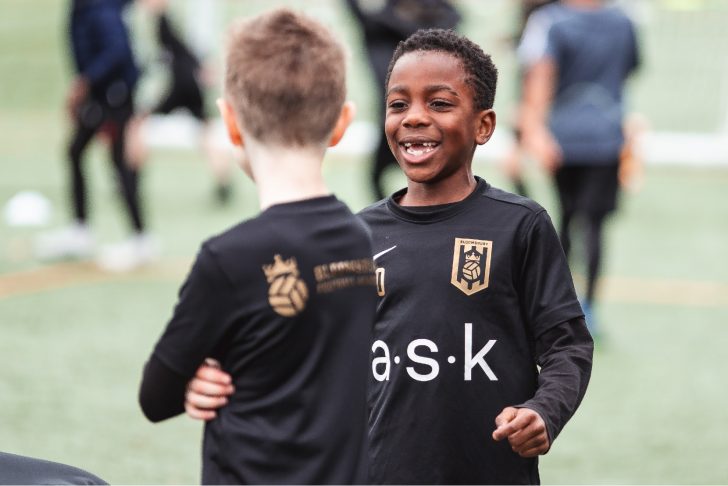 Estimated reading time:11 minutes, 27 seconds
Today, we are delighted to be interviewing the founder and CEO of Bloomsbury Football, Charlie Hyman.
The Bloomsbury Football Foundation is a charity that uses the power of football to improve the lives of young people. Founded in 2018, Bloomsbury Football are now one of the largest providers of free to access Football in Central London, working with 3000 children every week. In 2021, Charlie was recognised as a Sport Industry NextGen Leader.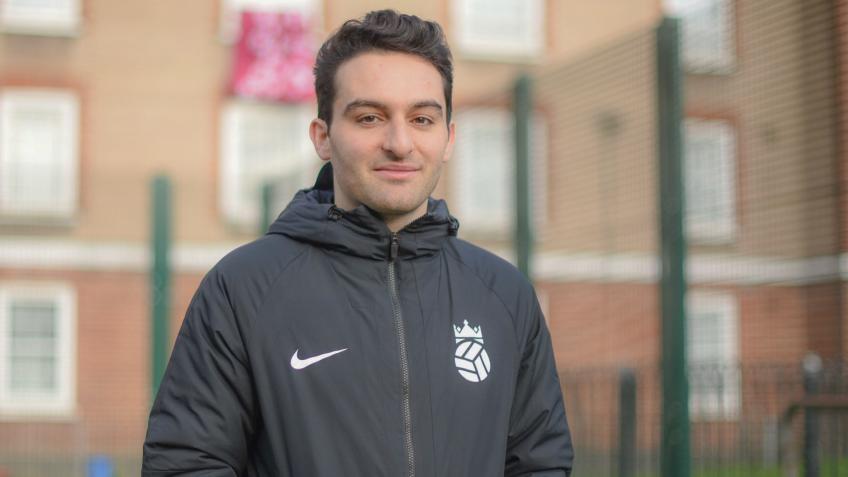 I came across Charlie on LinkedIn; his organization collect used football boots and either sale them to raise money or provide them to children who need them. This action sparked a conversation between Charlie and I because this is an initiative, I felt futsal clubs should look at as well when it comes to the right footwear for children if their parents cannot afford them. From this conversation, Charlie mentioned that he was also a futsal player, and involved with Pro Futsal London which led to this interview. Charlie and I discuss how futsal clubs could implemented what he has done into their club's to help their communities, grow their brand awareness and appreciation whilst also embedding themselves as a part of their community.
FF: Charlie, before we start to talk about Bloomsbury Football, I want our readers to get to know about you. Therefore, can you please start by telling us a bit about your background, what drives you and where did the Bloomsbury idea come from?
CH: I spent a few years volunteering in youth football and saw two key issues that needed to change. The first was that the quality was not there. Flat footballs, flooded pitches, unqualified coaches. These were all just accepted. The second was children being priced out of playing. The social divisions within the school system were even more prominent in youth sport. My aim with Bloomsbury is to make access to exceptional football equal.
FF: Starting an idea is daunting for anyone, how did you get the ball rolling and attract the support you needed to get Bloomsbury Football Foundation off the ground?
CH: I was in a café and happened to bump into two parents of children I'd coached in the past. They were looking for a club for their children that had high standards and was socially inclusive. Off the back of that chat, I decided to establish the Bloomsbury Football Foundation, with those two parents as two of the trustees. I coached our first training session, which was in Camden Town, and we had four children come along. It spiralled out from there into where we are today with 3000 young people every week across the range of programmes.
FF: Securing funding is not an easy process, I know this from my time at the YMCA. When it comes to these applications, did you do these yourself or pay someone with the experience to do this?
CH: I think this is something that a lot of people overlook. There is a lot of funding out there for charities – a huge range of different funders, donors, and sponsors. When I first started the charity, it was obviously just myself and I spent quite a bit of time writing and submitting applications, with very little success. I spoke to a few people who had been successful applying for grants, and either they'd been doing it for years, or they had someone writing them for them. So, I went out and found a freelance bid writer to write a handful of applications for us. Fortunately, one of those applications was successful, so we got in a few thousand pounds of funding. We now work with some charity consultants who we've been with for the past two years. We're on a monthly retainer and they support us with bid writing, but also more broadly with being financially sustainable. My advice would definitely be to get someone to help you, because it's quite a specialist skill.
FF: How did you go about identifying your target market and how did you reach them?
CH: Identifying our target market has been the easy part, it's reaching them that's the challenge. We currently run sessions for ages 3 to 16. Our target market for each session is quite clear cut, such as 7 to 9 year-olds in London. We're not interested in a child or parent who's more than, let's say three kilometres, from one of our sessions, because they're not going to travel, especially in a city like London where there's hundreds of clubs. How do you reach those people? Well, the first thing to know is that, of course, those children are your customers in so much as they're the ones who are part of the football session. But in another sense, the parent is the main customer. They decide to bring their child along. They receive the whole experience of being part of the organisation except for actually playing in the session. In terms of reaching them, we find it's mostly word of mouth. Schools has been a big part as well. If you can work within local schools, then you're seeing your target market consistently, week on week. We run sessions in primary and secondary schools, both in order to provide good quality sports provision for the school but also to try and incentivize and excite those young people about taking part in sport outside of school, in the hope that they come and attend our programmes on weekday evenings, weekends and in the holidays.
FF: What hurdles have you faced when it comes to the delivery of your programmes and ensuring that the quality is high and enjoyable for those involved?
CH: The main hurdle for delivery is definitely finding facilities. I think it's a similar story across the country, but the problem is especially bad in London. It's a huge challenge finding good pitches that are available at the right times, that are big enough to fit enough children, especially once they hit teenage years and need more space. The few facilities that are suitable are often block-booked for years. The other hurdle is finding coaches. We're lucky to have a super team, who are all extremely keen to learn and develop. We look for coaches who are outgoing and confident and inspire the children, because if you don't engage them and capture their attention, it doesn't matter how good your coaching knowledge is. Our coaches all have a great understanding of football, but first and foremost are great role models for the children and increase their love of the game.
FF: Standards and risks must always be monitored, assessed, and addressed. How have you approached this to make sure your organization is successful and continues to be, through constant improvement and identifying need?
CH: So, we have official termly and half-termly assessments where we watch coaches and give them feedback. This isn't just to make sure that risks are being covered and standards are being met, it's actually to develop the coaches, as well as our other coaches as mentors, by giving assessing and giving feedback.
We also have regular kind of chats with our team. But it mostly comes down to culture. We only bring in people who we know will fit into the culture we've got, which is one where everyone is open to receiving constructive criticism and people know that everyone around them wants to improve. We're open to working with each other, giving people real time to help them, giving feedback to try and improve the quality of what they're doing, whether that's on or off the pitch. So that, for me, is more important than official processes. Our collaborative culture develops our employees as well as setting a great example for the young people we work with.
FF: What kinds of programmes do you offer?
CH: We run a range of programmes in order to provide something for everyone. Our foundation is for children of all abilities. We also have an elite academy for our most talented players. Alongside these, we partner with schools to provide weekly football sessions. We also run a number of outreach sessions across London.
FF: Do you offer your staff education to continue their growth and development?
CH: Yes, absolutely. We have at least one formal session a week where we focus on a topic, whether that's on or off the pitch. We'll either have someone in-house presenting, which gives them a chance to practice their presentation skills, or we'll invite an expert guest in. We also have regular planning sessions where groups of coaches will get together to plan and discuss ideas. There's also a huge amount of informal growth and development that goes on, just from interactions and conversations and having the right culture in place.
We also support our coaches to complete qualifications. We fund the cost of their courses, because we know that for us to run a successful organisation with good quality programmes, we need good people and good people will only become better with the right training and development opportunities.
FF: From your experience working with a wide range of children from different background and circumstances, how do you prepare your staff to be aware of and understand the emotional needs of the children?
CH: The FA's safeguarding course touches on this. There's mental health awareness and the triggers around young people and the behaviour they display being linked to certain emotions but again it really boils down to having a workforce that care about the people we work with. Through getting to know those young people that they see every week, they pick up on needs that might be there. When a child displays particular emotions or, or their behaviour changes, a caring coach is able to pick up on that and have a conversation or act on it. There's huge number of variables that affect these young people's behaviour week on week. So, it really is about just getting to know as many of young people in as closely as we possibly can.
FF: At this stage in Futsal's development in the U.K, do you think the route you have taken to develop your foundation in your community should be the way forward? And, less of an emphasis on reaching the professional level?
CH: I think the lack of awareness of futsal is a big hurdle for the sport. It's becoming less of an issue as UK futsal grows. We're still a niche sport, and often even dedicated football fans who spend hours watching and discussing football don't know what futsal is. One way to increase awareness is through getting more people directly involved in futsal. Playing it is the easiest way to do that. Especially with young people, getting them exposed to the game early on will hopefully build a lifelong passion for it. So we need to create more opportunities for young people to play. And that means that we need good organisations running quality programmes. We need more facilities that are high quality and accessible. And, we need programmes that are affordable and local to more young people across the country. If we're going to have a fully professional league, we need to build a wider fan base. It's not going to happen in the next few years, it's going to happen over a longer period of time where we consistently grow and build awareness of the sport.
FF: Going forward, would you consider offering futsal clubs and Football Foundations in the U.K consultancy services to help them implement what you have achieved?
CH: Yes, definitely. The Bloomsbury strategy at the moment is to increase the quality of what's provided, as well as the quantity, so that more young people can take part in high-quality football. Our next step is to use Bloomsbury as a model to improve the quality of other organisations. There's only so much we can do as a single organisation, and there are thousands of other passionate people out there doing great work. So, I think the goal for me is to be able to influence other grassroots sports organisations and bring the whole quality of provision up together. I've already started offering advice voluntarily which I really enjoy. I currently offer voluntary consulting through Sported, but also offer advice on a freelance basis. Sported are a great organisation – if you're not aware of them, you should definitely check them out. They link up grassroots sports organisations with skilled volunteers, so you can get pro-bono support with any part of running a grassroots sports club. I'm always happy to have a chat and give advice, so if anyone reading this is interested, feel free to get in touch.
It was great to chat with Charlie and learn about the amazing work he is doing plus as Charlie mentioned Sported are a great organization and you can visit their website at: https://sported.org.uk/
You can read more articles about grasroots and coaching by going to the top navigation bar or click here
If you like this article and would like to keep updated on Futsal news, developments, etc then you can now follow Futsal Focus via Google News by following our page which will send you an alert as soon as we publish an article so please click here and follow us on Google.
You can also keep updated on Futsal news, developments, etc then please submit your email below in the Subscribe to Futsal Focus option.
Follow Futsal Focus by clicking on Facebook, Twitter, or Instagram or on the social media buttons on the website.