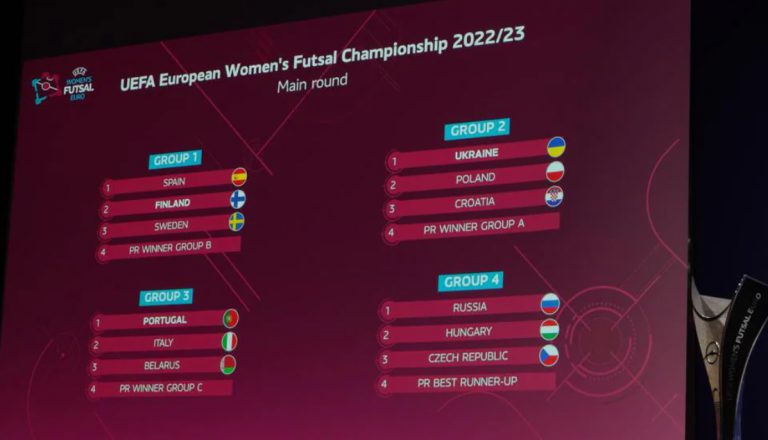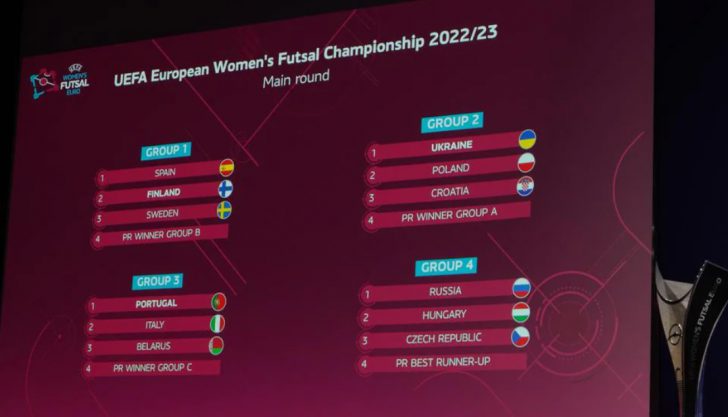 Estimated reading time:6 minutes, 26 seconds
The 2022/23 UEFA European Women's Futsal Championship qualifying draw has set the groups leading to the third final tournament, to be held next March.
The UK's only representative nation is Northern Ireland, and their women's futsal team have been handed a 'tricky' task in the preliminary round draw.
For the 2022/23 competition, it returns to its regular calendar after the postponement of the second edition from 2020/21 to 2021/22; the finals of that edition are due to be staged in Portugal from 25 to 27 March, with the hosts joined by Russia, Spain and Ukraine, just as they were for the inaugural 2019 championship.
Head Coach of Norther Ireland team Keith Gibson will lead his side against the Netherlands, hosts Serbia and newcomers Latvia in Group A with the matches due to be staged from 10-15 May. To advance to the 16-team main round, which takes place in October, Northern Ireland will have to top their group or finish as one of the best runners-up.
There are no changes to the format for the competition's third edition, with a four-team knockout final tournament scheduled for March 2023. Qualifying takes place across two mini-tournament stages: a 12-nation preliminary round from 10 to 15 May and a 16-team main round from 18 to 23 October, from which the four group winners will qualify for the March 2023 finals, with the hosts to be determined. Both qualifying rounds have been drawn.
Northern Ireland are in Pot 3 and they will be keen to build on last year's Euros where they finished third in the group, having recorded a first competitive win against Lithuania.
They have played Serbia and Netherlands in previous tournaments, suffering narrow defeats so the squad will be aiming to improve on that and compete to top the group.
And the squad has been working hard in preparation for the tournament following the domestic success of the recent Cathedral Eye Clinic futsal league.
Team manager Gibson said: "This will be a tricky group with two good teams in the top two pots and the unknown quantity of Latvia. We faced Serbia in the last Euros and were leading at half-time. Two late goals conceded was a disappointing ending and we hope to finish the job this time.
"In the last Euros we beat Lithuania to move up into Pot 3 in this draw. This time we hope to better that again as futsal in Northern Ireland continues to progress.
"The squad have been working hard to make sure we give ourselves every chance of competing in every game. The level of commitment shown by these players is incredible and we believe we can go to Serbia confident in each other and our ability to cause a shock."
Preliminary round draw (matches 10 to 15 May 2022)
Group A: Netherlands, Serbia (hosts), Northern Ireland, Latvia
Group B: Belgium, Slovakia, Gibraltar (hosts), Moldova
Group C: Slovenia, Kazakhstan, Bosnia and Herzegovina, Lithuania (hosts)
Latvia are making their debut.
The three group winners and the best runners-up progress to the main round.
Main round draw (matches 18 to 23 October 2022)
Group 1: Spain, Finland (hosts), Sweden, Winner preliminary round Group B
Group 2: Ukraine (hosts), Poland, Croatia, Winner preliminary round Group A
Group 3: Portugal (hosts), Italy, Belarus, Winner preliminary round Group C
Group 4 (hosts tbc): Russia, Hungary, Czech Republic, Preliminary round best runner-up
Due to a decision of the UEFA Executive Committee, if Gibraltar win Group B, they will be placed in Group 2 and the Group A winners will be placed in Group 1.
Just under half of all UEFA Members participate in the Women's UEFA Futsal Euro providing the opportunity for their best female players to showcase their talent on the international stage. The number of entrants is expected to continue to rapidly grow for future editions. https://t.co/EoS0CS1hmI

— Doug Reed (@DougReedFutsal) February 18, 2022
Northern Ireland domestic women's futsal development
2022 saw the launch of the Northern Ireland Futsal Federation by the Irish FA and Irish FA Foundation, their national league for the women's futsal started in the best way possible with 27 clubs competing across 5 divisions. The Divisions included clubs from the very top of the football divisions in the women's leagues including futsal specific clubs. Linfield Ladies were crowned Northern Ireland women's futsal champions but they were pushed all the way by Lisburn Ladies as the season drew to a close. In the final round of fixtures in the Women's Premiership and Championship Futsal League – the main competition in women's futsal here – Linfield edged out Lisburn on goal difference to claim the title.
The league campaign was full of twists and turns and the season finale turned out to be no different with a shock result, tight games and goals aplenty for all the spectators to enjoy. Going in to the matches, which were staged at Shankill Leisure Centre in Belfast at the weekend, four teams were mathematically still in contention to win the league, which is sponsored by Belfast-based Cathedral Eye Clinic, the official eye health and laser surgery partner of the Irish Football Association and its official futsal partner.
Prior to the three-game finale St James' Swifts Ladies, Lisburn and the Blues were all sitting on 12 points, however Linfield had the superior goal difference. Cliftonville Ladies were three points further back. In game one St James' Swifts Ladies were aiming to put pressure on the Blues and the other contenders when they came up against Ballymena United Ladies, however the game did not go according to plan for the Belfast team. Despite the Swifts taking an early lead it was Ballymena who came out on top with a 4-1 win that showed they could be in the mix for the title next season. St James' Swifts left the stage devastated but they have shown they are contenders and will hope to push on and secure silverware in the forthcoming Northern Ireland Futsal Federation (NIFF) Cup competition.
In game two at Shankill LC reigning champions Cliftonville were determined to spoil Linfield's title party and give themselves an outside chance of winning the title with a goal rush. Linfield took an early lead but the Reds drew level. However, the Blues quickly restored their lead again in what was an end to end contest. Numerous chances were created by Linfield as the game wore on, but Cliftonville's defence stood firm. In the closing stages, however, the Linfield pressure paid off and they scored again to seal a 3-1 victory.
Futsal Focus supports the Donate4Dáithí campaign
To follow the Donate4Dáithí campaign, you can visit their website here: www.donate4daithi.org  or on Facebook at: https://www.facebook.com/Donate4Daithi you can also donate money to their campaign at: https://www.justgiving.com/crowdfunding/donate4daithi
Learn more about the Donate4Dáithí campaign by going to our article here
Futsal Focus
You can read more articles about international futsal by going to the top navigation bar or click here
If you like this article and would like to keep updated on Futsal news, developments, etc then you can now follow Futsal Focus via Google News by following our page which will send you an alert as soon as we publish an article so please click here and follow us on Google.
You can also keep updated on Futsal news, developments, etc then please submit your email below in the Subscribe to Futsal Focus option.
Follow Futsal Focus by clicking on Facebook, Twitter, or Instagram or on the social media buttons on the website.