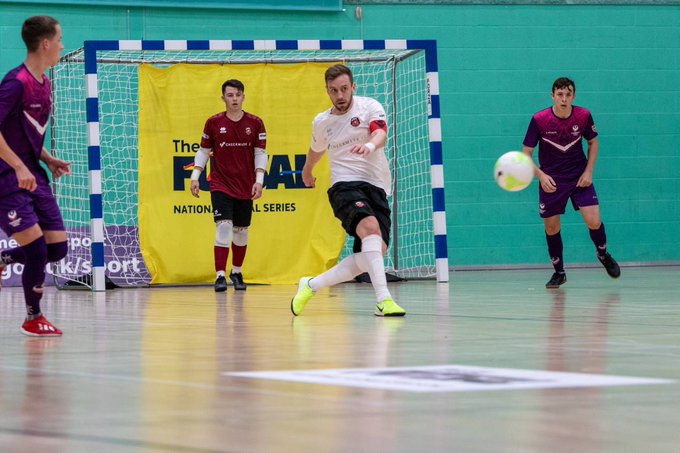 Estimated reading time:2 minutes, 44 seconds
The long wait finally came to an end at the weekend when the first fixtures of the National Futsal Series kicked off in England.
The weekend before was the official launch at half-time during the England v Germany international friendly at St Georges Park but at the weekend the fixtures kicked off with:
National Futsal Series Tier 1
Manchester Futsal Club 4 – 6 ProFutsal London
Bolton Futsal Club 3 – 2 Loughborough Students Futsal Club
Kent United Futsal Club 1 – 4 Team United Birmingham
Worcester Futsal Club 2 -7 London Helvecia Futsal Club
National Futsal Series Tier 2 North
Durham Palatinates 3 – 4 Derby Futsal Club
University of Nottingham Futsal National 4 – 14 Cheshire Futsal Club
Loughborough Students Futsal Club Develo 13 – 3 Sunderland University Team
National Futsal Series Tier 2 South
London Baku United 2 – 5 London Escolla Futsal Club
Sussex Futsal Club 9 – 2 MK Mavericks Futsal Club
Bedford Futsal Club 14 – 2 Kent United Futsal Club Development
London Genesis Men 14 – 3 Chelsea Foundation Futsal
The women's league has yet to kick-off but will do so in October. However, the reaction to the leagues' new format and the fixtures taking place in designated venues instead of a home and away format has been positively received. Clubs have posted and tweeted across social media praising the new structure and clubs who hosted each divisional games such as Kent United at Medway Park for Tier 1 supported by the Kent FA. In Tier 2 North the hosts were Durham and in Tier 2 South it was Sussex Futsal Club supported by Sussex County FA. Next weeks fixtures for Tier 1 will be hosted by Manchester Futsal Club supported by Manchester FA.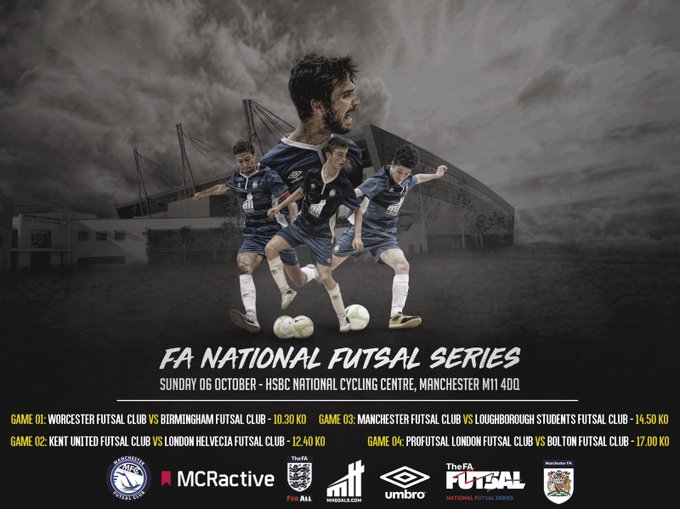 When the final whistles blew Tina Reed Futsal Competitions Officer for the FA tweeted:
The day we've been working towards for the past 6 months is over. Massive thank you to @MedwaySport staff (especially Helen & John) and volunteers plus @KentFA Youth Council who have supported @kentutdfutsal with today's @FA_NFS event. Great example of partnership working #FANFS pic.twitter.com/tMNhWMZkTe

— Tina Reed (@tinareed40) September 29, 2019
Via the gfc_tv Twitter, we also got to see this great goal by Stuart Cook for Bolton Futsal Club before he had to come off due to an unfortunate injury:
Was casually studying Lbro corners & just happened to see this…
Class @cookie_12_ #goal on a top first day of #FANFS Tier 1 #futsal ⚽️⚽️⚽️?? pic.twitter.com/bLFGAkfzFf

— thegfc_tv (@thegfc_tv) September 30, 2019
Going forward, Futsal Focus has learned that National Futsal Series matches will soon become available via the online live streaming platform mycujoo so we all look forward to that. Without a doubt, this is an exciting development for Futsal in England and hopefully, it will be a success this season and the other FAs in the U.K(Scotland, Wales and Northern Ireland) will follow suit.
If you like the video and the information provided, you can read more articles about domestic futsal by going to the top navigation bar or click here
If you like this article and would like to keep updated on Futsal news, developments etc then please submit your email below in the Newsletter section or by clicking on the Subscribe to Futsal Focus option on the header.
Follow Futsal Focus by clicking on Facebook, Twitter or Instagram or on the social media buttons on the right sidebar.