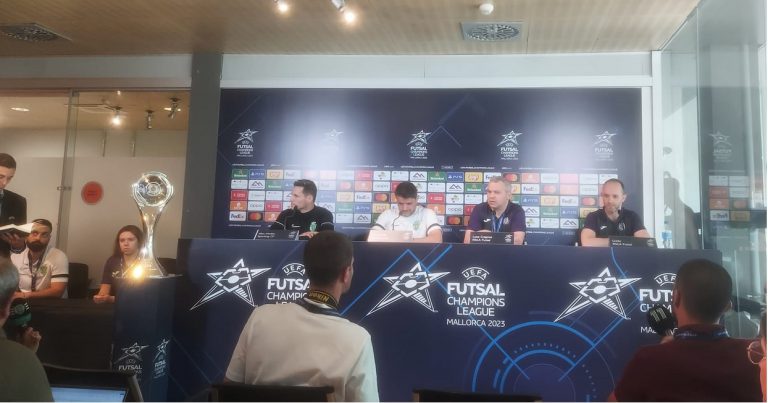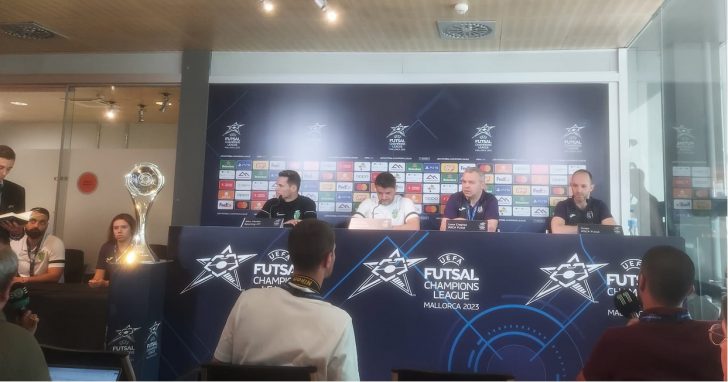 Estimated reading time:9 minutes, 52 seconds
Futsal Focus is in Palma, Majorca, for the 2023 UEFA Futsal Champions League Final Four which is the final stage of the competition. Thirty-Two clubs entertained the competition in the preliminary round and twenty-four clubs got a bye to the main round so in total fifty-six clubs from fifty-two associations were represented in the competition. Four of these nations got two entries, these nations are Spain, Portugal, Kazakhstan, and Croatia. And, after three entertaining rounds of futsal (preliminary round, main round, and the elite round) which saw clubs such as Barcelona, and Kairat Almaty fail to make the final round, the clubs competing for the Champions League trophy are from Spain, Portugal, and Belgium.  The clubs are Sporting Clube de Portugal (winners of the competition in 2019 and 21), S.L Benfica (winners in 2010), Mallorca Palma Futsal (debutants in the competition), and Royal Sporting Club Anderlecht Futsal (the club are debutants under this name, but the previous club who joined with Anderlecht, known as FP Halle-Gooik had reached the elite round but never the final four).
Futsal Focus attended the press conferences to listen to the thoughts and opinions of the teams ahead of today's semi-finals and Sunday's third-place play-off and final.
The first press conference (main picture) was attended by Alex Merlim (Pivot) and Nuno Dias (Head Coach) from Sporting Club de Portugal, and Luca Cragnaz (Head Coach) and Gréllo (Captain) from Royal Sporting Club Anderlecht Futsal. Speaking at the conferences the attendees said the following:
Luca Cragnaz: " It is an honour for us to compete with these great teams, but I believe in my team and I am sure we will show everyone a beautiful demonstration of what we are capable of. We have studied Sporting in-depth and are looking to focus on our own strengths."
Gréllo (a former captain of Mallorca Palma Futsal): "For me, it is a pleasure to come to this place where I started many years ago and to be here now competing with the best in Europe.  Sporting are one of the best teams in the world, I am excited for this match, and if we reach the final, it will be epic and a memory I will always look back on and share with my family who are here also."
Nuno Dias: "Anderlecht has a lot of experienced players who have a lot of quality, especially in set pieces. We have to show them a lot of respect, they sent Barcelona home and drew with Palma so we know this won't be an easy match. The Belgium league may not be so strong but we have examples in the past where clubs from such leagues have won the competition. I am motivated to win trophies all the time, I don't look at the other coaches, I am just concerned with what I achieve, and I feel fortunate to be here with Sporting and to challenge for another prestigious title. We don't think about revenge nor are we concerned about the past, we just want to win every game and do what we have to do well to achieve victory and even at this stage continue to build on the work we are doing at Sporting."
Alex Merlim: "We have to think about tomorrow's game first, we are not thinking about the final, we have to respect Anderlecht like Nuno said they have defeated quality teams to get here so we will not take this challenge lightly. I had the opportunity to win this competition twice and it was an amazing moment, but I still feel like I did the first time, you still have the nervousness/ anxiety, but we will use this energy positively and we will show what we can do on the court. I have played on the street, so there is no excuse about the court, there is no better pitch than this. Concerning the titles we lost that shows we are not invisible, but when we were always winning it was not by luck, it was a lot of work and dedication and effort. On the court, I try to help in any way I can, whether that is scoring or defending. This is the stage that everyone wants to play in and I will try to help my team in any way I can.
After the conference, we had the opportunity to speak with the General Manager of Royal Sporting Club Anderlecht Futsal, Lieven Baert. We asked him what victory at this competition could mean for his club and Belgian futsal, this is what he had to say:
"I have had so many messages from around the world asking for us to win this competition. Fans don't want the same teams winning the competition every year. For our market, it could mean a lot, I say this because Belgian journalists have travelled with us, Belgian television is here with us and they have created a programme about the final four and our participation in the competition which will be great for promotion and awareness in my country. Last week, I had a lot of media interest in Belgium, I was being contacted and taking part in my interviews than I have ever had before in relation to this competition when we had reached the elite round previously. We want other clubs to see this in Belgium, and for this promotion to ignite their interest and for them to wish to challenge us, we want them to challenge us. So imagine with all the interest we have had so far, what would happen if we won this competition. Winning ignites interest an example from Belgium is snooker player Luca Brecel who won the world championship, already people are talking about developing more snooker halls in my country due to his success. So this is an opportunity we also have to help increase awareness and interest in our market/ futsal. This is the difference futsal can make when making good choices, it is just a pity that we are here without Fits (who is now with Movistar Inter) his presence here would have given us 20% more chance of winning the Champions League."
The second press conference was attended by Diego Nunes and Mario Silva (Head Coach) from S.L Benfica, Antonio Vadillo (Head Coach) and Carlos Barrón (Goalkeeper) from Mallorca Palma Futsal. Speaking at the conferences the attendees said the following: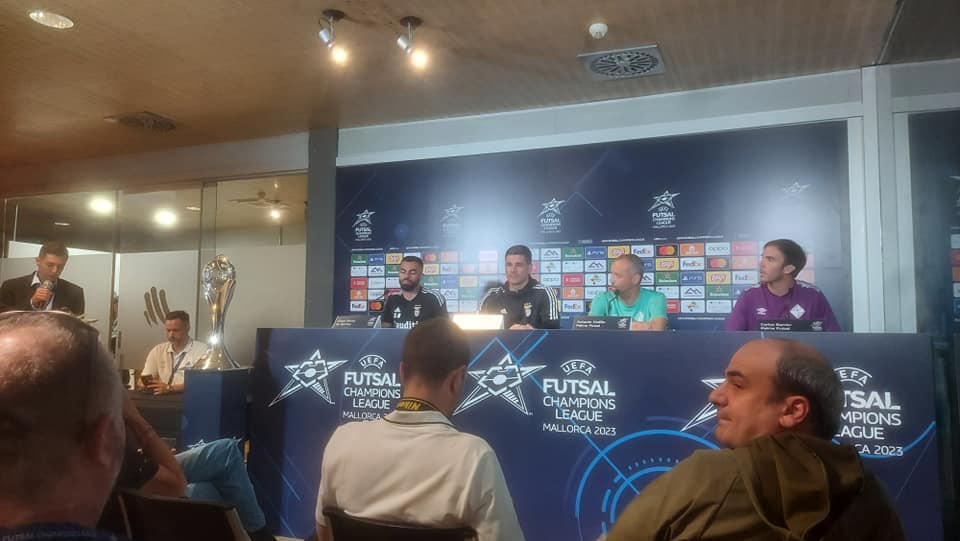 Mario Silva: "It is amazing to be here, especially with Portugal being represented by two clubs. We are here to perform and to challenge in this competition. Palma playing at home in front of their fans is a factor which can influence at this level but whoever is prepared the most will make it to the finals. They do the simple things well, and we have to be focused on our task and defend well when we have to. I never imagined being in this position two months ago but it is amazing to be here in the final four competing against these great teams."
Diego Nunes: "It is my first time here in the finals of the UEFA Futsal Champions League, maximum respect to Palma reaching this stage in their debut season, this game is going to be decided in the dance, so let's go! They are a very well-prepared team, but as the manager said, the team that is the most focused will prevail in this semi-final. Yes of course, they ask me about Palma, I remember when I said goodbye to Palma but I wished to be in finals with Benfica and now we are here and it will be amazing to play against Palma."
Antonio Vadillo: "We are so happy to be the team representing Spain. It is going to be a difficult match but we have worked hard to challenge for a final place! I feel positivity from the team, we are in a great moment and the team are optimistic, and don't forget we are the only futsal-specific club at this stage of the competition, the rest are linked to football. When we qualified for this competition, we have always been aware of what we wanted to achieve in this competition. Benfica are a quality team but we have to show our identity, and what we are about. If we don't we are going to lose, but we have to be effective on the ball and enforce the way we want to play, to be successful. We are a very good team, and of course, are rivals are as well, but we will do our best to do what needs to be done to win. We have zero pressure on us, we want to win, this is a unique position to play in front of our fans and families, they are going to help us to get through the difficult aspects of the game but I believe there is zero pressure for us. It is already special to be here, we are the home team, and this is amazing, it is a great situation, we are feeling good and let's win on the pitch and in this semi-final.
S.L Benfica and Real Mallorca have not met in this year's competition, and neither have Sporting Clube de Portugal and Royal Sporting Club Anderlecht. However, the Majorcans already faced Anderlecht last October, in the Main Round that was played in Belgium. The game ended in a tie (2-2) and decided the first place in the group which the Majorcans secured. On the other hand, Sporting de Portugal was one of the teams that were invited at the beginning of the season to play the X Ciutat de Palma – Miquel Jaume Memorial, although the Portuguese did not qualify for the final and did not get to face Mallorca Palma Futsal.
The Final Four of the UEFA Futsal Champions League that starts today is intended to be much more than a sporting event, it is intended to be quite a spectacle on a social level. For this, it will have several top-level performances. The first one will be that of Daniela Blasco who will perform, with a dance group, in all the timeouts of the two semifinals and will perform her first single "Without Me" before the second semifinal. The Mallorcan dancer has become a mass phenomenon on social networks, with more than a million followers on Tik Tok and half a million on Instagram. In addition, Daniela Blasco just turned 18 and has already worked with various international artists such as Justin Bieber, Omar Montes, Beatriz Luengo, and Nino Vargas.
I don't know about you but I am very excited for the final four to kick off, will Sporting or Benfica reclaim the title or are we about to what history made for two clubs hoping to make an impact not only in the competition but in futsal domestically and internationally.
Author of interview
Stephen McGettigan was born in the Republic of Ireland but grew up in Belfast. He is the founder of Futsal Focus, a Football Industries MBA graduate from the University of Liverpool Management School, and he has worked in the Football and Futsal industries for 15 years.
Futsal Focus
You can read more articles about domestic futsal by going to the top navigation bar or by clicking here
If you like this article and would like to keep updated on Futsal news, developments, etc then you can now follow Futsal Focus via Google News by following our page which will send you an alert as soon as we publish an article so please click here and follow us on Google.
You can also keep updated on Futsal news, developments, etc then please submit your email below in the Subscribe to Futsal Focus option.
Follow Futsal Focus by clicking on Facebook, Twitter, or Instagram or on the social media buttons on the website.