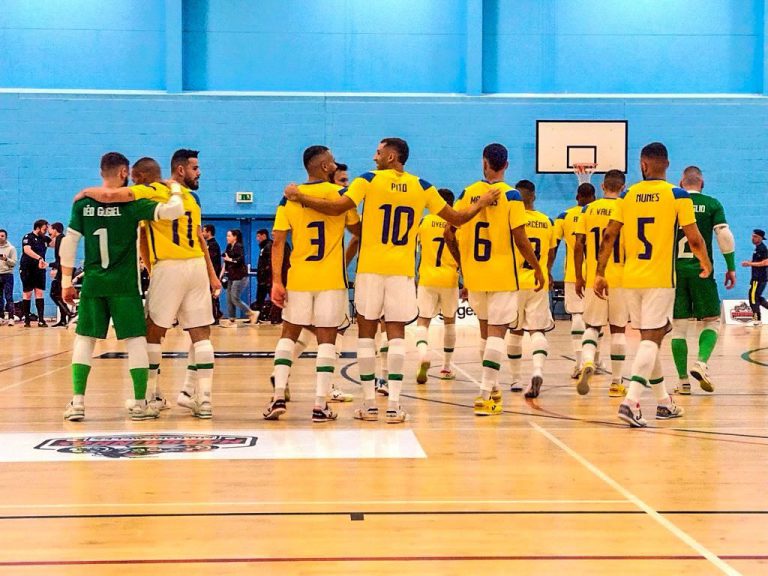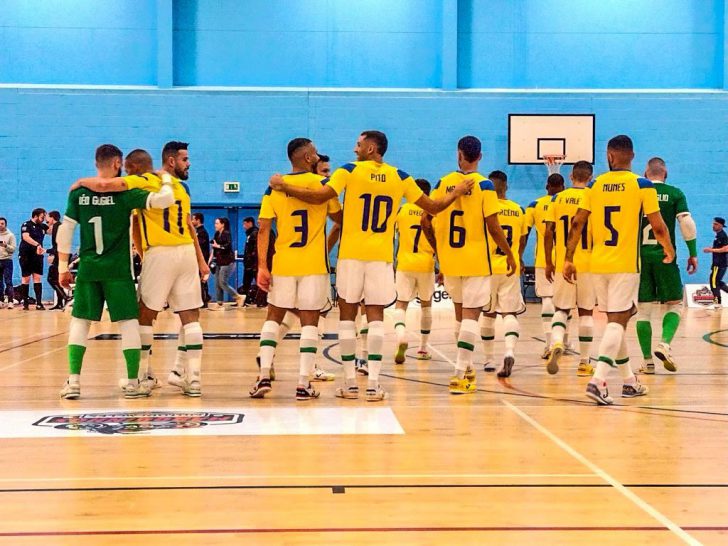 Estimated reading time:15 minutes, 30 seconds
Arguably, the biggest event in English futsal history recently took place, when friends of the famous Brazilian coach Marquinhos Xavier were privileged to be able to bring him, his team, and his staff to High Wycombe for a training camp prior to their international friendly matches with Spain.
Leandro Afonso (Leo) and Andrew de Santana managed to include in Brazil's training camp a week-long celebration of futsal through coaching workshops and an exhibition match.
We read many tweets and posts across social media from people who enjoyed the workshops and the exhibition match. Attendees praised the organisers of the event and the Brazilian National Futsal team for their professionalism and for their eagerness to engage and share their love for futsal.
Different sources informed us that everyone involved from Brazil was incredibly approachable, taking the time to talk and take pictures with those who came to welcome and learn from them. It was such a success that Brazil has confirmed that they will return next year.
Futsal Focus was eager to find out more, so we spoke with Mary Pacitti, a UEFA B Futsal Coach from Chiltern Futsal who attended and took part in the workshops and the main event. And we spoke with Doug Reed, a former England Futsal International who is currently playing for London Helvecia. Doug provided us with his own thoughts on the event as well.
Disclaimer: The views and opinions expressed by Mary Pacitti and Doug Reed in this article are solely their own and do not necessarily reflect the views of Futsal Focus or its editorial team. Futsal Focus was not in attendance and was not a part of the team that organised this event.
FF: Mary, thank you for taking the time to speak with us about this historic event. Before we discuss the event, please tell our readers more about you and your involvement in Futsal in England?
MP: I am lucky enough to have worked with some amazing futsal coaches in my 8-year involvement in futsal. From the Brazilian-founded Escolla where my kids started playing, to co-coaching the incredible Stevenage Women's team this season with Mario Petruccio, (currently, top of division 2 in their first season). It's been a busy year to do this alongside setting up my own club Chiltern Futsal and most recently, after completing my UEFA B Futsal license, my season is ending on an incredible high thanks to Jon Kurrant at Bloomsbury Futsal. Jon gave me the chance to manage the last 5 games with their (very talented) Tier 3 team. He has been an amazing friend.  My passion is to try to leave football and futsal with more equality and involvement for women and girls, but I absolutely love my involvement in the men's game too. I run girls' sessions 4 nights a week in the Chiltern area and as Chair of the Hertfordshire FA Women and Girls Committee, I try to do my bit to promote futsal and the female game, wherever I can.
FF: Why did you want to attend this event, what exactly excited you and made you want to be a part of it?
MP: Leo included my Twitter address in his first post about this event. I immediately booked tickets knowing this was going to be an extraordinary opportunity. I expected tickets for the coaching days, especially, would sell out immediately. I messaged Leo on the 22nd of February with a tongue-in-cheek offer to be a UEFA B water bottle filler if he needed one!  I think anyone who loves futsal would have wanted to be involved. I think the crowd at the game and the number of key members of the futsal club community who were present showed it was something those delivering futsal in England wanted and were grateful for.
FF: What was the workshop programme, and can you give our readers any insight into what you learned from these coaching workshops?
MP: The workshops ran from Monday to Wednesday, it was clear that the coaching was very much tailored to the needs and fluctuating requirements of the team. I had been lucky enough to arrange with Leo that several of my Chiltern players could attend the workshops. We were flexible in our availability to take chances where we could. Not bad to ask a group of 14 to arrive at a venue super early in the morning during the Easter holidays and they ALL JUMPED AT THE CHANCE. Everyone fully understood the importance of the event and our need to have very talented female players show off how good they are to an international appreciative audience. To watch my daughter pass (well) to Ferrao was a very nice experience for me. A magic 12 v12 game where the Chiltern Girls played for and against Brazil was amazing.
We saw everything, from warmups to game-related drills. But what I think I learned the most from was the fitness and core strength of the Brazilians, their passion, and their continuous highly competitive approach (even when the U14 girls were involved).  Multiple coaches delivered seamlessly, splitting sessions…there was little stress, lots of smiles and laughter, and just outrageous skills on display. I realise it takes a lot to make things look effortless – but even their bibs and towels were folded and kept in a way I have never seen, such attention to detail, and lots of planning, and it all was made to look easy.
FF: What was the final event experience like for you, what did you learn, how did the audience react, and what stood out for you the most?
MP: The match itself was extraordinary. Everyone loved it. I was so happy to be on the bench with Leo representing the females in futsal.  Prior to the Brazil match, the crowd was able to watch three exciting and competitive youth games with some very talented players.
To be in the changing room, on the bench, and witness this event firsthand was amazing.  I'll be honest and say that in England the end-of-match high fives in the main adult men's league often exclude me. I manage a team where the opposition doesn't say hello to me or shake my hand at the end. I'd say that as a nation we have a way to go in accepting women as coaches and leaders and yet the world's greatest team managers and officials extended such warmth and respect to me that week. So, it was a great lesson in futsal, in training, and in teamwork but unexpectedly for me, also in the power of strong leaders, strong teams, and the importance of the team culture. Futsal has the power to unite everyone despite playing against each other on the court.
FF: Looking back, did the event goes as planned?
MP: I attended a Helvecia Training session after Leo had heard that the All-Stars team were not allowed to play only around 10 days before the event.  I was aware that this would be devastating news for the players originally involved.
I know that several of the original All-Star Players (and their clubs) were incredibly honoured and excited to have been invited to take part and took to social media to express this.  To have the event so built up (I was first aware of it on 8th Feb 2023 – when stakeholders were copied in and made aware of the event) and positive and then undermined at the 11th hour does not make sense to me. I cannot understand why the FA decision-makers blocked the All-Star format. The FA were aware of this event and should have addressed any issues weeks beforehand, not a few working days before it was due to take place – and attendees had made plans to be at the occasion. It seemed to me like a lack of humanity and empathy toward the futsal community.  Our community needs good leaders and events like this to unite us all and to grow our sport in England. On the day it was extremely well organised and produced as an event with ticketing, live streaming and commentary from Isaac Barrington who usually does the NFS games on BT Sport. I am aware that there has been misinformation shared about the sequence of events leading up to the game which is strange. We should all be working towards the same goal of improving futsal. There is no doubt that having the 5-time world futsal champions in England for a week was an amazing opportunity that should have been grasped by all of the futsal stakeholders in England.
FF: Was there anything relating to the event which disappointed you?
MP: Very little disappointed me that week. I would also like to mention Stuart Lee (Rushmoor Futsal) who runs Wycombe Leisure Centre. He and his staff were exceptional. However, I was disappointed that the organisations, who are the custodians of our sport in England and are supposed to be championing and pushing the development of futsal here, decided not to attend nor even acknowledge the event, before or afterward. The FA Futsal Committee members never attended the event to welcome the Brazilian National Futsal team, neither did the FA National Futsal Series (whose champions were playing Brazil) nor did England Futsal, the new entity recently established by the FA to lead and promote Futsal in England.
I would have loved to have had those who represent the community be there to give due respect to our incredible visitors. I still don't know why this happened, but whatever their reasons are, working together with the event organisers, a solution to whatever problems there was (if there was any credible problem) should have been found in the interest of our sport.
BT Sport broadcast many of the National Futsal Series games, they too missed out on a wonderful opportunity to broadcast this historic occasion and showcase futsal at the highest level. Their endorsement of the event would have attracted additional media and helped to increase awareness of futsal even further. I don't know what to say about it all, really, reading this back, I just feel disappointment, especially when you put in so many hours into developing your club, educating yourself and your players, then things like this happen from the people supposed to be leading us, you get a sense of what is the point in doing all of this.
FF: After this experience, what are your thoughts about English Futsal?
MP: I actually wish I was Brazilian. It might be ok if you are a 20-year-old player or 40-year-old coach to accept continuously waiting for a national team for the women and the men but for me, as a woman who isn't' 20 or 40, I believe our sport has been held back. We keep having to fight for equality with men and oddly women's futsal is still criticised for being behind and 'lacking commitment'. The reality is that we are just lacking opportunities to start young and have a smaller group of players to call on while being offered no choice but the same format to compete in as men as if we are being set up to fail.
And we still must wait until those men in charge say we are good enough to get a women's national futsal team.
In a sport that takes so much love, time, and money to make it actually happen, we the people (men and women) need a chance to influence the future and be enabled to work towards the futsal developments and standards in countries like Brazil and Spain among others. It feels like power is reserved for people who aren't managing that power fairly, with respect, and with true leadership. It also concerns me, in respect of the FA's diversity policies that there are no female representatives/ leaders on the committees of any of the custodian organisations and these leadership groups do not reflect the diversity of the futsal community.
Overall, the event, however, was a truly amazing and inspirational week with enormous amounts of positive social media coverage. I sincerely hope that the Brazilians were not too disappointed about the lack of any official welcome from the FA and other senior stakeholders. I was honestly rather embarrassed by their silence. However, we did have some amazing celebrity visitors on the day – Brazilians from the Tottenham Hotspurs attended such as Richarlison, Lucas Moura, and Emerson Royal, who clearly wanted to watch a unique futsal event. I think they appreciated the enthusiastic, noisy crowd of 600 people showing their respect for Brazil, the kings of futsal.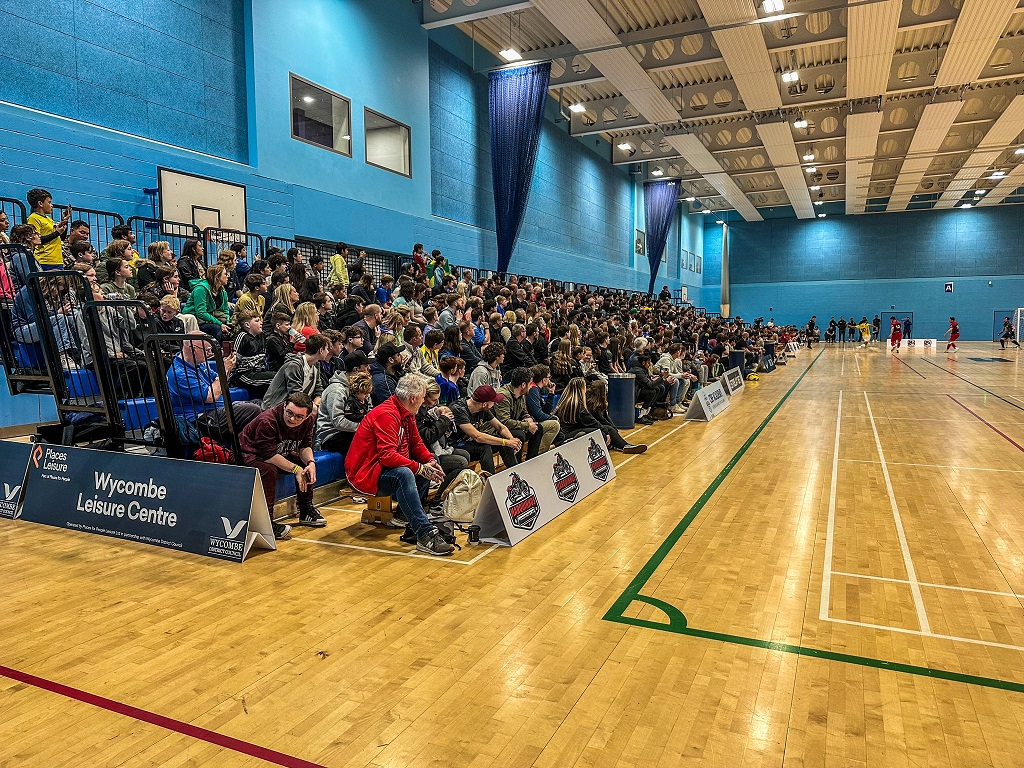 FF: Doug, what were your thoughts on the event?
DR: It was a spectacular occasion for English futsal fans, players, and coaches. To have the world's best players train and play in England was an incredible opportunity. As Mary said, the whole Brazilian traveling party was so friendly, attentive, and eager to help futsal here.
It was great to see everyone on the court after the game mixing with the players. It attracted so many people from across the English futsal community and it was fantastic to see everyone interacting with each other. These informal conversations and relationship-building are important parts of futsal's development in the country, and it has been great to have a big event where the community came together as there hasn't been one for a few years.
FF: Attending the main event, what else would you have liked to have seen from the occasion?
DR: Leo and Andrew have to be commended for being able to organise something of such magnitude. It is clear that despite a packed-out arena and lots of buzz on social media around the game, it does feel like futsal in England hasn't taken advantage of what just occurred here. The Brazil Futsal Team is something that has huge significance for the futsal community but also resonates with a much wider audience. For example, I feel the Copper Box, which holds several thousand, would be an arena more suitable to an occasion of this magnitude and it would have been great to have seen more digital content created with the Brazilian players and coaches. Of course, this requires significant upfront investment and planning.
It is clear that those with the responsibility for the sport could have helped play a role in exploiting this unique opportunity to promote and grow awareness of futsal to new audiences as well as inspiring those already engaged with the sport. However, the reality of course is that the English FA have, until now, not taken much of an interest in the sport, including before it decided to take a step back a few years previously as shown by the lack of a women's and men's team.
We can only continue our efforts to push for that to change but it is great that people from the community are trying to fill the void left by a lack of support and there is great work going on in clubs across the country.
FF: You are still playing so as a player, watching the Brazilian players, what stood out for you and what do you think the players who took part and those who were watching could or should have learned from this experience?
DR: Yes, I am still playing with Helvecia though unfortunately, injury meant I was unable to participate in the game. However, I still had the opportunity to be in the changing room and on the bench alongside the players.
What stood out for me is that the Brazilian players all do the fundamentals to perfection, and this is something I have noticed from top players throughout my career. Whilst futsal is well-known for its spectacular individual plays, if you want to be the best you have to be a master of control, passing, movement, and reading the game.
The players learned a lot from just this one game, details that it is not possible for coaches to ingrain in months of training sessions. But what most stuck out from the players was how inspired and excited they were. Being an elite player in England requires a lot of sacrifice as the game is still amateur and it there is lots of traveling. It was really nice to see the players so motivated about the game and they have memories that they will treasure for a lifetime.
FF: What do you hope the club leaders and coaches in attendance will have learned from the occasion in relation to helping to drive futsal player development forward?
DR: I think club leaders, will have seen how inspired their players were from seeing these superstars and how that has impacted their own game and their dedication. It highlights the importance that young players witness the top level whether that be attending National Futsal Series games here or watching professional leagues through online broadcasts or even traveling where possible.
For coaches, the Brazilians have shown how you need to train futsal to prepare and improve in the best way. Competitiveness and intensity arising from a fun and joyful approach are key. These are the fundamental characteristics of futsal and so must be the foundation of any development or performance programme.
Futsal Focus contacted the FA Futsal Committee, England Futsal, and the National Futsal Series for comment about this article but received no statement about this article or the event.
Author of interview
Stephen McGettigan was born in the Republic of Ireland but grew up in Belfast. He is the founder of Futsal Focus, a Football Industries MBA graduate from the University of Liverpool Management School, and he has worked in the Football and Futsal industries for 15 years.
You can read more articles about domestic futsal by going to the top navigation bar or by clicking here
If you like this article and would like to keep updated on Futsal news, developments, etc then you can now follow Futsal Focus via Google News by following our page which will send you an alert as soon as we publish an article so please click here and follow us on Google.
You can also keep updated on Futsal news, developments, etc then please submit your email below in the Subscribe to Futsal Focus option.
Follow Futsal Focus by clicking on Facebook, Twitter, or Instagram or on the social media buttons on the website.