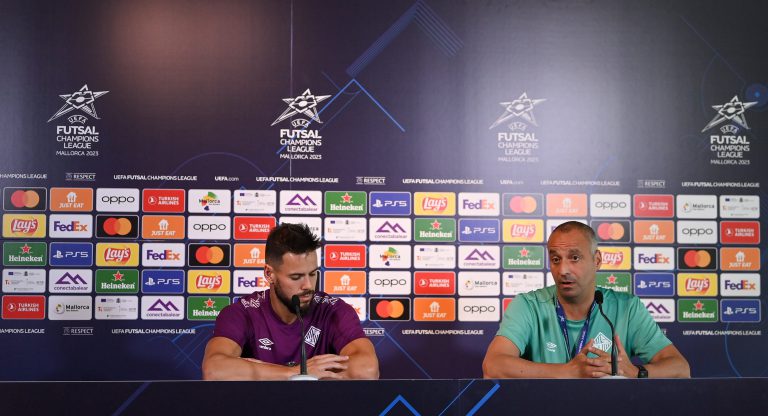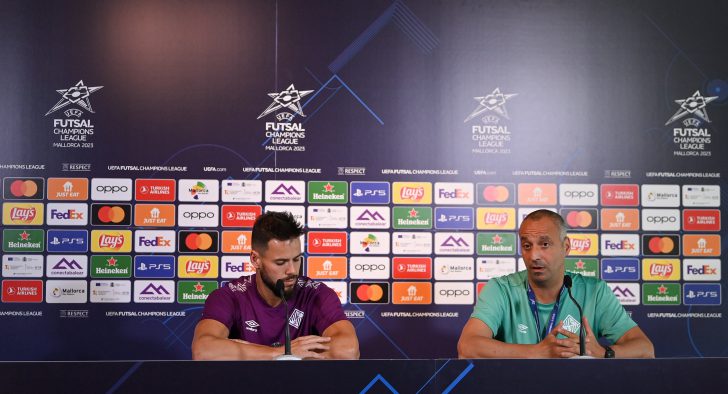 Estimated reading time:7 minutes, 5 seconds
On Friday, the UEFA Futsal Champions League Final Four kicked off, and what unfolded was a demonstration of the quality, excitement and entertainment value of futsal. If you have not watched both games in full I highlight recommend you to. I also wouldn't miss today's Third and Fouth place play-off and the Final.
The first match to start the final stage of the competition was between Sporting Clube de Portugal (also known as Sporting Lisbon to English readers) and Royal Sporting Club Anderlecht Futsal, the futsal branch of Belgium's most successful football club. Before, the match, among the media in attendance whom I spoke with, opinions were divided, like many fans of the sport. Sporting are a dominant force in futsal but you can't at times help rooting for the underdog which Anderlecht was and a question floating in the air was; does Sporting winning the competition help the sport's growth or would an Anderlecht victory help to grow the game outside the main established markets? But, when you heard the noise of the travelling Sporting fans, you couldn't help but feel, actually to demonstrate the entertainment value of the sport, Sporting winning would make the final a masterclass of futsal on the court and fandom in the stands. Going into the game, Anderlecht, a highly experienced team, had a lot of expectations on their shoulders, the club drew with follow finalists Palma Futsal in the main round, and you could argue that they should have won. The club also drew with FC Barca in the elite round and their performances against the other teams in their group meant Barca was sent home and exited the competition. Could the club main such a level of performance? When the whistle kicked off, it was clear that Sporting wanted to put any doubts that fans or media pundits may have had about their chances of winning this competition to bed. Especially due to their recent domestic performances, this team was out to make an example of Anderlecht, and they certainly did that, giving viewers a masterclass futsal, and also in set plays.
In the second match, hosts Mallorca Palma Futsal and S.L Benfica entered the court to an eruption of applause, the noise in the Velodrome was deafening. It was clear from the whistle was blown that the spectators were going to get more than the value of their money for their ticket. The match was end-to-end action, drama, and entertainment, with close calls from referees, deflections, and opportunities missed but also taken. In the final 0.5 seconds, when Mallorca Palma Futsal was sure that they were going to win, and their fans were already on their feet, S.L Benfica scored. For what must have been a few seconds, felt like minutes, the venue fell silent, then suddenly from the stands, and from the benches, boos, and confrontations with the referees began. The Palma players and coaching staff were calling for the goal to be reviewed. The Palma fans were screaming that it wasn't a goal, the referees were struggling to control the protests of both teams as S.L Benfica was calling for the goal to stand. The referee called for a review and the goal was cancelled. The Palma players and their fans went crazy, in their debut campaign in the UEFA Futsal Champions League  the club had secured their place in the final against former champions in 2019 and 2021, Sporting Clube de Portugal and made history.
Press conferences
Yesterday, we attended the separate Final press conferences of both clubs to hear their thoughts. The first press conference was attended by Mallorca Palma Futsal Head Coach Antonio Vadillo and his player Marlon Oliveira Araujo. Here is what they had to say:
Antonio Vadillo: "It will be a tough game and we will try and do as well as we can. Playing at home is a big advantage. We have worked hard and we have a great chance. The players and staff have had a day to recover from the semi-final. They will give 120% and hopefully, it will go well. Palma are a great team when they give their all, we are hard to beat. I've told my players that we have to win, our opponents are very good, they win a lot, they are a very compact team and we have to match them. We know it will be difficult. Tayebi is recovering well, he should be a lot better on Sunday. It's a great stage, the final, it is what we all have been aiming at."
Marlon Oliveira Araujo: "I'm hoping to play the match of my life. I think, physically, it will be a similar challenge to the Benfica game. And as we showed in that match, we are up to it. This is a great challenge for us. But I feel we have prepared well, we will give our all and I feel we have a great chance with all the hard work we have done."
The second press conference was attended by Sporting Clube de Portugal Head Coach Nuno Dias and his captain João Matos who become the first player to reach 75 UEFA futsal club appearances in Friday's semi-final. He also holds the record for final appearances (18) and will make his seven final appearances in this competition on Sunday. This is what they had to say:
Nuno Dias: "I know Palma very well. Not only as I am a close friend of their coach and director, but I also like the way they play. They are strong in all phases of the game and their goalkeeper is a very important part of their attacking play. It's true they struggled when Benfica played 5v4. I hope I don't have to do that, but we did see that they struggled. On facing the home crowd in the final, I think back to when we won in Almaty with [nearly 12,000] people in the stands [in 2019]. We also won the Champions League behind closed doors [in 2021], so I don't think that is a factor"
João Matos: "It's a nice mark, it makes me proud, not only because of the number but because it helps the club to win and be here. We, as always, are focused and believe in our qualities, We know Palma's strong points, we are prepared for the game. "It's a nice mark, it makes me proud, not only because of the number but because it helps the club to win and be here. We, as always, are focused and believe in our qualities, We know Palma's strong points, and we are prepared for the game. I sleep peacefully even though I know the importance of the match, but at the end of the day, it's only a futsal match. My experience helps me cope with this sort of anxiety. We haven't had much time to prepare for Palma but we watch the match and we have identified points where we can improve and we can harm them."
Today, the third and fourth-place play-off kicks off here at 5 pm and the final takes place at 8 pm. We cannot recommend enough that you do not miss these matches. If you don't know where you can watch the match in your country/ region, here is a link to an article by UEFA breaking down where you can watch the matches: Where to Watch the Matches
You can read more articles about domestic futsal by going to the top navigation bar or by clicking here
If you like this article and would like to keep updated on Futsal news, developments, etc then you can now follow Futsal Focus via Google News by following our page which will send you an alert as soon as we publish an article so please click here and follow us on Google.
You can also keep updated on Futsal news, developments, etc then please submit your email below in the Subscribe to Futsal Focus option.
Follow Futsal Focus by clicking on Facebook, Twitter, or Instagram or on the social media buttons on the website.