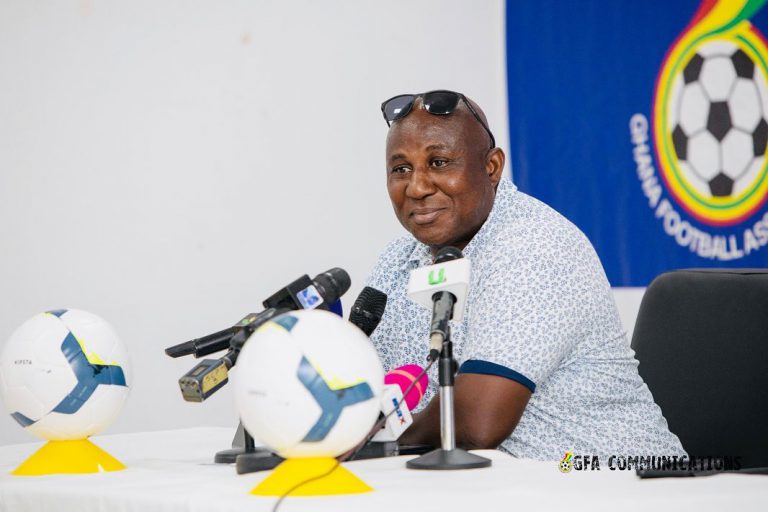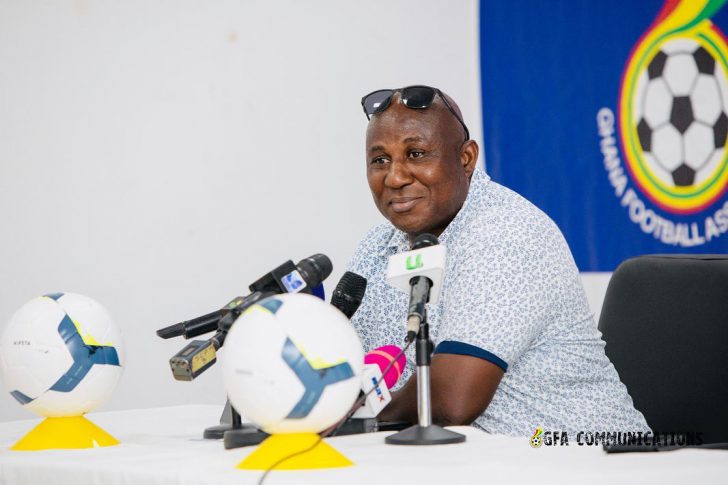 Estimated reading time:10 minutes, 28 seconds
2023 has been a great year for futsal all over the world so far. The first development is the advancement of the women's game due to FIFA confirming their intentions to launch a women's futsal world cup. Secondly, is the growth of the sport in Africa, the continent which you could argue is furthest behind the other FIFA confederations when it comes to embracing futsal and developing the sport. But it seems that this may change throughout 2023. And it is in the African continent where a lot of news invites optimism. The popularity of futsal growing in South Africa, rumours are rife that Morocco is the main candidate to host the 2024 World Cup, Senegal is hosting the Youth Olympics 2026 in which futsal will continue to replace football, and Ghana launching the Futsal Premier League.
(Main picture. Nathaniel Markwei at the official presentation of the Ghana Futsal Premier League. Source: CFA Communications)
The latter is the most recent news to come out of the continent that received a lot of media attention domestically and around the world among futsal media platforms which was great to see. Due to this, Futsal Focus was interested to learn more about the project as it has dragged futsal to the surface again in Ghana after almost three decades of being in a state of limbo. The reason for this concerns the last time Ghana as a nation took part in official futsal competitions. In 1996, Ghana entered a team into the African Futsal Championship (now known as the Africa Futsal Cup of Nations), hoping to qualify for the 1996 FIFA Futsal World Cup which took place in Spain.  The African Futsal Championship took place in Cairo, Egypt from September 25 to September 30, and 5 nations took part that included Egypt, Zimbabwe, Somalia, and Zaire. Ghana defeated Zaire in their opening match 19-5, lost to Egypt 2-1, but won 9-2 against Zimbabwe, and cruised to victory against Somalia 13-0. Ghana finished in second place to Egypt who won the competition and represented Africa in the world cup. Egypt would go on to finish third in their world cup group, losing to Ukraine and Spain, 7-2 and 10-3.  After the African Futsal Championship, Ghana never launched a futsal team again.
To learn more about the new futsal project in Ghana, Futsal Focus spoke with Nathaniel Markwei, Ghana Football Association Futsal Committee Chairman:
FF: Almost 27 years ago, Ghana finished as runners-up at the African Futsal Cup of Nations but since then, the sport went into a state of oblivion. Why has futsal been forgotten for so long in Ghana despite the good results at the end of the last century?
NM: Prior to the launch of the league, I was not privy to this information but got wind of it. Since then, I have done my own research and I can say that it might have been under a different body, but certainly not under the FA. As I mentioned in my speech at the launch, it is the current administration led by Kurt Edwin Simeon-Okraku who has made the current futsal environment a reality, though we acknowledge, it's been here for some time now. So, I think 27 years ago, this was under a private organization sanctioned by the FA to organise a team, because we have had other sports like beach soccer being organised privately previously until it eventually became official and under the umbrella of the Football Association.
FF: Why have you decided to resume futsal in the country?
 NM: During the launch, the Ghana Football Association president said that it is one of his objectives to invest in every discipline and to make sure every product under FIFA is given the required attention. It is his interest in futsal and his quest to achieve the goals set by the association that persuaded futsal-loving people like myself to work together and develop the sport and ignite a passion again for this beautiful game.
FF: Other African countries such as Uganda, Angola, and South Africa are also developing futsal. Have they served as an example to you and the FA, inspiring you in some way to follow suit?
 NM: These countries have definitely inspired us. Other countries like Morocco, and Egypt have achieved great things in the sport as well which you could argue is unexpected for such nations to be recognised globally. But, when I heard that countries like Uganda were being recognized around the world in futsal for their efforts to develop the game, this convinced me that we can do it too.
FF: You recently launched the Ghana Futsal Premier League. What can you tell us about it?
NM: The league started on Saturday 22nd of April, and on day one, I saw some excellent skills being displayed on the part of both officials and players alike. We saw some amazing goal-scoring abilities and wonderful skills.
In total, matchday one gave us 52 goals with the highest goals scored by a team being 16 and the highest goal scorer, notching 8 goals. Only two yellow cards were recorded but no red cards. Spectators came to support the league, around 200 were in attendance, and we had a wonderful time.
FF: Has the announcement of the Futsal Premier League in your country been impactful?
NM: Yes, the media were up to the task with about five media firms represented. And since it's something new, several more radio stations have assisted us to spread information, helping to increase awareness. Also, there's excitement in the air as to what this is all about. But those who know about futsal are also gearing up to create or form teams to compete.
FF: Will the league matches be broadcast live?
NM: Yes, most of them will be broadcast live on our Facebook page. Other TV stations and radio stations will provide live commentary as well.
 FF: Where can people follow the league news? Is there a specific website or social media for Ghanaian futsal?
 NM: There will be short videos and pictures posted and the Ghana Football Association website will be the main link.
FF: We saw on social media how the futsal courts where the league is played are made of artificial grass and do not have the FIFA regulation lines, for example. This is because there are no specific futsal courts available in the country. Are there any plans for the construction of more specific futsal centers where you can play? Meanwhile, will you modify the grass courts to adapt them to the FIFA regulations?
NM: There are at least two futsal halls in the greater Accra region, but since availability is an issue we decided to adapt to the AstroTurf and then, when we select players for our national team we will start training in those two centers.
I had someone tell me since we don't have futsal standardized pitches then what we are playing is not futsal, but if you read law one of FIFA's futsal laws of the game, under the pitch, the requirement is that "it must be a non-abrasive surface" and so once we have the measurements correct, all we need is to apply the rules and then bingo. Because we cannot wait till pitches are constructed before we start. There's an old Danish proverb that says "every beginning is difficult" so yes, there will be challenges but we shall address them as they come. Also, we have put it out there that we are willing to partner with anyone/ organization who is willing to invest in futsal pitches or stadiums. Just come on board and let's work together.
FF: Have you received any help or support from FIFA or CAF in terms of funding, etc. to be able to create the league?
NM: No. But, FIFA has helped with the organization of seminars and trainings and many more such activities are in the pipeline. For instance, we have had training for futsal instructors and referees, and we are about to start futsal coaches training as well.
FF: What plans do you have for the development of the Ghana Futsal National Team?
NM: We are looking at playing some friendlies after the league and also to take part in the next Africa Cup of Nations and subsequently aiming to qualify for the World Cup stage.
FF: What do you think of Morocco hosting the 2024 Futsal World Cup, thus becoming the first African country to host this event? 
NM: Morocco is a superpower in Africa in terms of futsal and therefore I think they deserve to host the competition. We shall strive to be there. And not only represent but make a mark.
FF: Do you plan to introduce a Youth National Futsal Team that can compete in the futsal competition at the 2026 Youth Olympics in Senegal?
NM: Yes, we are already putting things in place for that, and it will be shown in the coming weeks. As we speak with some schools, they have invited our instructors to come and take them through the laws of the game so it will start from there.
FF: What plans do you have for the development of women's futsal with national competitions like a Women's Futsal Premier League? And a Ghana Women's Futsal National Team?
NM: Of course, we cannot leave our ladies out of the fun. That is why at the launch an Executive Committee member was challenged to form a women's team. And we have three of the teams participating in the current league owned by women. So for sure, we shall get there.
FF: What plans do you have for the education and training of futsal coaches and referees?
NM: Referees have been trained last year. We selected the best across the country and invited FIFA instructor Said Nouri to take them through the required course. So, currently, we have at least a minimum of ten futsal referees in every region. As for coaches, the training will be on sometime this year between August and September.
FF: Do you have an estimated timeline in which to turn futsal into a professional or semi-professional sport in Ghana?
NM: As for the timeline to become professional we don't have any. Once the league has kicked off in terms of popularity, the enthusiasm and patronage are what will guide us in setting future goals.
FF: Will you collaborate with other African countries to develop futsal together?
NM: Sure, we are ready to collaborate with any country that would like to partner with us in developing the sport. I believe the first point of call is to play some friendlies and then pick it up from there.
FF: What objectives do you set for the development of futsal in Ghana in the short, medium, and long term?
NM: Our short-term goal is to play in the next futsal Africa Cup of Nations and qualify for the World Cup. The medium-term goal is to get all schools in the country to be playing futsal as well as corporate bodies and develop leagues for these criteria as well and build venues across the country. And finally, our long term is to make futsal a professional and popular/loved sport in Ghana.
We want to thank Nathaniel Markwei for his collaboration and willingness to do this interview.
Author of the article
Alejandro Méndez, born in Cartagena (Spain), is a journalism student at the University of Murcia. Passionate about futsal, he collaborates with different local, national, and international media about Futsal such as Futsal Focus, Efesista.es, Futsal Corner, and Cadena Ser Cartagena.
Futsal Focus
You can read more articles about global futsal by going to the top navigation bar or by clicking here
If you like this article and would like to keep updated on Futsal news, developments, etc then you can now follow Futsal Focus via Google News by following our page which will send you an alert as soon as we publish an article so please click here and follow us on Google.
You can also keep updated on Futsal news, developments, etc then please submit your email below in the Subscribe to Futsal Focus option.
Follow Futsal Focus by clicking on Facebook, Twitter, or Instagram or on the social media buttons on the website.