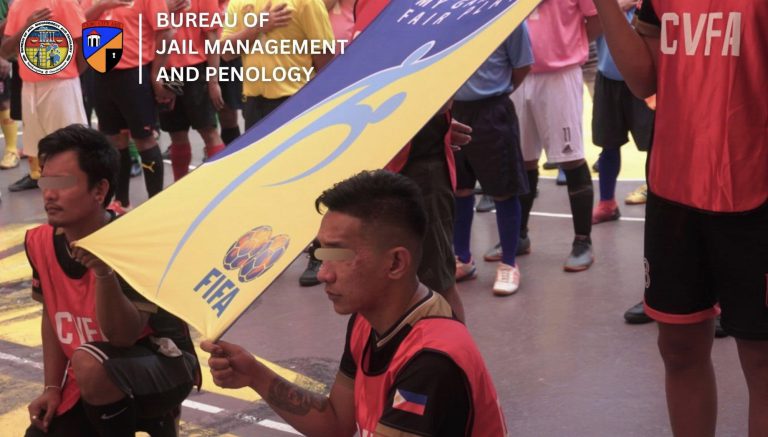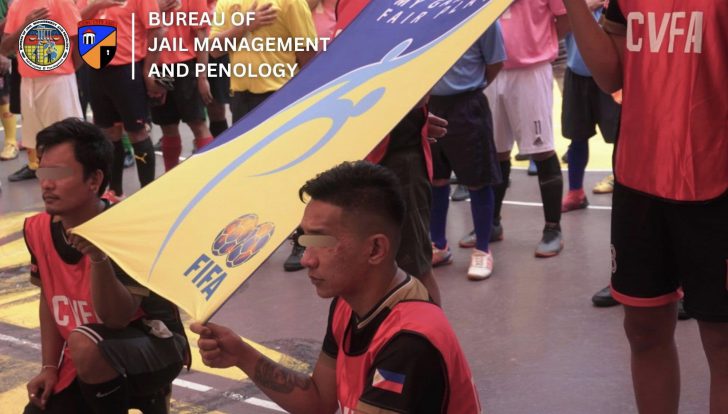 Estimated reading time:6 minutes, 1 second
Futsal is a sport practiced in all parts of the world, even in the most restricted places, futsal crosses borders, and even bars. And, now you are probably wondering what I mean by restricted places and can go through bars. Well, yes, I mean prisons. Futsal being the main/ favorite pastime inside prisons is not unheard of. But, the first thing we think about in regard to futsal in prisons is that it must be organised at an amateur level or played similarly to 'street' futsal. In the vast majority of cases, you would be right, a simple pastime to entertain the prisoners, without much to do with professionalism. However, there are also prisons where futsal goes one step further and is no longer just a simple form of entertainment, but a true tradition is created around it, which gives it a certain degree of professionalism.
(Main picture. The opening ceremony of the futsal tournament started on April 14. Source: Cebu City Jail – Male Dormitory)
This kind of environment happens in Cebu City Jail – Male Dormitory (CCJ-MD), a male prison located in Cebu. The second largest city in the Philippines, behind the capital Manila. Since March 2021, they have been organising futsal competitions, and now, the Central Visayas Football Association (for the Central Visayas region), has taken an interest. But those involved at Cebu City Jail want to go one step further and earn recognition from the Philippine Football Federation, and for now, they are on the right track. Futsal Focus was also interested in this project and we were able to speak with Blanche Aliño, Community Relations Service Officer and Spokesperson of the Cebu City Jail – Male Dormitory.
It all started with the idea of ​​one of the prisoners or Persons Deprived of Liberty (PDL): "The new sport innovation was initiated upon the idea of ​​PDL Jesus "Jao" Singson, a former football player and coach. The idea was then presented to JO2 Neils Aquino, the Unit Sports and Culture Officer of the Welfare and Development Unit. Through the collaborative efforts of the PDL (who are also former football players) with the supervision of the jail management, the CCJ-MD Futsal Team was formed", says Blanche Aliño.
From its launch on March 26, 2021, the sports program has already hosted four tournaments inside the facility. This is the third season of futsal in Cebu City Jail – Male Dormitory. Two tournaments are held each season: the Summer League in April and the National Correctional Consciousness Week (NACOCOW) League. With 7-8 teams per tournament, each team plays a match against every other team a number of times or a round-robin, until a champion emerges from the tournament after winning most of the matches.
When asked why these futsal tournaments are held, Blanche responded that "the futsal tournaments are an avenue for PDL players to develop their sports skills. Their participation in the tournament not only develops their technical skills, but tactical skills as well. The tournament is also an aid of the coach in the selection of players classified as beginners and regular players. On this basis, quality players can be selected through observation of their performance. The tournament also allows the player to increase self-discipline, resiliency, teamwork, and brotherhood".
But this project would not be possible without the help and collaboration of sponsors, organizations, and private individuals, both nationally and internationally: "Showing their support to this sports initiative are several known sports enthusiasts and personalities in the football scene like coach Oliver "Bing" Colina or former and current Azkal players including Ref Cuaresma graced the launch ceremony of the CCJ-MD Futsal Team and its tournaments that followed, through video messages. The sustainability of sports is made possible through the support of numerous sponsors, organizations, and even private individuals, both local and international. The Lion City Foundation in Singapore, a foundation, recognized the perseverance of the team and extended their help and sent out sports materials for the players through Singaporean Police Officer, Lubris Ratno, who is also a soccer player and coach. The owner of VDM Sports, sportsman Voltaire Montebon, also reached out and offered the donation of various equipment for futsal" affirms the CCL-MD Spokesperson.
All this good management and organization has led the Central Visayas Football Association to take an interest in the project and collaborate with the Cebu City Jail – Male Dormitory. This football association participates by donating part of the necessary material such as kits, futsal shoes or balls, but "a collaboration between Central Visayas Football Association (CVFA) and CCJ-MD Futsal Team is in the works, with the latter hoping for a possible cross coaching session and exhibition game in the future. These kind gestures from the benefactors esteemed from their belief in the reformative impact of futsal for the PDL players", Aliño states.
But, this collaboration with the Central Visayas Football Association falls short for CCJ-MD, they want to go a step further and make the leap at the national level, with The Philippine Football Federation, giving their "recognition and support" to promote their project for futsal throughout the country and to serve as an example to others.
Blanche Aliño wanted to close the interview by explaining the importance of futsal, which is much more than a sport and hobby: "Futsal is a platform that paved the way for PDL's positive changes while in detention. It is also an eye opener for the public to change their impression of the Persons Deprived of Liberty, that they are not only detained due to breaking the law, but, that they are still humans who deserve a second chance to change, and one way to do that is through sports – through futsal".
Futsal Focus thanks Blanche Aliño for her collaboration and willingness to conduct this interview so we and our readers can learn more about the interesting and important project they are developing in Cebu City Jail – Male Dormitory through futsal.
Author of the article
Alejandro Méndez, born in Cartagena (Spain), is a journalism student at the University of Murcia. Passionate about futsal, he collaborates with different local, national, and international media about Futsal such as Futsal Focus, Efesista.es, Futsal Corner, and Cadena Ser Cartagena.
Futsal Focus
You can read more articles about global futsal by going to the top navigation bar or by clicking here
If you like this article and would like to keep updated on Futsal news, developments, etc then you can now follow Futsal Focus via Google News by following our page which will send you an alert as soon as we publish an article so please click here and follow us on Google.
You can also keep updated on Futsal news, developments, etc then please submit your email below in the Subscribe to Futsal Focus option.
Follow Futsal Focus by clicking on Facebook, Twitter, or Instagram or on the social media buttons on the website.