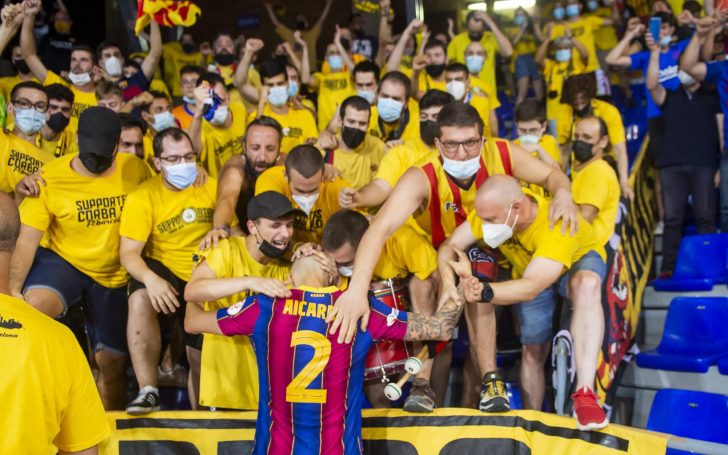 Estimated reading time:2 minutes, 22 seconds
The Catalans forced extra time and penalties with goals a few seconds from the end
Barça took their fifth league title in the most agonizing way possible. Andreu Plaza ends his time on the bench with a title that he may have thought wasn't going to happen due to a season filled with disappointing performances. With 0-1 against, Daniel forced extra time with 44 seconds remaining. In extra time, Levante went ahead again, but again a goal came in the last minute. This time it was Matheus, 46 seconds away. In the shootout, Dídac stopped two shots and to take the title.
The defeat could not have been more cruel for Levante who had a great season, playing all the possible semi-finals, they were so close to the title they could almost touch it. Next year they will play in the Champions League due to reaching the final, but this defeat will still hurt. Few times someone had a title so close and it escaped him like that.
🏆 BEN AMUUUNT, BEEEN AMUUUNT 🏆
🙌 C A M P E O N E S 🙌
💙 CHAMPIONS ♥️ pic.twitter.com/ffMTUNKBzs

— 🏆 Barça Futbol Sala 🏆 (@FCBfutbolsala) June 30, 2021
The first 20 minutes were marked by the respect between them. Nobody wanted to make mistakes and that's why they hardly took risks. Even so, both had a shot at the post, Ximbinha,  and Rubi for the visitors.
We had to wait for the start of the second half to see the first goal. At 25 seconds, Pedro Toro clinched a rebound from Dídac Plana to a shot from Rescia. Barça responded soon with another shot at the post, this time from Ferrao, but it was difficult for them to open the Levante defense. And when they were most overwhelmed, Diego Ríos opted for the goalkeeper-player to cut the tempo/flow.
Everything went perfect until Daniel's goal with 44 seconds remaining. Despite the blow, Levante rebuilt and managed to score two minutes into extra time, after a minute of possession. Matheus forced penalties and Dídac was decisive. The title stays at the Palau.
🙌🙌🙌 Siiiiiiiiiiiiiiiiiii 🙌🙌🙌🙌
Super @didacplana !!! pic.twitter.com/j5kJ8OQbh2

— 🏆 Barça Futbol Sala 🏆 (@FCBfutbolsala) June 30, 2021
You can read more articles about domestic futsal by going to the top navigation bar or click here
If you like this article and would like to keep updated on Futsal news, developments, etc then you can now follow Futsal Focus via Google News by following our page which will send you an alert as soon as we publish an article so please click here and follow us on Google.
You can also keep updated on Futsal news, developments, etc then please submit your email below in the Subscribe to Futsal Focus option.
Follow Futsal Focus by clicking on Facebook, Twitter, or Instagram or on the social media buttons on the website.