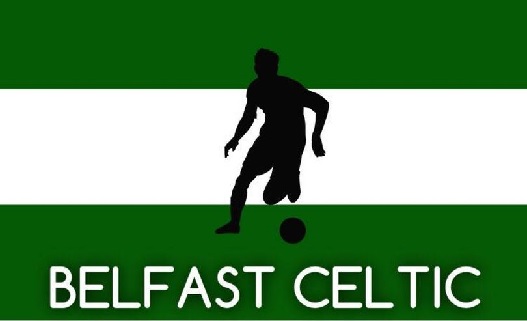 Estimated reading time:7 minutes, 0 seconds
Belfast Celtic aims to have a paid Futsal coach who can help develop the 15 players we hope to have in our squad. Players will be remunerated based on ability, commitment, and success. Training gear, access to education and financial incentives should be enough to weed out potential semi-pro players. We don't want players who think they can play, we want players who want to play!
Belfast Celtic is a legendary club in Irish Football history. The club was based in West Belfast on the Donegal Road and was one of Ireland's most successful football clubs. Ireland was partitioned in 1921, and Belfast Celtic continued to compete but in the Northern Irish League. However, they would later withdraw from the league due to political reasons in 1949.
Since the clubs withdrawal, many have dreamt of bringing it back, a process Sport & Leisure Swifts FC succeed in as they will be known as Belfast Celtic FC from next season. The Irish FA approved Sport & Leisure's application to change their name to Belfast Celtic last December. It followed a protracted consultation process involving the Northern Ireland Football League and Co Antrim FA. The Belfast Celtic Historical Society were also consulted, who voiced their concerns over Sport and Leisure's plans to take on the name of the 'Grand Old Team.'
Club treasurer Paul O'Cahan insists the legacy of the famous team that dissolved in 1949 having won 14 Irish League titles and eight Irish Cups would never be diminished.
"The legacy of Belfast Celtic exits. The history of Belfast Celtic exists. Nothing changes that," he added. But this new Belfast Celtic deserves to write its own history, and create its own legacy. That's what we want to do. Sport and Leisure Swifts have a proud history spanning 40 years. Sport and Leisure's legacy will include bringing back Belfast Celtic."
O'Cahan added: "We have a plan and we want to act on that. We want free football for all which is a big thing. Everyone who plays for our club at any level should not and will not pay to play football. How many of those other teams don't charge kids to come and play football? So we have bigger plans than just a name change and a rebrand. There are lots of things to think about. We also have a Fustal team which is another way to expand the club and the name. So we have very exciting plans for the future."
Concerning their Futsal plans is where this Futsal Focus interview starts. Paul agreed to speak with Futsal Focus about the clubs plans for futsal development in West Belfast.
Paul, you have announced that Belfast Celtic have entered a team into the IFA Futsal League and will be a semi-professional team, however…
What ignited your clubs interest in futsal and the desire to compete for the Irish FA Futsal League title which will give your club the opportunity to compete in the UEFA Futsal Champions League?
I was personally introduced to Futsal over 14 years ago when I went to Estonia to learn the basics and progress of my football coaching. While in Tallinn, I studied the game of Futsal at a grassroots level. The local players and teams were pushing to gain a recognized form of Futsal accepted by their national governing body.
Initially, it was non-contact and relied on tiki-taka passing coupled with blatant tekkers and a focus on scoring plenty of goals through the unmistakable red and white taped hockey shaped nets. It was played with amateurs in mind. It was designed by the streets for the streets. There was an air of childhood street football but without the brick walls. It was about nutmegging your friend and showing off your Cruyff turn. My interest in Football now focused on Futsal. There wasn't a national league in Estonia until 2006: The Saalijalgpalli Meistriliiga.
When the IFA introduced Futsal here in Belfast a few of my friends had been playing it on and off for the past two years. I jumped at the chance of entering a team and used Sport and Leisure Swifts as the parent club to get players registered. The leagues and cup competition organized by the IFA started slowly, with a number of teams forming the basis of a National League.
We see the potential of the European competition as a great incentive to win the National League and hope to take the competition as serious as possible.  Having a strong Futsal Squad will be great to help develop the skills of our players. Players from our football teams interacting with our Futsal Squad will benefit from small sided games, quick passing, very quick decision making, pressure moments and collective scoring movements, as well as sharpness and acceleration increases.
You say semi-professional but can you break this down more? Meaning, will coaches and players be paid or do you mean all expenses will be covered by the club for training, travel, etc?
We are aiming to have a paid Futsal coach who can help develop the 15 players we hope to have in our squad. Players will be remunerated based on ability, commitment, and success. There is an expectation that players will commit to a minimum of one training session per week and one game day per week. The league season is short, however, we intend to play games during the quiet periods with trips to Dublin, England, and Scotland. Training gear, access to education and financial incentives should be enough to weed out potential semi-pro players. We don't want players who think they can play, we want players who want to play!
What are your aims for this development, is it a team or a futsal club with its own budget and development plans?
This is a Futsal Squad and is part of the overall development of Belfast Celtic. The budget will be reflective of its success and the appetite locally to sustain Futsal with the IFA.
Do you plan to bring in the foreign experience in futsal to help manage and develop the club or will you look to give a local coach the opportunity and support his development?
There is no hard and fast rule. We will happily entertain any Futsal coach and we will certainly be supporting them to further develop their skills. It's a fantastic opportunity for someone to be in a paid position and to work with players who will be dedicated to winning their games.
What are your plans for the futsal section over the next 5 years?
We realize we might not win the National League straight away and will focus our attention on developing an extremely strong squad who will be able to match the level of fitness and professionalism as some of the teams throughout Europe. The need to expand our Futsal set up is inevitable and there is a long term plan to make Futsal a key priority at Belfast Celtic.
Will it have its own academy? Will you develop a women's section?
Belfast Celtic will have its own Academy and Futsal is key to this. Youth Futsal and Women's Futsal will be developed over the course of the next 5-10years, however, if there is an appetite for these right now, then we will happily explore them.
Your football club will play their fixtures out of Donegal Celtic FC's ground in a shared stadium agreement. However, what are your plans for the future of Belfast Celtic will the football and futsal sections have their own facilities and investment support?
We currently have a long term lease at the Northern Ireland Chest Heart and Stroke Arena up on the Glen Rd. We will have a planning application submitted over the next 6 months to develop the land to incorporate a large community facility and 4G pitch to accommodate our Football Academy. It is hoped this will incorporate an indoor Futsal pitch.
If you like the information provided, you can read more about articles domestic futsal by going to the top bar navigation or click here
If you like this article and would like to keep updated on Futsal news, developments, etc then please submit your email below in the Newsletter section or by clicking on the Subscribe to Futsal Focus option on the header.
Follow Futsal Focus by clicking on Facebook, Twitter or Instagram or on the social media buttons on the right sidebar.