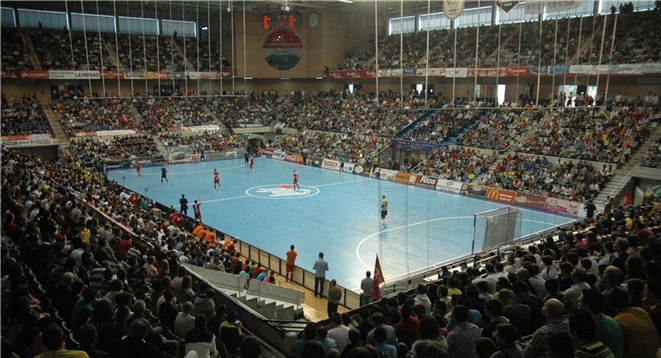 Estimated reading time:3 minutes, 34 seconds
"Our intention is to do provide a course that is different, takes risks, introduces new contents, is brave and asks the speakers to tell us their secrets, their guidelines, their thoughts and their ways to understanding futsal, how they work and how they train. Learning from the best in the world I think is interesting and enriching."
The University of Murcia and professional futsal coach and Sports Director at CFS Pinatar Nacho Garrido have made the first edition of their futsal experts online course. The course will feature innovative content and speakers of international prestige.
The course is directed by Nacho Garrido with more than 15 years experience in the Second and First Feminine Division, First Division in France and Second and Second B male in Spain, as well as several years as a FFRM Coach with 2 Spanish Championships
The course was described by the LNFS as a sensational and innovative course which will feature futsal professionals such as Kike Boned, Miguel Rodrigo, Bruno Garcia, Jesus Candelas or Vinicius Teixeira.  In addition to these experts, it will also include World Champion head coach with Argentina and current coach of El Pozo Murcia, Diego Giustozzi.
It is a pioneering project to promote the training of coaches, players, physical trainers, fans and Futsal lovers worldwide.
The first 60 people who register will benefit from a 100 Euros deduction from the price that will be granted by the University of Murcia.
Futsal Focus reached out to Nacho Garrido to find out more about the course.
Nacho, how long has this course been in the making and what inspired its development?
We have been working on this project for about 7 months, working on the content, structure and confirming the guest speakers whilst also making sure it met the requirements of the University of Murcia. It has been a lot of work but it has been worth doing due to the impact we aim to have with this course for the industry. Everything concerning the course was born from the idea and the goal to continue the growth of FUTSAL. We aim to provide the tools for those that participate to be able to conquer new scenarios that will give us prestige as a sport.
Why should anyone consider this course? Can you provide us with more detail about what participants should expect from it?
Our intention is to do provide a course that is different, takes risks, introduces new contents, is brave and asks the speakers to tell us their secrets, their guidelines, their thoughts and their ways to understanding futsal, how they work and how they train. Learning from the best in the world I think is interesting and enriching.
How will participants benefit from the course once they have finished it?
I believe that the continuous learning and forming of ideas to apply is the key for the improvement of a coach and an act of responsibility towards the players that he/she trains and respect towards his fellow coaches. The benefit from this course is that it will make them better and those around them better.
What interest have you had so far in the course and when does it start?
The course is having a fantastic reception and response, with coaches from several countries enrolled already; it starts at the end of May and runs until the middle of July
How much is the course? And what languages is it provided in?
It costs 300 euros for coaches who have a scholarship from the University of Murcia but for those who don't receive the scholarship it will cost 400 euros. The course will be in Spanish but with lots of practical sessions (on the court) and many videos
If you have any further questions about this futsal online course then for more information contact: nachofutsalcoach@gmail.com
If you like the information provided, you can read more about Futsal research by going to the top bar navigation or click here
If you like this article and would like to keep updated on Futsal news, developments etc then please submit your email below in the Newsletter section or by clicking on the Subscribe to Futsal Focus option on the header.
Follow Futsal Focus by clicking on Facebook, Twitter or Instagram or on the social media buttons on the right sidebar.