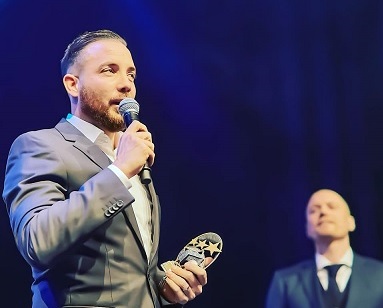 Estimated reading time:5 minutes, 47 seconds
IFK Uddevalla Futsal and Swedish Futsal International Kristian Legiec efforts domestically and internationally were not only recognized by his peers but by the Swedish Football industry as well. We congratulate Kristian and admire his success in achieving this recognition from Sweden's Football Awards and Futsal Awards which has helped to elevate his profile as the country's best futsal player.
We had the opportunity to speak with Kristian to see how he felt about the awards he has received this year, about his career so far and more.
Before we discuss the recent awards and this season, for those reading about you for the first time, can you please introduce yourself, how you were introduced to futsal and why you decided to pursue a career in futsal?
I am the captain of the Swedish National futsal team and I am 32 years old. I started my futsal career in 2011, just 8 years ago when I was 25. At that time, I got a call from Malmö City asking me if I was interested to train with their newly formed futsal team and like most, I wasn't familiar with Futsal. At first, my reaction was to pass on the opportunity but then I thought I would go along and at least try it out before closing the door on the opportunity.
After training with the team, I was completely sold on futsal and as Enrico Rosati said in his Futsal Focus interview, it was surreal, I was thinking why I hadn't heard of the sport? The fire I thought I had lost for playing football was reignited through futsal. I recommend any player considering to give up on football to try futsal, your skill set and way of thinking may be more suited to the sport. I became a Swedish champion with Malmö City that year and then I signed a professional contract with Manfredonia in Italy.
You were the first Swedish player to be signed on a professional contract abroad. Can you please tell us about your experience in Italy, and are you still interested to play abroad?
To be Sweden's first professional futsal player and to sign a professional futsal contract so soon after converting to futsal was not something I was expecting. Therefore, you can imagine how honoured and delighted I was to represent my country abroad, and not only my country but my coaches who had helped me to develop my understanding of futsal at that time. It was an achievement I am still proud of. However, I only played 1 year in Italy before I developed a groin injury at the beginning of the year, so I, unfortunately, played the season at 50 to 70 percent capacity – the injury took its toll on me. After that, I decided to go home to Sweden as my partner was pregnant and we had our child, Benjamin.
Playing futsal in Italy helped develop me as a person and as a player. The experience I gained there showed me the leadership, professionalism and the mental capacity that is needed to play at a higher level.
This has been a fantastic season for you domestically and internationally. What do you think has been different for you in terms of your own improvement as a player and why do you think this could be helping you at your club and on the international stage?
The Swedish futsal national team has developed enormously since Matija Dulvat came in as our coach. His 10 years' experience in Italy coupled with his time in Croatia has helped me and my teammates to raise our game and helped to cement and add to what I learned in Italy. I believe within a few years we will be able to compete well against the best in the world, but we must continue this path that we are on, not settle and keep fighting to improve. This attitude has benefited our clubs and helped me to aid my team to be the league champions last year and this year plus we enjoyed a great run in the UEFA Futsal Champions League, reaching the main round. (The video below is an example of Kristian playing for his club)
You were recognized this year at the Swedish Football Gala and at the SFL Futsal Gala. How do you feel about this recognition and what challenges do you intend to set yourself to continue your own development?
I am very happy to have been awarded Sweden's Player of the Year, not only by my own peers but to have been recognized by the football industry as well. When I was called up to receive my award their reasoning to present me with it is a moment I will never forget,
"A player that makes a difference by himself and he could easily play in the best leagues. Very enjoyable to watch because he makes difficult things look very simple. What honors most is that he always puts his team and his teammates first and that way he is captain and leader of the national team. In one word, FUTSAl's IBRA (Futsal's Zlatan Ibrahimovic)"
I was also honored to be voted by my peers and coaches to be a part of the league's All-Star team for the season which was the award I received from the Futsal Gala. I will continue to work hard to be a good role model for everyone and a good leader on and off the court. It is important that I invest the time needed to continue my own development, especially with Matija's help. This will no doubt continue to benefit my country and my club plus I want to help attract more young people to our sport.
I am very excited about the future of futsal, it is great to see so many young players experiencing the joy that it brings. Furthermore, futsal's development is starting to provide more opportunities as we saw last year with the Youth Olympics and UEFA launching the Women's and U19s Futsal EUROs.
The main picture is the Futsal Gala
Picture source is Bildbyran|Joel Markland – provided by Kristian Legiec for the use of this interview
If you like the information provided, you can read more articles about domestic futsal by going to the top bar navigation or click here
If you like this article and would like to keep updated on Futsal news, developments, etc then please submit your email below in the Newsletter section or by clicking on the Subscribe to Futsal Focus option on the header.
Follow Futsal Focus by clicking on Facebook, Twitter or Instagram or on the social media buttons on the right sidebar.