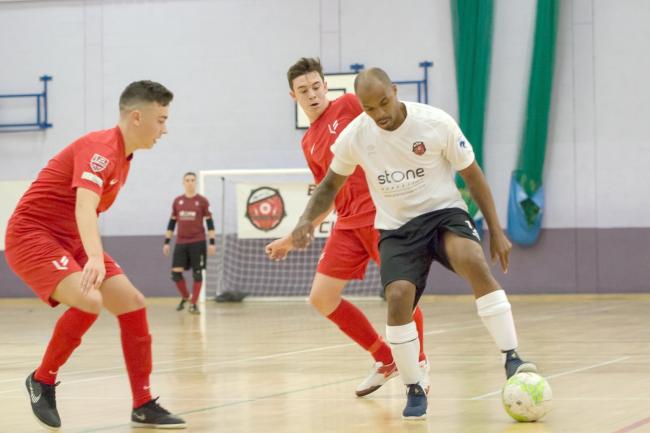 Estimated reading time:3 minutes, 28 seconds
BOLTON youngsters are being urged to join a futsal revolution in Lancashire.
A new league based in Bolton is proving so successful plans are in place to expand it throughout the county.
Futsal, an indoor variation on football played with a weighted ball, is widely growing in popularity and participation nationally and locally.
Bolton has a successful open-age club which has two teams in the national league, and the Bolton, Bury and District Football League have been consistent promoters of the sport in recent years.
The former chairman of the BBDFL, Warren Barlow, is now chairman of the Red Rose Futsal League which only started in September with games in Bolton and is already looking to grow into other areas of Lancashire.
He said: "While I was on the Bolton, Bury and District Football League, I had a passion for futsal, which is a fast-paced form of football, with a weighted ball and a set of rules which encourages decision making, provides more touches on the ball to improve technique, and encourages creativity and confidence by creating more one-to-one situations.
"It is exactly what the England DNA is about and the FA are promoting.
"The BBDFL brought futsal to the Bolton and Bury area for teams in winter, but there wasn't a league in the area to provide competition and give something tangible for teams, coaches, referees and players to join.
"In September this year, we launched the Red Rose Futsal League, which has started from small beginnings with games each Sunday at Ladybridge High School. But as team numbers and involvement grow we are looking to expand to other venues and match days.
"The Red Rose Futsal League has been 18 months in the making, bringing key partners from the county FA, FA and clubs to support the setting up of a dedicated league. Our aim is to deliver regular weekly games right across the county.
"Our initial target age group is under-7s to u13s as this fits in with the FA's plans to encourage higher levels of skill, confidence, and ability in the youngest age groups.
"We will be looking to create hubs for playing across the county so futsal becomes accessible to all and we will grow this fantastic form of the game.
"To do this, we will work with existing clubs such as Bolton Futsal Club, Manchester Futsal Club and UK Futsal Academy who have made massive strides in the region. We are also looking at working with local schools who traditionally play five-a-side to support futsal and provide inter-school competitions and events.
"We are looking to develop and support new coaches and referees by providing links to courses, events and opportunities to encourage the creation of grassroots futsal clubs or the expansion of clubs, and eventually professional club pathways.
"We have been contacted by Bernadette O'Hare, the schools game organiser based at Thornleigh High School to help deliver and co-ordinate a futsal schools festival across the Bolton area in January. The finalists will compete in the Greater Manchester Games in spring.
"There will be nine primary schools across the borough involving 75-plus players, a number of which will be first-time players.
"We will also be encouraging high school pupils aged 14 and over to get involved in refereeing the games, and we are working closely with Lancashire FA to deliver futsal referee courses to support this."
Any teams or players in the u7s to u13s age group who are interested in joining the league can get more information by contacting league secretary Gavin Hudson by calling 07402 083382 or emailing redrosefutsalleague@gmail.com or visiting the league website at redrosefutsalleague.org
Source: The Bolton News
If you like the information provided, you can read more articles about grassroots and coaching by going to the top bar navigation or click here
If you like this article and would like to keep updated on Futsal news, developments etc then please submit your email below in the Newsletter section or by clicking on the Subscribe to Futsal Focus option on the header.
Follow Futsal Focus by clicking on Facebook, Twitter or Instagram or on the social media buttons on the right sidebar.