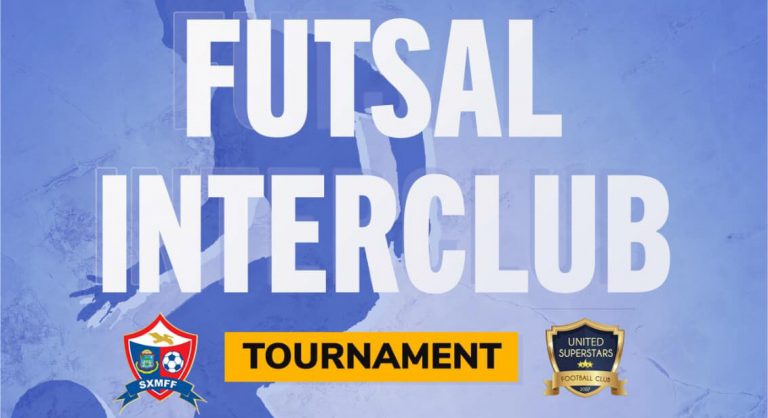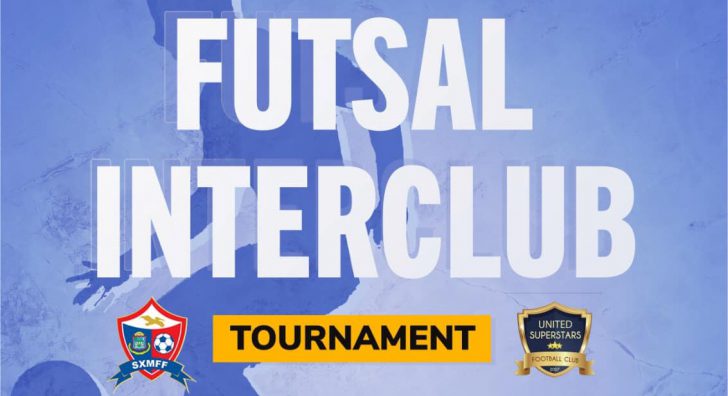 Estimated reading time:6 minutes, 4 seconds
Futsal development in the Caribbean this summer has been significant and caught our attention. First, it was the first Caribbean Games which included a futsal competition, then came the event with Didier Drogba and the Lync Cup, and now it's the United Super Stars Interclub Futsal Tournament. The St. Maarten Football Federation in collaboration with United Super Stars Football Club will hold a tournament "to elevate the level of futsal on the islands".
This Friday, July 29, the competition begins in Sint Maarten and the tournament will bring together eight different teams until Sunday 31, the day of the grand final. The championship is made up of teams from different communities on the island, which are the following: Suriname, Jamaica, Haiti, Saint Lucia, and French Saint-Martin. In addition, there will be two invited teams, Fax Nasyon Futsal from Guadeloupe and Kosmos Futsal from Martinique. The National Team of Sint Maarten will also participate and will act as hosts. The entire competition will be played at the LB Scott Sports Auditorium with a capacity of around 2,000 spectators.
The first phase of the tournament will consist of two groups then on Sunday, the first two of each group will face each other in the semifinals, and hours later the winners of these semifinals will compete in the grand final to see who rises as the winner of the United Super Stars Interclub Futsal Tournament. In Group A are Sint Maarten National Team, Kosmos (Martinique), Haiti, and St Lucia, while in Group B are French Saint-Martin, Fax Nasyon (Guadeloupe), Jamaica, and Suriname. The organizational body confirmed that they will try to broadcast the matches through Facebook. The competition schedule is as follows: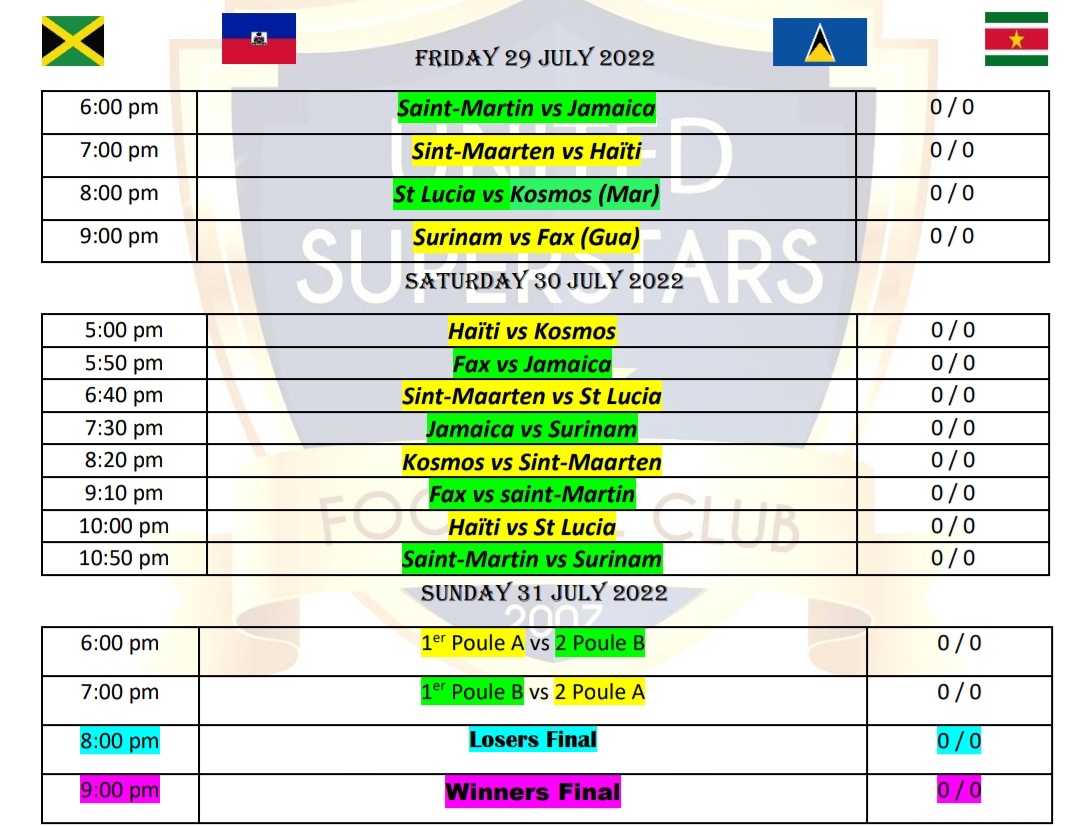 Futsal Focus spoke with Mr. Stanley York, Vice-President of the Sint-Maarten Football Federation who is also in charge of the development of futsal on the island.
FF-How did this tournament come about?
SY: I have contacts with some club Presidents who want to promote their club and develop futsal, we acknowledge the need in the Caribbean to cooperate if we want to elevate the level of futsal on the islands and we believe that organizing these kinds of events is the best way to promote our sport. We decided to start a collaboration and we are looking forward to this being a success to get more countries involved.
FF-What teams make up the tournament?
SY: We have invited the Fax Futsal team from Guadeloupe, and I want to applaud their President Mr. Steeve Bestok who is doing a great job in promoting futsal by taking part in international tournaments and often traveling with his team in the Caribbean and the United States. He also recently organized a futsal event in which he invited Didier Drogba and it was a real success. We also invited Kosmos Futsal from Martinique with their President Axel Dollin who is also doing a great job on his island by traveling to various islands with his team. We have local community teams: Mr. Paul Astrokarijo with his team of Surinamese players, Mr. Orien Allen has Jamaican players, Mr. Prince Rajaan with a St Lucian team, Mr. Denis team are Haitian, Mr. Yannick Bellechasse's team representing French Saint-Martin, and the Sint-Maarten National Futsal Team.
FF-What expectations do you have?
SY: The teams will not only play in this competition, they will also visit various towns on the island to meet the youths, and teach them about futsal so we are expecting this to have a strong impact on the growth of the sport by having more kids wanting to participate in futsal. We are looking forward to the fans coming out to support their team and enjoy the games because people here love these international tournaments and Sint-Maarten is known for receiving people.
FF-Are people supporting this tournament?
SY: On my island of Sint-Maarten, we have some infrastructure problems, we have one outdoor playing ground (Raoul Illidge Sports Complex) and the pitch was bad for a couple of years and futsal was keeping football alive. My, good friend, Mr. Steven Tjong was the president of the futsal association and he and his team used to organize a local championship which was very popular. Every weekend, the LB Scott Sports Auditorium (our Futsal stadium) was full, he also used to invite teams from Curaçao, Suriname, and the street kings from Holland to take part in international tournaments. Thanks to his work, futsal became very popular in Sint-Maarten. In 2013, we got a new pitch at the Raoul Illidge Sports Complex, and in 2015 a new football board, which I am part of. President Sudesh Singh had the responsibility of bringing football back to where it used to be, and this caused futsal to be squeezed into the yearly football calendar. With outdoor football being a priority, only one month was left for futsal which was very difficult to organize a championship. But, now with everything back to normal, we are looking forward to bringing futsal back to where it used to be and the fans keep asking all the time for some futsal action so we know that the public will be there, and the teams are impatient to compete.
FF-What are the main objectives of this tournament?
SY: Our ultimate goal is to make futsal more popular and to grow the game on each of our respective islands first. Then with our collaboration, we want to incorporate more islands to develop and raise the level of futsal in the Caribbean so that we can be competitive against the nations playing in the UNCAF. We do believe that we are on the right side because we have already got the attention of an international media (Futsal Focus) who is giving us the opportunity to let the people know not only in the Caribbean but in the rest of the world what is going on in Sint-Maarten".
I really do appreciate what Futsal Focus as a media platform is doing for the development of futsal, thank you again, Alejandro Mendez, for this interview.
Futsal Focus, thanks Mr. Stanley York for his predisposition and kindness at all times when it comes to assisting us. We wish him good luck in the development of futsal in Sint Maarten.
Author of the interview
My name is Alejandro Méndez and I was born in Cartagena. I discovered futsal in 2017 and it fascinated me. Since then, I immersed myself in this amazing and beautiful sport. I support Jimbee Cartagena, and I write and talk about futsal in Efesista.es, and for Futsal Focus.
You can read more articles about international futsal by going to the top navigation bar or by clicking here
If you like this article and would like to keep updated on Futsal news, developments, etc then you can now follow Futsal Focus via Google News by following our page which will send you an alert as soon as we publish an article so please click here and follow us on Google.
You can also keep updated on Futsal news, developments, etc then please submit your email below in the Subscribe to Futsal Focus option.
Follow Futsal Focus by clicking on Facebook, Twitter, or Instagram or on the social media buttons on the website.