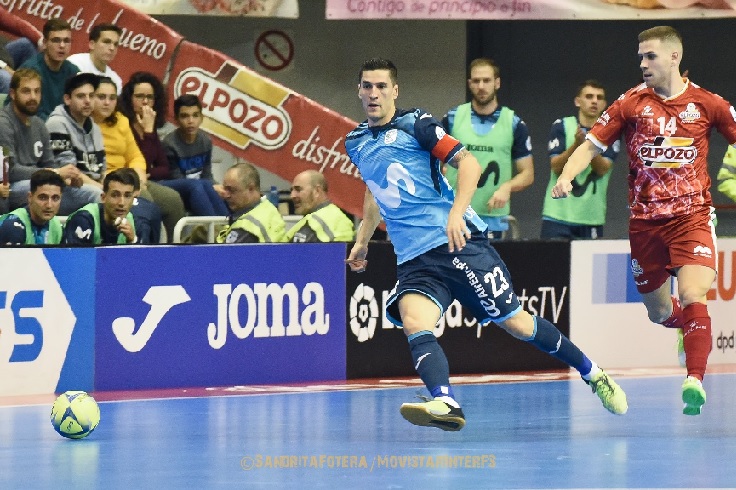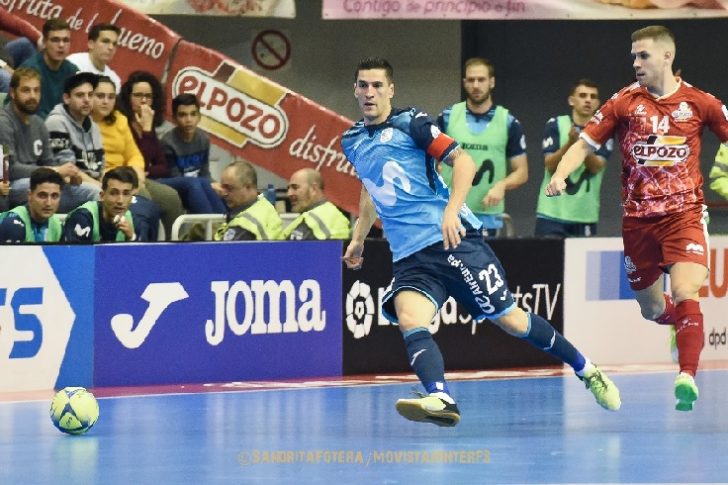 Estimated reading time:10 minutes, 51 seconds
Ortiz: "We went so close in 2008 and 2012: I hope we meet Brazil again in Lithuania!" 
Five Spanish league titles? Check! Four Futsal EUROs? Check! Three Futsal Champions Leagues? Check! A born leader, fierce competitor and arguably the finest 'cierre' of the past decade, few players can match the medal collection amassed by Movistar Inter and Spain captain Carlos Ortiz.
Now into what might be his final season at his current club, Ortiz spoke to Futsal Focus' guest reporter Nick Aitken on a host of subjects, including his toughest opponents, Inter's golden era, European glory, double World Cup heartbreak and more…
Futsal Focus: So Carlos, these are extremely uncertain times for everybody right now, but how does an elite sportsman like yourself stay in shape while confined to his home?
Carlos Ortiz: It's not easy, as you don't have access to all the training equipment that we usually use, but the fitness coach has given us all a plan to follow – to stay on top of things as best we can.
FF: As someone who's enjoyed huge success in the 'cierre' role, what would you say were the key qualities to shine in the position?
CO: I think that when you have the whole court and all your team-mates in front of you then you have to be intuitive, plus you have to be ready to put your body on the line in defence – as it's your job to shut down attacks when they get near your goal. Futsal isn't like 11-a-side football, it's very dynamic and everybody ends up occupying all the positions. Though the cierre is a player who's generally a bit more defensive and more physical, they still need to contribute in attack, start moves and weigh in with goals and assists.
FF: At both club and international level you've played with and against the best players in the world. Which 'pivots' did you know would always give you a difficult match?   
CO: I've had a long career and so there have been lots of pivots that have made my life very difficult! In recent years the outstanding pivot has been Ferrão, he's very dominant in that role and I think he's the best player in the world right now. I also remember lots of great battles with the likes of Leitão [twice a Portuguese league winner with Sporting CP], Vinícius [a two-time World Cup winner & twice voted LNFS players of the season when at ElPozo] and Fernandão [two-time UEFA Cup & three-time LNFS winner with Barcelona].
I can't forget Éder Lima [Golden Shoe winner at 2012 World Cup and 2014 EURO, and UEFA Cup winner in 2016] or Cirilo either [UEFA Cup winner in 2007 & multiple Russian champion]. There are loads of players who always demanded 100% from me!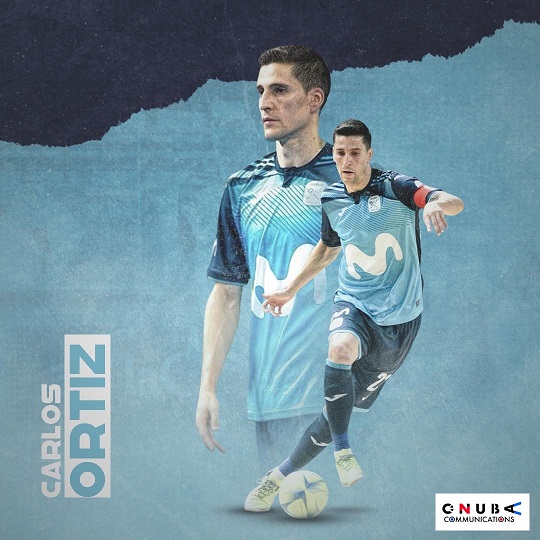 FF: How do you think you've evolved as a player since you started out?
CO: I think I'm pretty much the same player, though of course experience gives you things you didn't have before. Now I'm much calmer, I'm less impulsive – I used to react to a lot of situations that I shouldn't have. Experience teaches you that reacting like that doesn't help you at all, that you're better off keeping calm so that your mind is clearer and you can better understand how the game is flowing.
FF: That's true, though I wonder if without those "reactions" you'd be the same player?
CO: Well, I still do react to stuff, it's part of my character and I'm not going to change that, but I try to control those behaviours and help the team in other ways. There are times when your team-mates need to see you reacting like that, so you do it to help the team but, as a general rule, it's something I try to avoid.
FF: With Inter you were integral to an incredible era of success between 2014 and 2018, including five LNFS titles, two UEFA Champions Leagues, three Copas de España and three Supercopas. On the inside, how did it feel to be a part of it?
CO: When you're in the middle of it, when you're living it, you're not really aware of everything you're achieving. Now that era is over, you realise what you've achieved and you value it much more. We now realise just how difficult it was to achieve what we did, particularly the way we did it: playing attractive futsal; entertaining the fans and also enjoying it ourselves. When it's over is when you realise that it was a dream and a privilege to have been part of it.
FF: During that period the club kept a core group of players together, but plenty of others came and went. As captain, what was your role when it came to keeping standards high?
CO: We were always lucky to have a group of players who demanded a lot of themselves as individuals. Although there were always changes every season, it's true that the club kept the 'backbone' of the squad together and it was a very strong spine. All of us wanted to keep winning and when someone new came to the club they'd look at us and see the standards we set, the hunger and the ambition that we all had. That level of drive was contagious!
FF: It's my understanding that your contract runs out at the end of the season. Is staying at Inter an option or is it time for a change?   
CO: Yes, on 30 June my contract runs out. Nothing's been decided yet, but everything suggests that my time at Inter is coming to an end. I've always wanted to sample new experiences, to live in another country and play in another league, so I think that if my time at Inter does end then it'll be the moment to try my luck abroad.
FF: I'm sure there'll be no shortage of offers! You've won everything in European futsal and have a particularly close relationship with the UEFA Futsal Champions League (formerly the UEFA Futsal Cup). Tell us about the wins in 2009, 2017 and 2018 and that heartbreaking final defeat in 2016.
CO: The win in 2009 was during my first season with Inter and I didn't expect to win the Champions League so soon! We'd made some quality signings and we won the Spanish SuperCopa, the Copa de España and the Champions League. Everything seemed to be going so smoothly and we were on course to create a winning era, but after that European success we didn't win anything again for quite some time.
The defeat against [Gazprom-]Ugra Yugorsk in 2016 was very painful, as we were playing at home and we really wanted to win the Champions League after such a long time, but I think it proved to be a valuable lesson for us. In the previous year [2014/15] we'd lost in the Elite Round versus Sporting CP: we'd been having a great season but were hit by several injuries at that time and didn't make the Final Four. Then the next season we got to the final in Guadalajara, we'd been playing very well and we were heavy favourites, but again we were hit by injuries. That said, the defeat served us well ahead of the next two seasons, when we won the title both times.
FF: Indeed, Inter scaled the European summit in 2017 and 2018, with you scoring semi-final winners in both years. How have you managed to make decisive contributions at so many pivotal moments in your career? Is it something you were born with or can it be developed?
CO: I think it's something you're born with – I'm an extremely competitive player and I've always loved winning! I don't think you can train that competitive instinct, that desire – you either have it or you don't. In those two situations you mention I was fortunate enough to score key goals, but throughout my career I've always been able to produce my best performances when it matters the most. At those pivotal moments, something in my subconscious answers the call…
FF: We saw each other a couple of weeks ago at the Copa de España in Málaga, when Inter lost 3-2 in a thrilling semi against surprise finalists Viña Albali Vadepeñas. What did you make of their performances?
CO: Valdepeñas played very well, they're having a fantastic season – I don't think anybody predicted that they'd be hitting these kinds of standards for so long. At the Copa nearly everything they did came off: I think that in the quarter-finals Jaén Paraíso's performance deserved more [than a 1-0 defeat] and in the semis our display merited a bit more too. Their keeper [Edu Sousa] was amazing in those two matches, he's been fantastic the whole season in fact, but I think that they were pretty tired by the time they reached the final.
They don't have a very deep squad and they were up against a Barça team that are very strong right now, so it was always going to be very difficult. I thought they produced their best performance in the final but didn't get the luck they had in the earlier rounds, plus they came up against a goalkeeper in Juanjo who played a spectacular final.
FF: With Spain you've won four Futsal EUROs and are your country's most-capped international. Which of those EURO victories was the sweetest?
CO: For me, the 2016 EURO. We went into the preparatory phase in very good shape, but just before the tournament we were hit by injuries to four or five players who definitely would have been in the squad. That was the first EURO that I was wearing the captain's armband too, so I had a greater responsibility than previously. Faced by so many injuries the squad pulled together, put on a united front and worked harder than ever – we were doubly determined to go on and win the tournament. Everything came off for us, we played a spectacular EURO which culminated in a near-perfect final against Russia. For all those reasons and more, that EURO will always be special.
FF: You also have runners-up medals from the FIFA Futsal World Cups in 2008 and 2012, both times against Brazil and both times by the narrowest of margins…
CO: Yes, we came so close! In 2008 in Brazil I'd only just begun my journey with La Selección, I'd only been with the national team for a year or 18 months, but we had a great World Cup and did very well to reach the final. Brazil had an amazing squad at that World Cup but we pulled off a great final, fighting back to level the game twice in front of a packed house in Rio, filled with 15,000 Brazilian fans. But even though we took them to penalties, and to have won the World Cup against Brazil on their patch would have been unreal, I think they deserved to win.
I felt it was a different story in 2012 in Thailand though, as we were very strong, we played a brilliant final and were leading for long periods – even going into the final minutes, but in the end they managed to level the game and grab the winner in extra time. I think in that final we deserved a bit more, but that's sport and hopefully we'll get the chance to go up against Brazil again in the next World Cup in Lithuania. Did the ball go out of play before Brazil's extra-time winner? It was close but I don't think it did and it doesn't matter now…
FF: Last but not least, do you have a message for 'futsaleros' at this difficult time?
CO: My message to futsal fans would be that I hope that all this is resolved as quickly as possible, that normality returns soon and that we can all get back to enjoying what we love: playing and watching futsal!
Interview translated by language specialists Onuba Communications (www.onuba-comms.com), experts in futsal who only use native-language translators or content writers.
The design is by Fran Rodriguez for Onuba Comms and the main picture is from Movistar Inter press officer Sandra Santiago.
If you like the information provided, you can read more articles about domestic futsal by going to the top navigation bar or click here
If you like this article and would like to keep updated on Futsal news, developments, etc then please submit your email below in the Subscribe to Futsal Focus option.
Follow Futsal Focus by clicking on Facebook, Twitter or Instagram or on the social media buttons on the website.