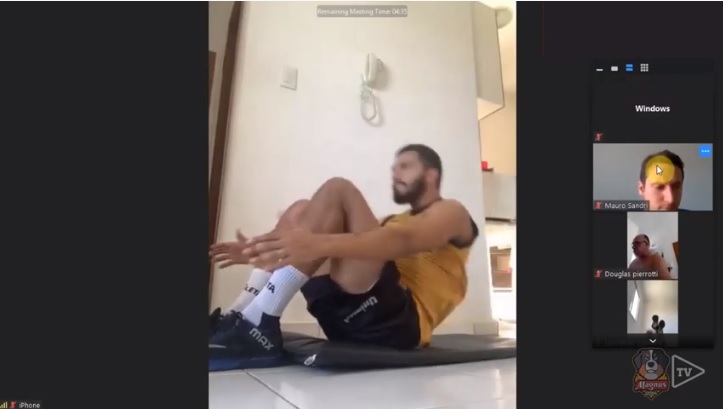 Estimated reading time:2 minutes, 27 seconds
Magnus Futsal in Brazil has not let the Coronavirus pandemic interrupt their training and preparation for when this difficult period ends and the Futsal season begins again.
The clubs have created this innovative virtual online training programme keeps their players and staff fit and active during this isolation period whilst also maintaining their focus and hunger to improve.
Narrative:
"During this Coronavirus pandemic, we are always looking to innovate, to be on top and in front of our opponents. Therefore, we created a solution, an extremely creative solution together with our technical team to conduct our training sessions in a virtual way through chat so that everyone can get together. The goal is to maintain the important integration between everyone on the coaching staff and the athletes and mainly keep the physical shape of our players since they depend on their body to maintain the level of excellence."
"Our technical committee together with our board needed to create measures so that athletes did not just continue to train that would be simple, just passing a training session for them to perform at home. But, also for them to continue following an athlete's routine and following our daily supervision over them.
Instruction example:
"You are going to do five movements on one side, do the five then change, remembering that the support leg is close to the wall, and repeat the movements, three sets on each side.
Narrative:
"So through the technological tools, we use an application for meetings and gatherings, where we manage the training as a collective but from each of their homes, through videos or through cell phone camera or the computer camera. Athletes can see and hear me very clearly, where I demonstrate the exercises and they perform these exercises at home and I can, on one screen, monitor all athletes simultaneously performing the activities. That quality amplitude upfront.
Instruction example:
"30 seconds in skipping, 30 seconds in squats, 30 seconds in traditional boarding and 3o seconds of flexing and 30 seconds rest. Five sessions like that, get ready and we'll start skipping again. Prepare, prepare to go."
Narrative:
"An important detail, we also create habits in these home training, athletes need to be in uniform, they need to wear sports shoes, they need to enter the chat, in the meeting room, 10 minutes before training, as if it were arriving at a gym before then working out. All this to create this routine so that the athlete, even at home, continues to have an athlete's life."
If you like the information provided, you can read more articles about grassroots and coaching futsal by going to the top navigation bar or click here
If you like this article and would like to keep updated on Futsal news, developments, etc then please submit your email below in the Subscribe to Futsal Focus option.
Follow Futsal Focus by clicking on Facebook, Twitter or Instagram or on the social media buttons on the website.