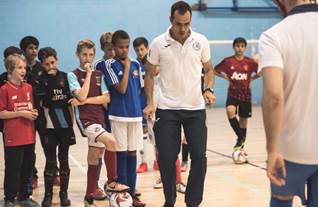 Estimated reading time:1 minute, 41 seconds
The club has announced a new youth academy to develop local talent
Sessions run every week by professional coaches
The first three sessions have been a "massive success"
Chiswick plans to expand the youth sessions to other age groups in the future
FA National Futsal League Club Chiswick Futsal Club has announced a new youth futsal academy, run by professional coaches, to help nurture and develop talent in London. Launched earlier this month for the Under 12 and 13 age groups, the first three sessions have already been a huge success.
Since Chiswick's announcement, players have come from all over London to be part of this new and exciting project. The sessions have included ball mastery, 1v1 and passing & rotation. All of these skills and techniques can help youth players develop and become better football players.
Head of Academy, Nuno Carvalho said: "It's a pleasure to be part of the club's youth set-up – the first three sessions have been a massive success! The goal of these sessions is to develop key technical and tactical skills in a player-centred environment. As a coach, nothing means more to me than seeing today's kids become tomorrow's stars."
Chiswick has plans to further expand the youth academy to other age groups, with the aim of bringing the first-team closer to the community. Two of Chiswick's first-team talents, Unai Alvarez and Eder Arrechea, have already been involved in the youth team sessions.
Andrew Lee, Chairman of Chiswick Futsal Club said: "I couldn't be happier for Nuno and his team. They've worked so hard behind the scenes to get this youth-academy up and running, and now Chiswick has its first ever youth team. Our mission, as a club, is to develop local talent and be a positive influence in the community we serve – I want the youth team to become the heart and soul of this club."
The training sessions will culminate in a youth tournament being held at Pro Futsal Club on 23rd July.