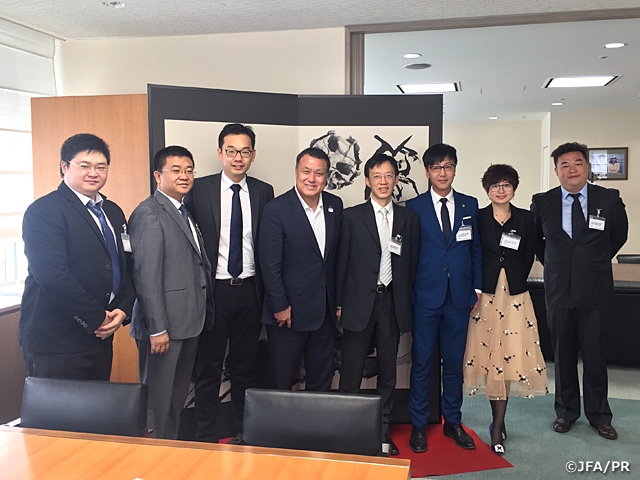 Estimated reading time:2 minutes, 22 seconds
A delegation of Chinese Football Association (CFA) led by Director Roger Luo Zhao aligned their visit to the season opener of the Japan Futsal League (F-League) and stayed between Thursday 8 and Tuesday 13 June.
On Friday 9th, they visited the JFA House and received lectures from the Department of Futsal and Beach Soccer of the Japan Football Association (JFA) and the Japan Futsal Federation. The lecture was about the role of the JFA and the relationship between the F-League and the JFA as well as the organizational structure of the futsal instructors.
On Saturday 10th, they watched the opening match of F-League at Yoyogi National Stadium First Gymnasium and observed the various marketing activities at the match venue as well as its surroundings. During their visit President and General Manager of Nagaya Oceans Mr. SAKURAI Yoshihito gave them a lecture on the operations of the futsal club.
On Sunday 11th, they watched another F-League match and observed how the match and the venue were managed. In the morning of Monday 12th, they visited PESCADOLA MACHIDA to watch the top team's training and received a lecture on their marketing activities. In the afternoon, they revisited JFA House to take a course on league management by the F-League.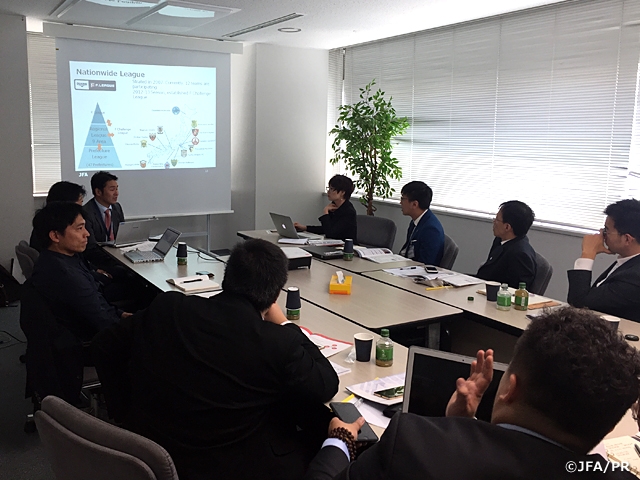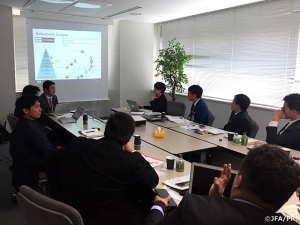 Chinese Football Association Delegation Schedule
Thu. 8 June – Arrival in Japan
Fri. 9 June – JFA House Visit, Training Course from JFA・Department of Futsal and Beach Soccer, Japan Football Museum Tour
Sat. 10, Sun. 11 June – Watching F. League Opening Match, Training Course from Nagoya Oceans
Mon. 12 June – Visit PESCADOLA MACHIDA, Training Course from F. League
Tue. 13 June – Return to China
Chinese Football Association Comments
Li Yizhou, Project Manager
I would like to express my gratitude to the JFA for arranging our visit. After receiving various lectures on futsal, we have gained ideas to solve the problems we are currently facing. Visiting Japan is only the beginning. We have to now work on the issues at hand and hopefully catch up with Japan's futsal soon.
Yue Cao, Project Manager
From the lectures, I clearly understood what we can and cannot apply to our current system. We are looking to take various measures to promote the development of futsal. Lastly, I would like to thank the JFA, the futsal club teams, and the F.League for their warm hospitality.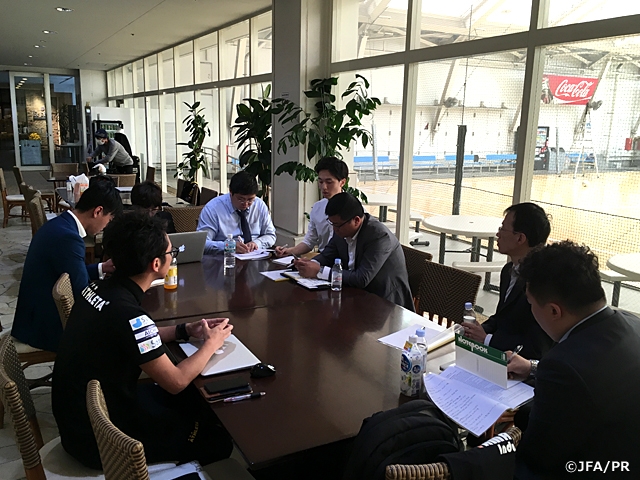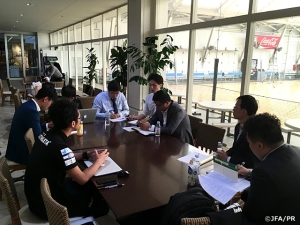 If you like this video and the information provided, you can read more articles about global futsal by going to the top bar navigation or click here
If you like this article and would like to keep updated on Futsal news, developments, etc then please submit your email below in the Newsletter section or by clicking on the Subscribe to Futsal Focus option on the header.
Follow Futsal Focus by clicking on Facebook, Twitter or Instagram or on the social media buttons on the right sidebar.