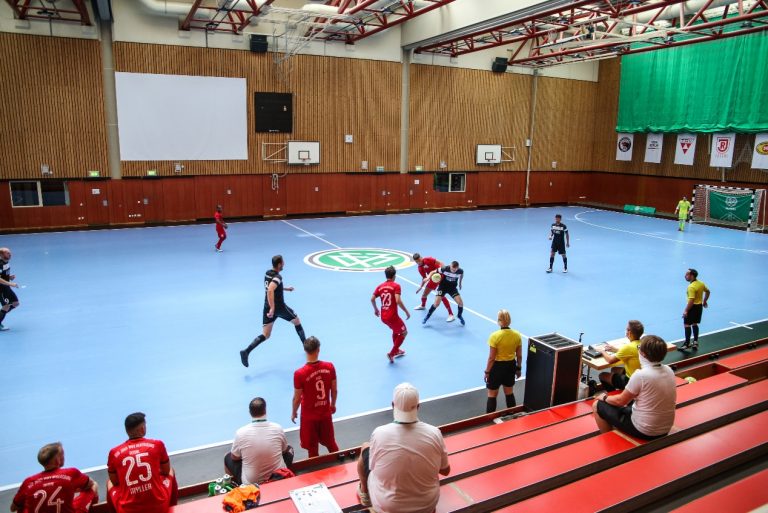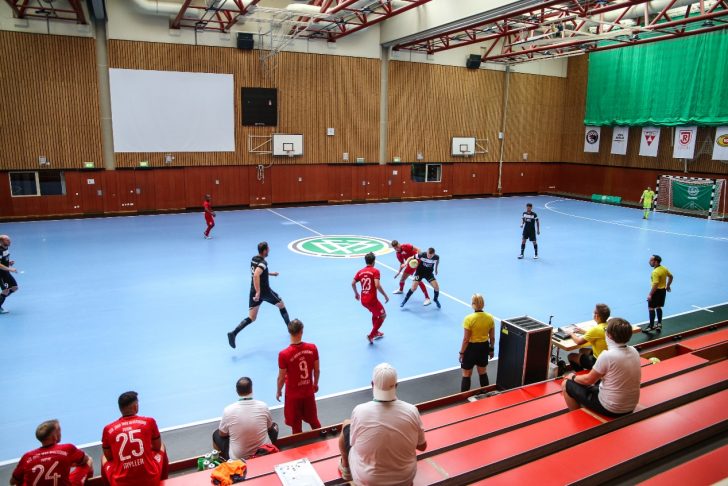 Estimated reading time:10 minutes, 49 seconds
Futsal Focus regularly gets asked about futsal developments happening in Germany. For the futsal industry to take its next commercial steps, it needs countries/ influential markets like England, France, Germany and the United States to embrace it. 2021, if all goes to plan, will be an exciting year for the sport in Germany.
Last year, German Unity Day on October 3rd was not only an important date politically but, on this day, the Futsal Regionalliga Südwest, the last of five Futsal Regionalligen (Regional Leagues) started its season but for the last time, as the highest German division in futsal.  The winners of each Futsal-Regionalliga and the runners-up have the chance to compete in the Deutsche Futsal Meisterschaft, which is an annual playoff system (in Covid times: four days-tournament) of 10 teams to determine the German futsal champion and the country's participant in the UEFA Futsal Champions League. For the new season, the winner and the runner-up will go straight into the newly created Futsal Bundesliga, planned to launch for the 2021-22 season. The third-placed club will have the opportunity to advance to the top division in Germany via another qualifying round. The teams competing in the Regional Leagues West, North, Northeast, Southwest and South will be the founding members of the Futsal Bundesliga.
Ahead of the new season, Christian Wölfelschneider got in contact with Futsal Focus with an interest to discuss the sport's development in Germany. Christian is a futsal goalkeeper and the head coach of TSG 1846 Mainz Futsal – a possible member of the Bundesliga. He took part in the World University Championship 2016 in Brazil and was participated in many sessions with the German Futsal national team.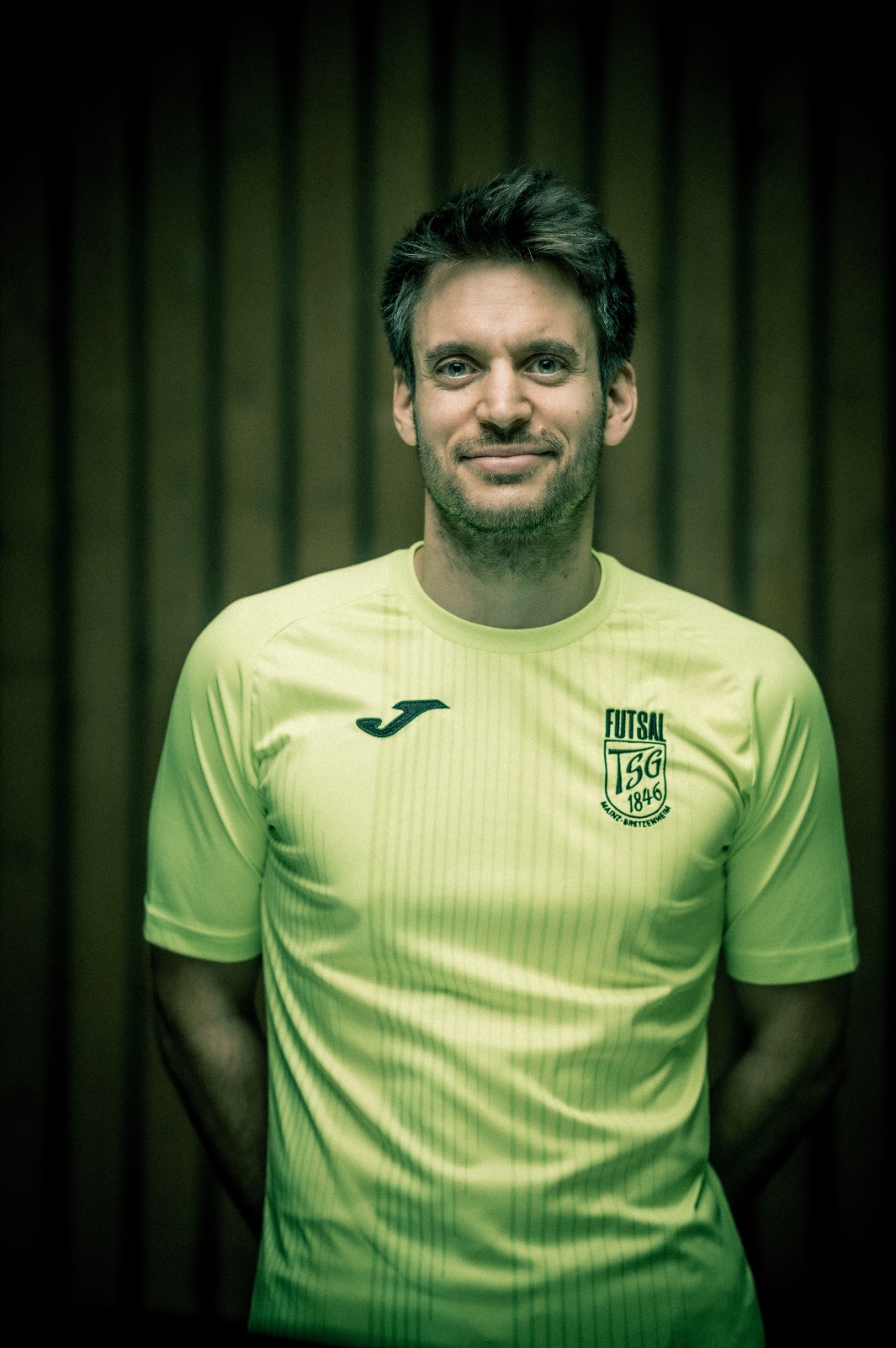 FF: Christian, thank you for getting in contact, I am delighted to speak with you about Futsal development in Germany. Before, we start the interview, can you tell our followers about you as in how and why you got involved in futsal and what has your journey been like so far?
CW: Firstly, thank you Stephen for giving German futsal a spotlight on your great platform. I'm proud to be asked to discuss futsal in Germany but of course, there are many more people here working hard to develop this fantastic sport and could present a valuable point of view as well.
Looking at my own journey, I could never have imagined that I would be where I am today in Futsal when I played the sport for the first time ever in 2009 in a local tournament with my first senior Football Club FC Bürgstadt. I liked it, but there was no opportunity to play in my region. That is why, I didn't connect with the sport again until 2013 when I was studying in Frankfurt with Anton Kniller (A futsal pioneer and a current beach soccer national team player and now a close friend of mine) who invited me to play for the university team.
We played a great national championship and this is where I finally fell in love with the sport. Some of my best friends and me founded a club in Mainz (TSG 1846 Mainz-Bretzenheim Futsal). We started playing tournaments in our region, then switched to playing futsal regularly in another region (Hessenliga) in 2017 and ended up being a founding member of the regional league southwest in 2019 which we promoted in cooperation with the regional association.
I could tell you many more stories, but that would take too much time. However, starting as a football player, switching to Futsal, finding the sport you really love, being able to share that with your friends and playing at the highest level in Germany is still simply unbelievable. Especially thinking back when our training sessions on Saturdays were just with 5 players at the beginning, and now we have developed into a club with a professional infrastructure, ready for the future and hopefully  able to hit the ground running and compete in the Bundesliga in September 2021. I have also made wonderful memories a long the way that will live with me forever.
FF: Your national championship (made up of the regional leagues) has been running since 2006, how has this competition been beneficial and successful for German Futsal so far?
CW: I think from the beginning in 2006 it did have its strengths and weaknesses. In the end, in my opinion it represents the annual status quo of Futsal in Germany pretty well. Some clubs like UFC Münster or Holzpfosten Schwerte which were important pioneers still exist today, although they are not at the top anymore. In my view, the model of the tournament is a good metaphor for the development. It started with a two- and three-days tournament but as more regional leagues developed and the clubs progressed the national championship changed its name from the DFB Futsal Cup into the German Futsal Championship (Deutsche Futsal Meisterschaft). Therefore, we changed from a one-game playoff system into a two game (home and away) playoff system. However, one big weakness of this system was that some clubs like Hohenstein-Ernstthal or HSV Panthers dominated their regional leagues and just had strong opponents at the national championship that is why, the Bundesliga is the right answer to this situation so they can play more clubs regularly at their level and continue to progress.
Furthermore, another annual tournament which started in 2014 between the 21 provincial associations every January in Duisburg has been another important benchmark for German Futsal, in my opinion as well.
(German League – Play-offs / Final 2020 – VFL 05 Hohenstein-Ernstthal 6×2 Jahn Regensburg Futsal)
FF: What has been the focus for clubs to aid their development? Has it been to grow their match attendance, online viewership, or embedding themselves in their community or all the above?
CW: To be honest, there is no overall answer. It differentiates between the teams depending on their host city, community or their club background. To give you some examples in the first instance, let's look at Hohenstein-Ernstthal, one of the most successful clubs in Germany due to the support they have from a local entrepreneur who is the president of the club as well. They are in east Germany and they rely a little bit more on online viewership and contacts with the local community. Their Champions League participation has been helpful for that, of course to drive interest in watching them play in the local community. Another common example is HSV Panthers (former: Hamburg Panthers) which are like Fortuna Düsseldorf or St. Pauli by being part of the infrastructure of a professional football club (here: Hamburger SV). Another answer is MCH Futsal Club Bielefeld-Sennestadt which has developed out of a youth center or Jahn Regensburg who are doing a great job in involving young people to play Futsal. So, as you can see from these examples, there are many different approaches to developing German Futsal and it just depends on the environment or how they were started, and are supported.
FF: A national league representing the pinnacle of German futsal with clubs from across the country will kick off this year. How will the clubs be able to sustain this? Is it a shorter season? Are the clubs going professional? Will it be televised?
CW: As mentioned in the previous question there are various answers to this as well. But, first to address the official regulations. The Bundesliga is aimed to start on the 4th September 2021. This historical date for German Futsal would start a league with 18 games in regular season following a playoff phase with two games involving the teams placed on ranks one to eight. The bottom team is relegated and the club who finishes in ninth place plays a relegation play-off. The season ends in the middle of May 2022 because you've many national team training, the World Cup in Lithuania or the Euros in the Netherlands in between. Some clubs will have a professional infrastructure like Stuttgarter Futsal Club (by the way, they just lost 0:1 today against ACCS Paris which is a great result despite the defeat). Others will have semi-professional players, and some will stay amateur at the start. But, I think the goal of all teams is to further develop to at least a semi-professional level so futsal can grow more and more. Furthermore, all teams including us invested much effort to meet the criteria of the DFB in the licensing process. So, I'm sure all teams are prepared to be the founding members in this historical league for German Futsal. Finally, about televising the league, the DFB is planning to televise one or two games live on their internal streaming platform (DFB.tv) and doing highlights of the rest of the games similar to what you now see in France with their league on FFF.tv.
FF: The DFB announced a number of years ago that they would no longer support traditional 5 a-side and would only organize futsal competitions. Has this helped to drive participation and how many people are currently playing futsal in Germany?
CW: According to calculations of the biggest German Futsal-Blog and -Podcast "Mister Futsal" there are about 3000 registered futsal players at the moment. The abandonment of traditional 5 a-side did definitely play its part in driving participation but this is only true for official tournaments organized by the DFB and its regional associations. For example, in Saarland there is no Futsal competitions at all and there are many prejudices towards Futsal. Therefore, they still have a big private indoor soccer tournament series played on artificial grass and with walls. I don't want to judge about that at this point but to approach it in a positive way, there is still a lot of potential for getting people involved in Futsal in Germany. Starting to play Futsal in school, youth and official tournaments was a good starting point with the establishment of the national team in 2016 and the Bundesliga in 2021 being some helpful benchmarks. Therefore, many people are playing, some recreational as well but what that number is on a national scale, I am not sure.
FF: With the launch of the Futsal Bundesliga this season, in your opinion, what do you think is the way forward for German futsal to challenge on the European club and international stage?
CW: First of all, we need to stay humble and try to learn from others. Germany has huge potential in making big development steps for futsal. But, we need to get more into schools and especially building youth teams and opportunities for them to play regularly in competitions. In saying this, the start of the first Futsal-UEFA-B-Licence coaching course which had to be postponed numerous times due to Covid is essential. If we take these steps, we are able to implement a futsal culture/ way of life like in Spain, Portugal, Brazil or Iran has, this would be a milestone for long-term development. In the short-term development, I'm sure we will have some teams who will start to shine in the Champions League and progress to the Elite Round. I wish the national team will benefit from this development and climb the world ranking as well, but I am optimistic because there will be a high level of competition every weekend now. In the end, saying all this, we should not forget about the grassroots development. Only if we succeed in getting more teams and more people involved in Futsal and build leagues all around Germany will we be able to step out of that tag as a winter sport and take our place as a sport which is played all around Germany during the whole year.
You can follow TSG 1846 Mainz Futsal via their Facebook page at https://www.facebook.com/TSG1846Futsal/ Instagram at https://www.instagram.com/TSG1846_Futsal/
Futsal Focus supports the Donate4Dáithí campaign
To follow the Donate4Dáithí campaign, you can visit their website here: www.donate4daithi.org  or on Facebook at: https://www.facebook.com/Donate4Daithi you can also donate money to their campaign at: https://www.justgiving.com/crowdfunding/donate4daithi
You can learn more about the Donate4Dáithí campaign by going to our article here
To learn more about organ donation or to sign up, you can visit https://www.organdonation.nhs.uk/ and to sign up: https://www.organdonation.nhs.uk/register-your-decision/donate/
You can read more articles about domestic futsal by going to the top navigation bar or click here
If you like this article and would like to keep updated on Futsal news, developments, etc then you can now follow Futsal Focus via Google News by following our page which will send you an alert as soon as we publish an article so please click here and follow us on Google.
You can also keep updated on Futsal news, developments, etc then please submit your email below in the Subscribe to Futsal Focus option.
Follow Futsal Focus by clicking on Facebook, Twitter, or Instagram or on the social media buttons on the website.