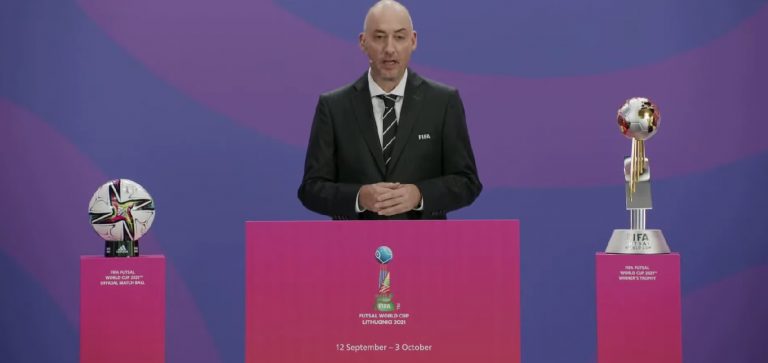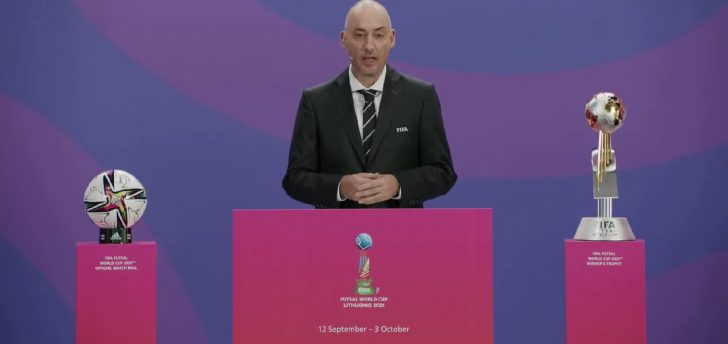 Estimated reading time:11 minutes, 24 seconds
On Tuesday, the draw for the 2021 FIFA Futsal World Cup finally took place, I don't know about you, but I cannot wait for the world cup to begin in September
The postponed 2020 FIFA Futsal World Cup will finally kick off on the 12th of September, the first games are in Group A and B. Group A will see hosts Lithuania face debutants Venezuela, and Kazakhstan will compete with Costa Rica (Can Costa Rica inflict revenge on their opponents who defeated them in 2016, preventing the Central American country from progressing from their group). In Group B, Uzbekistan will start the competition against 2021 CONCACAF Futsal Championship third place Guatemala, and Russia will begin their campaign against 2021 Arab Futsal Cup runners up Egypt.
If you haven't seen the groups yet, here they are: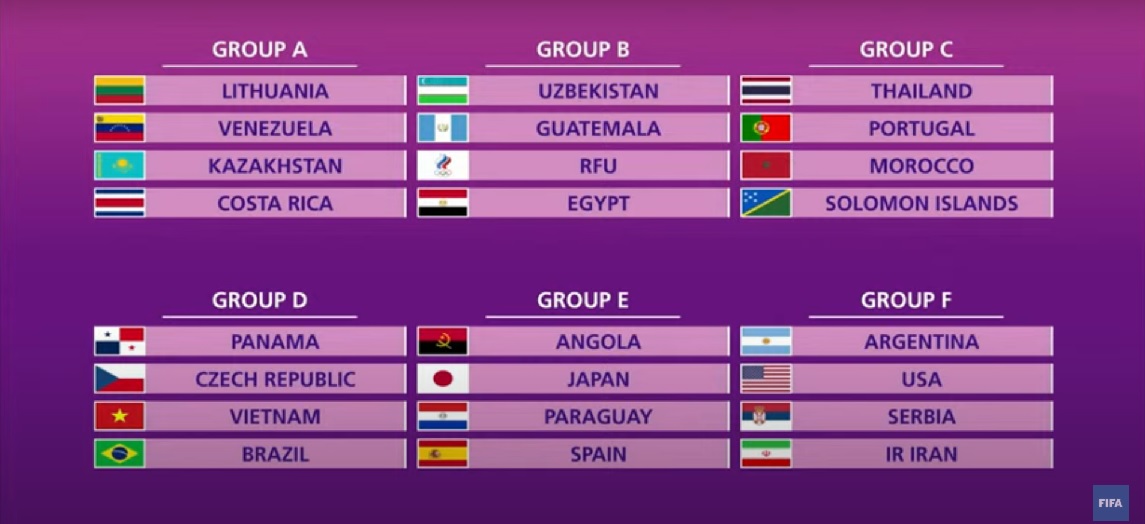 Each of these groups are very interesting, and although our instincts are to choose countries from the top ten nations to progress  (Spain, Brazil, Argentina, Russia, Portugal, Iran, Kazakhstan), it will be interesting to see who can challenge them, and who will finish in second place. Could we be about to see a very open competition, like the 2021 CONCACAF Futsal Championship? Or, will the top nations dominate as usual? I do love an underdog, and I know what my preference would be. Let's take a look at each group, and see what could possibly happen.
Group A
Group A will likely be won by either Kazakhstan or Venezuela, and this encounter for Venezuela will be a good benchmark for their own development.  I know world cups are different to friendly games, but Venezuela defeated Costa Rica in a recent friendly 0-2 in March. Plus, even at the club domestic level, Venezuela has progressed significantly with Delta Te Quiero defeating Corinthians 3-1 in the 2021 Copa Libertadores de Futsal third place play-off.  Costa Rica won the 2021 CONCACAF Futsal Championship but their squad is mainly a new group of players, and although they showed signs of potential, a lot more preparation will be needed for them to get to the standards they displayed in 2016, if they hope to challenge for second place. Lithuania has never qualified for a major competition, and are involved in the world cup as hosts, but whether they get a point or not will depend on if they can raise their game against Costa Rica.
Related article: Futsal Development in Costa Rica
Group B
Group B is all about second place, Russia will be favourites to secure the group. Who will secure the runner up position?  Uzbekistan (Now 32 in world rankings) have come on leaps and bounds since 2016. The team will be a different animal to the team who lost to Panama at the last world cup when they face Egypt who recently lost 0-4 to Morocco in the 2021 Arab Futsal Cup Final. Guatemala were lucky to defeat Trinidad & Tobago in the CONCACAF Futsal Championship, a team made up of football players who had never played futsal before the tournament. Based on their regional competition performance, Guatemala will need a lot of preparation work to have any hope of challenging both Egypt and Uzbekistan.
Group C
Could this be Thailand's year to improve upon their group runner up position in 2016 to Russia? I say this because, although Portugal top their UEFA Futsal EURO 2022 group to qualify, their performances against Poland and the Czech Republic could give the Thai players hope. If they can raise their game, they could challenge for the top spot. Securing top spot, would give them the best chance of progressing past the round of 16 which they have never done before, losing in 2016 to Azerbaijan 8-13. However, could another nation be ready to spoil their party? The head coach of Morocco's futsal team, Hicham Dguig has managed to inspire the Moroccan team to win the African Futsal Championship twice and the Arab Futsal Cup last Saturday for the first time in Morocco's history. Can this nation shock the futsal world by progressing from their group? For Morocco to even dream of making history for their nation their opening game against the Solomon Islands is a must win. However, this team defeated Egypt 0-4  in the 2021 Arab Futsal Cup final, and Egypt made it to the quarter-finals of the 2016 world cup after defeating Italy 3-4 in the round of 16. Whoever wins this opening match between Morocco and the Solomon Islands, their test game will be against Thailand, to judge just how far they have come in their development or how far they could potentially go in the competition.
Group D
Panama has either reached the finals of the CONCACAF Futsal Championship or its third place play-offs since 2008, and qualified for their first world cup in 2012. The group they were in had a three place qualification, therefore, finishing third due to defeating Morocco meant they would progress to the last 16, but were beaten by Brazil 16-0. This time around, Panama secured a place in the world cup after defeating Canada on penalties. The Panama FA supports a national team, but their grassroots development is driven mainly by individuals. For Panama to develop into a nation ready to challenge on the world cup stage a lot more support is needed from their Football Association.
For the second and third place, Vietnam and the Czech Republic will be contesting these spots, Vietnam may be considered the weakest team in the group, as the others are all placed above them in the futsal world ranking. However, I don't think this matters, both Vietnam and the Czech Republic have shown they have the ability to raise their games against strong opposition in previous matches. I think this is what it will come down to in their final group fixture when they face each other, whoever rises to the challenge will claim second place, and Brazil will win the group. Talking with Vietnam Express, Tran Anh Tu, chairman of Vietnam Professional Football JSC and head of Futsal Department, said: "I think Vietnam's group is not too challenging, but it's not easy neither. Brazil are on another level, so it's no doubt they will take the top spot. The Czech Republic are ranked 16th in the world and are really strong. But Panama are only three places above Vietnam in the world rankings.  "We need around three to four points to make it through the group stage. Hopefully, the team can repeat the feat of advancing to round 16 like at Futsal World Cup 2016." National team player Nguyen Minh Tri said: "I'm glad we didn't fall into group E with Spain, Paraguay and Japan. It would be a nightmare. Looking at our opponents in group D, I think we will have a chance if we prepare thoroughly and play well." Tri played in the friendly where Vietnam beat Brazil in 2013. "I'm excited to face the top stars from Brazil," he said. "I don't have much information about the other two teams, but I'm sure they are also strong. We will have to study these opponents carefully. In my opinion, Vietnam can get through the group stage," he added. Goalkeeper Ho Van Y, Vietnam's unsung hero in the World Cup playoff with Lebanon, is also confident about the team's progress. "I think this is a tough group. Brazil are too strong for the rest, so Vietnam will compete for the second place with the Czech Republic and Panama. We always enter every game with confidence, no matter how strong the opponents are and we will try our best," Y said.
Group E
Let's call this group, the group of death, Angola are debutants to the world cup, and although Futsal is their most popular recreational sport, and this squad has more than a few talented players, they still qualified in third place in the Africa Futsal Cup of Nations. The Angolans face a lot of experience against a Japanese  team who got to the last 16 in 2012 and a Paraguayan team who reached the quarter-finals in 2016. Paraguay also finished third in their world cup qualification behind the two of the best nations in the world, Argentina and Brazil. Though they lost to both nations, they were respectable defeats, by two goals. Even Spain will not underestimate Paraguay and the same for Japan, one of Asia's top nations. I am excited to watch this group, it could possibly be the most open of the whole competition.
Group F
This group, I am going to call hell. What a fantastic group, the final two fixtures will be the most exciting with the USA playing Serbia, and Argentina playing Iran. It is estimated that 9 million people out of a population of 82 million play futsal in Iran which means 7.38% of the population participate. Since 1999, there has been 15 AFC Futsal Championships, and Iran has won 12 of them. Despite their very successful regional trophy collection, out of the 9 FIFA Futsal World Cup since the competition started in 1989, Iran has reached the top 4 twice. In 1992, they placed fourth and in 2016 they finished in third place, losing to Portugal on penalties. If Iran are to challenge for this world cup, which I hear they certainly intend to do, and are in the process of trying to organise difficult friendly preparation games ahead of the world cup then Argentina is the perfect opponent to test your ambitions. Even if Iran lose to Argentina in the group, they could meet them again in the later stages and learn from the previous encounter. Though the same can be said for Argentina, who will no doubt be aiming to retain the trophy, and the title as the world's best. And, they are certainly maintaining the title/ reputation so far with their recent FIFA Futsal World Cup qualification final victory over Brazil, 1-3.
Serbia, though 15th in the world rankings, they didn't enjoy a recent campaign in the UEFA Futsal EURO 2022 qualifiers. Normally, you would have expected them to be a close second in their group but this time though they finished second they were 6 points behind Bosnia & Herzegovina. In 2014, they were runners up in their group to Portugal, 2016 they hosted the competition and in 2018 they were second to Spain. When this group was announced, this was Serbia's chance to come out on top but this didn't happen. The nation drew 1-1 at home to North Macedonia (47th in the world tanking) but won the second fixture 1-6, lost 2-4 to Bosnia & Herzegovina ( 27th in the world ranking) then defeated them 1-3. Drew 1-1 and 4-4 with Romania (23rd in the world ranking). Based on these results, America's fixture with Serbia could be their opportunity to secure points at the competition, a US victory would be the shock of the tournament, but who the US will face on the court really depends on how much Serbia's manager can raise the team's spirits.
The USA's final group stage match vs. Serbia carries some extra intrigue as Jakica hails from Serbia. The U.S. head coach spent most of his playing/coaching career there, and served as an assistant with the Serbia Futsal National Team from 2010 to 2015.  The United States qualified as runners up from the CONCACAF Futsal Championship, losing to Costa Rica in the final. However, though the US made history for their country, the competition was criticised for its performance level. The group will be an eye opener for the players in the American squad, but if I were U.S. Soccer's Jim Moorhouse, Director of Extended National Teams, I would be trying to get as much US Soccer board members to attend this competition to see futsal at the highest level, and how far the US has to develop to reach the heights of the 1989 competition once again. Speaking to US Soccer, their Fustal National Team head coach Dusan Jakica said, "It's an exciting draw for us." "Opening against the world champion in Argentina will be a huge challenge, but a challenge that our team will embrace and enjoy. Iran is the reigning Asian champion and Serbia is also one of the best teams in the world, but we will be ready. We are looking forward to getting to Lithuania and showcasing the progress for U.S. Soccer in futsal."
Despite this overview, Futsal Focus wishes every nation a great tournament and we cannot wait to see you all perform.
Related article: The 2021 FIFA Futsal World Cup and US Soccer planning for the future of the sport
Futsal Focus supports the Donate4Dáithí campaign
To follow the Donate4Dáithí campaign, you can visit their website here: www.donate4daithi.org  or on Facebook at: https://www.facebook.com/Donate4Daithi you can also donate money to their campaign at: https://www.justgiving.com/crowdfunding/donate4daithi
You can learn more about the Donate4Dáithí campaign by going to our article here
To learn more about organ donation or to sign up, you can visit https://www.organdonation.nhs.uk/ and to sign up: https://www.organdonation.nhs.uk/register-your-decision/donate/
You can read more articles about international futsal by going to the top navigation bar or click here
If you like this article and would like to keep updated on Futsal news, developments, etc then you can now follow Futsal Focus via Google News by following our page which will send you an alert as soon as we publish an article so please click here and follow us on Google.
You can also keep updated on Futsal news, developments, etc then please submit your email below in the Subscribe to Futsal Focus option.
Follow Futsal Focus by clicking on Facebook, Twitter, or Instagram or on the social media buttons on the website.