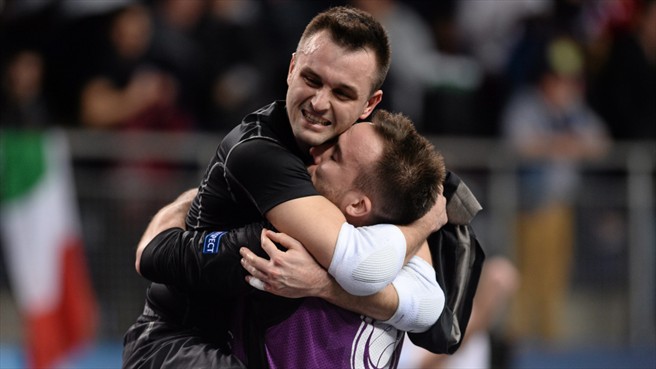 Estimated reading time:7 minutes, 6 seconds
First of all, I would like to thank Futsal Focus for posting my video playing against Spain.  When I saw the numbers of followers who watched, liked and shared my video I was extremely happy and really impressed because I realized that my performance had an impact and I hope I helped to attract more people to Futsal and to potentially be a Futsal Goalkeeper.
First of all, I would like to thank Futsal Focus for posting my video playing against Spain.  When I saw the numbers of followers who watched, liked and shared my video I was extremely happy and really impressed because I realized that my performance had an impact and I hope I helped to attract more people to Futsal and to potentially be a Futsal Goalkeeper. Furthermore, I was shocked when I saw that 454,000 people watched my performance, 7,042 shared the video and close to 4,500 people liked it. I was pleased by the many people who wrote nice comments as well. Thank you all for that, it is fantastic. Plus you are fantastic, thank you very much guys. You are awesome!!
After that match I received so many questions so I would like to take this opportunity with Futsal Focus to answer some of them.
What were your psychological and futsal goalkeeper training preparations before the match against Spain?
In general, I don't plan any special preparations before a match. I mostly try to stay calm and be focused all day before match starts, I focus only on what I have to do. To achieve this I try to keep my mind clear and relax so I usually I play cards, drink coffee, read a newspaper or just have some fun with my teammates. Sometimes I watch some older videos of the opponent to examine some actions, players, and their shots. Before the match with Spain I didn't do anything. I was really calm because I knew that we had nothing to lose. We all know the quality of the Spanish in the Futsal world so I just wanted to show everyone and prove to myself that I can performance as a futsal goalkeeper against the best in the world. Psychological preparation, in that case, wasn't necessary. I was really excited and couldn't wait anymore to start the match. This match was not one to fear but a reward for me and for all my teammates who play against them and thanks be to God that we made it.
What was running through your mind during the match in your position as the Futsal goalkeeper?
I made some good saves in the first half which gave me more confidence. When my teammate scored a goal I couldn't believe my eyes. We had taken the lead against powerful Futsal nation, Spain?  When I came to the dressing room at half-time I set on the bench, look to the ground, to the ceiling, at my teammates and started to think about the second half. Is this really happening? Can we withstand their onslaught to the end? I knew that the second half was going to be harder. During the second half, I kept looking towards the clock….seconds were like hours, minutes were like days. I wasn't tired because all the saves that I made in the second half gave me even more energy to stay focused to the end of the game. I felt really strong because I knew that this match could end with my clean sheet, and I was right. When the last second ran out I fell to my knees. It ended, with my clean sheet against Spain? I couldn't believe. I experienced my dreams but I couldn't have done it without my teammates and their support.
How did you feel after the match?
After the match, I felt excellent. I was really happy because of our result and because of my performance as a Futsal goalkeeper. We didn't play good enough at the last Euro Championship but that win should give us more confidence to work even harder.
What has the support and praise been like since the match and how do you feel now?
I got many compliments and nice wishes after the match. Many people around the world watched that match and probably couldn't believe what we did. People were surprised in a positive way of course. We achieved a result that will last forever in Futsal history. Everyone congratulated us. We know that the second match will be even harder and if we are realistic it will be hard to go through to the World Cup but we have a wonderful support from our people and if they believe we can do then we should also believe. Like I said before, we have nothing to lose.
What did your coach say to you before and after the match?
I didn't have any special conversation with my coach before the match. He told every player that we should go out onto the court and give it our best. Actually, he told me that if I don't get a goal we will probably win haha and it happened that way! After the match he congratulated all of us and told me that this performance is probably my best performance since I play for the national team. I looked at him and thought to myself: Really? No…you must be joking haha. However, it was really nice to be a part of that team on ththat night…I am proud of them all and I will never forget it.
What preparations do you feel you must continue to keep up such an excellent performance?
If I want to keep up that kind of performance I must train even harder. This season I had difficult training sessions every week. I am well prepared (physically and mentally) to continue in that way. On other hand, I am not a professional player. Futsal is an amateur sport in Slovenia. I have to go to work and after that, I go to practice. It is hard to have a balanced life. I know for sure that if I were given the opportunity to play professionally that I would be a better player but I will keep playing and hopefully this dream will also come true. I play futsal, because I love the game and that is the only reason why I am doing it, people have asked why I am not playing football, I say because I am a Futsal goalkeeper. But it doesn't bother me if I never get a chance to play professionally, here in Slovenia I am also satisfied, it's not the Spanish or Italian league but it is ok.
What are you plans for the future?
Right now I play for Futsal club Maribor but my contract ends after this season. We will see what the future brings because we have big plans with the current team. We have already won the Slovenian Futsal Cup and now we also want to win our championship. It won't be easy but I believe in my team. What happens after that, I will see at the end of the season. Maybe I stay here, maybe I go to another club or country. I had a dream to perform against the best and I did it, I also have other dreams like I mentioned and playing in one of the biggest leagues in Europe would be amazing and I have shown that I am capable I am also interested in the Professional Futsal league launching in the United States. I am sure this league will be every successful. Will this dream happen, I don't know but until recently did anyone think we could beat Spain? Anything is possible.
Thank you Futsal Focus for this opportunity to speak to your followers and keep up the great work promoting Futsal.
If you like the information provided, you can read more articles about International Futsal by going to the top bar navigation or click here
If you like this article and would like to keep updated on Futsal news, developments etc then please submit your email below in the Newsletter section or by clicking on the Subscribe to Futsal Focus option on the header.
Follow Futsal Focus by clicking on Facebook, Twitter or Instagram or on the social media buttons on the right sidebar.