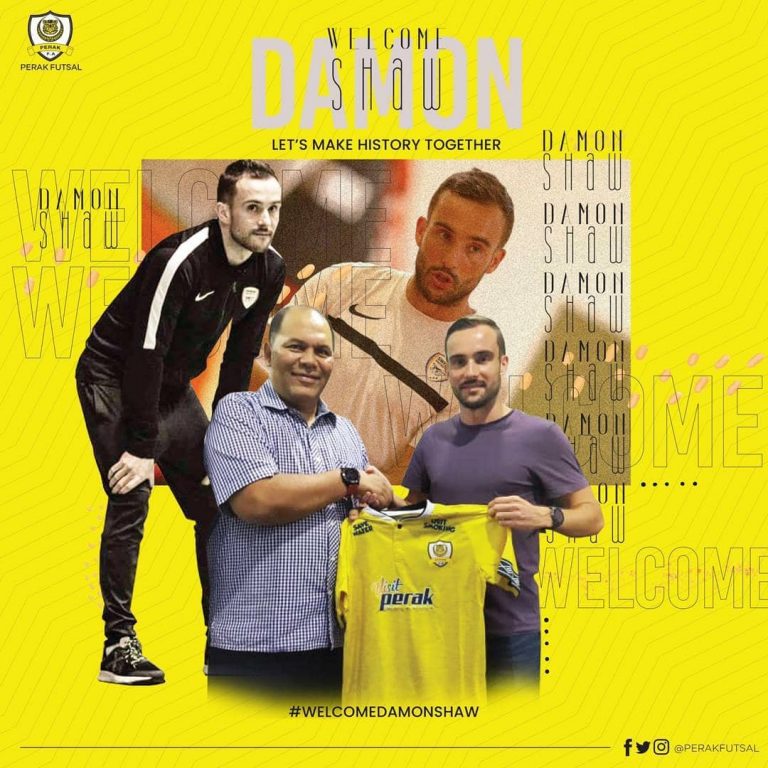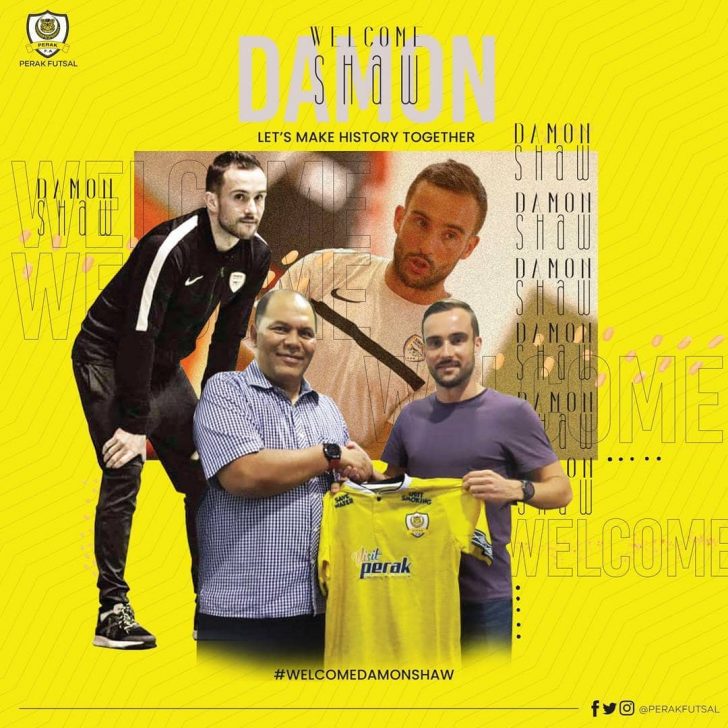 Estimated reading time:11 minutes, 54 seconds
Damon Shaw has been a pioneer of futsal coaching in the UK since 2005 and what began, like most people, as a hobby has now turned into a career with experiences in Spain, England, and Malta and is currently working as a professional head coach for Perak FA in the Malaysia Premier Futsal League.
Futsal Focus reached out to Damon, to find out about his new role at Perak FA in Malaysia.  To learn about the experiences he has had up until this point especially his recent experience in Malta and how all his experiences up until this point will aid him in Malaysia. What his goals are from this experience, how the coronavirus pandemic is impacting Futsal in Malaysia and to find out what clubs are doing to protect their players during this difficult period.
Futsal Focus: Damon, thank you for this interview, it is great to catch up as it has been a while since we last spoke. For those who will be reading about you for the first time, can you please tell us a bit about your background concerning how you became aware of Futsal and why you decide to get involved in England at a time when the sport had low awareness?
Damon Shaw: Hi Stephen, great to speak to you – especially as I'm in lockdown alone, slow internet and running out of things to do offline!
Back in 2003, I ran a 5-a-side tournament with some friends and then discovered The FA Futsal Cup, which was then the only national championship at that point and they were looking for leagues and tournaments to provide teams for the finals. With that, I went back to University after summer and founded Teesside University Futsal Club and ran a regional league in 2005. This was a precursor to Middlesbrough and we went on to have a lot of success on and off the court. I saw a huge opportunity to help grow something and I quickly fell in love with the sport. I dedicated my life to futsal and filling in the gaps where it was missing in the landscape in England and the North East! In the early days, I ran the first BUCS championship, which has become the biggest competition in the UK and a great breeding ground for players. I think futsal can really impact people, and certainly, at Boro, we began to embed something in the community and were growing a really amazing family.
But my personal development needed input from abroad. I'd always wanted to learn from the best, and I had an opportunity to move to Spain in 2013 and further my knowledge and experience. It was certainly the catalyst in everything that followed.
Futsal Focus: What have you learned with each experience from your time in England, Spain, and Malta that has improved you as a manager?
Damon Shaw: To tell you everything I learned would take days… I guess we have the time, but perhaps we can do another interview or I'll write a book! The most important thing for me is; never stop learning. Forget what you know and be open to new ideas. When I went to Spain I went from the top of England to the bottom. It can be easy to think we are too big for some roles, but I took an u-18s team in the 5th tier of the regional league after having managed Middlesbrough to within a point of the final four in England. In Spain, I did my UEFA B & UEFA A badges and worked in junior futsal, while being mentored by a few top coaches. It was important to be coachable myself and learn as much as I could from everyone around me. From Spain, I would say I shaped my whole philosophy and methodology; from the tactics, to training, planning to scouting.
Then I moved back to England in what was my first full-time role in futsal, with Tranmere Rovers. We built a whole club from scratch, that was on track to be the biggest in England after just 12 months. We had 120 kids signed up in that short space of time, not to mention the hundreds in the leagues we ran and the school sessions we did. We also had senior men's and women's teams in the Super League and while coaching those teams was only a small part of the overall role, it was the first opportunity I had to implement what I learned in Spain. I think the mix of Spanish and English from my coaching and from the players we had created a really good group. We were training 2-3 times per week in the Super League season and while we didn't do enough to stay up, I think we can be proud of what we achieved with such a young squad. I'm delighted to see the players from the area that I introduced to futsal still going strong in other clubs and especially Jordan Deer getting his first caps for England. In England, I felt very much at home and knowing the culture of football, while adding my experience was a really good mixture. I'm sure in the future, with the right club, it will be another success.
Malta was yet another step up in terms of professionalism. I moved to a semi-professional set up and was in charge of coaching in the football academy as well as managing the senior men's team. Swieqi United was a fantastic life experience and gave me a clear insight in how an amateur club can sustain a semi-professional futsal team. As with most setups around the World, it's built on sponsorships and investment. It was a club that had grown from humble beginnings and was just 10 years old when I joined but had an amazing structure in place and was leading the way in Malta. After the first season, we should have built on a solid foundation, but I think we tried to run before we could walk. Sometimes being over ambitious is counter-productive and puts a lot of pressure on the players and staff. That led to me agreeing to leave.
These two experiences were the biggest lessons of my career. I learned more in Spain with regards to the game, but of senior management, the experiences in England and Malta were priceless and have shaped me and prepared me for my latest challenge in Malaysia.
Futsal Focus: From what you have discussed, what advice would you give to young coaches who are considering to get involved in Futsal by taking their coaching qualifications?
Damon Shaw: Forget what you know. Most people are coming to futsal from football, which is natural, given the landscape in the UK but we have to realize that futsal is a totally different sport. Obviously, we can bring a lot from other sports and prior coaching experiences, but if they are keen on becoming a futsal coach, throw all misconceptions out the window early. It's not just football on a small court. We need coaches that really immerse themselves in the game so that we can create players that have a deeper understanding of the sport and eventually go on to coach.
Futsal Focus: What has been different about each league and club that you have coached for?
Damon Shaw: Well, each time was a step up in terms of level and professionalism. I've gone from juniors training 3 times a week to adult amateur, semi-pro and now professional. I can't really compare yet to Malaysia, except to say that here is fully professional, with all the support staff and conditions you'd expect from a pro team. Here I am not responsible for making sure the match is filmed, washing bibs or the venues are booked for games. In England, my role covered everything. PR, recruitment, budgeting, hiring coaches and I had Matt Fejos to help with a lot on the academy side, but it left little time for the first team. There were matches only every couple of weeks and it didn't seem a priority for people outside the futsal family. Malta was different, in that there was a well-structured league and there was a good amount of investment, with a good few venues and decent media support. I could focus a lot more on the coaching and management. The problem we had was the second season when there were only four teams and it put a dampener on a promising first season, with players leaving for football due to only having 12 games in the futsal season.
Futsal Focus: How did this opportunity to move to Malaysia come about? And, what was it about this project that attracted you to travel to Asia?
Damon Shaw: For the last 12 months, I have been in contact with the club. Mostly out of curiosity about Asian futsal. I've always admired the professionalism of futsal here since I saw Thai futsal after the World Cup and Japanese futsal when I visited in 2016. We were discussing bringing a club from Europe to an international tournament in Perak and from there, when I left Malta, and they were looking for a new head coach, it just fell perfectly into place. To be honest, I was ready to return to England, having felt lonely in Malta, missing friends and family, but after a few weeks at home, I quickly realized I couldn't cope with the English weather, so I decided to accept the challenge! I actually bought a one-way ticket, without having seen the contract yet and still without a guarantee of the position. But I felt that at this stage of discussions if I showed my commitment by visiting the club, it would work in my favour. And if not, get some sun for a few weeks!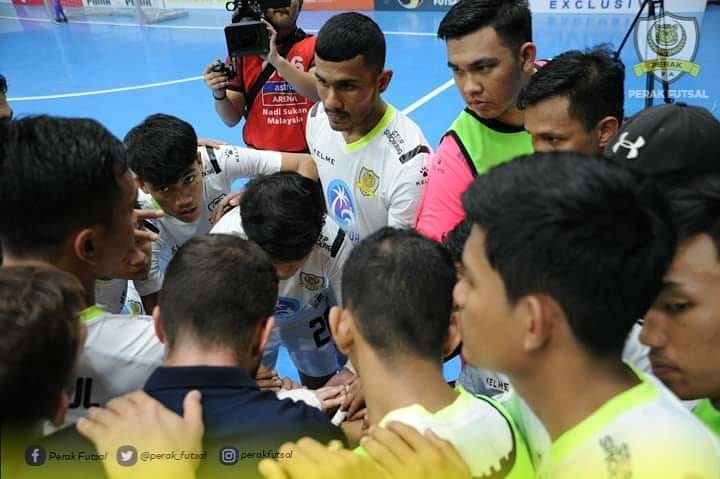 I've always wanted to work in Asia. I find this part of the World fascinating as it's so different. The weather is amazing, the food is great and the people are so friendly. And of course, futsal is serious and professional here. Perak is a club with big ambitions and also a club with long term plans to play in the AFC Champions League. The general manager is massively passionate and reminds me of me and my time at Middlesbrough. So with all that in mind, and of course, I was out of work, it was an opportunity I couldn't turn down.
Futsal Focus: Since arriving in Malaysia, what has stood out for you about Futsal there? And, what surprised you as well?
Damon Shaw: I'm surprised at the tactical knowledge of the players already. They know how to play and move, and I am excited to see how they improve over the season. I feel my methodology with this team will work wonders, given the advanced nature of the players. Still a lot to learn, but they have a very good foundation. With training mostly integrated and focused on improving their decision making and giving them solutions to many scenarios I think they'll grow into an exciting team. And we have top goalkeepers too, something that in Malta we lacked.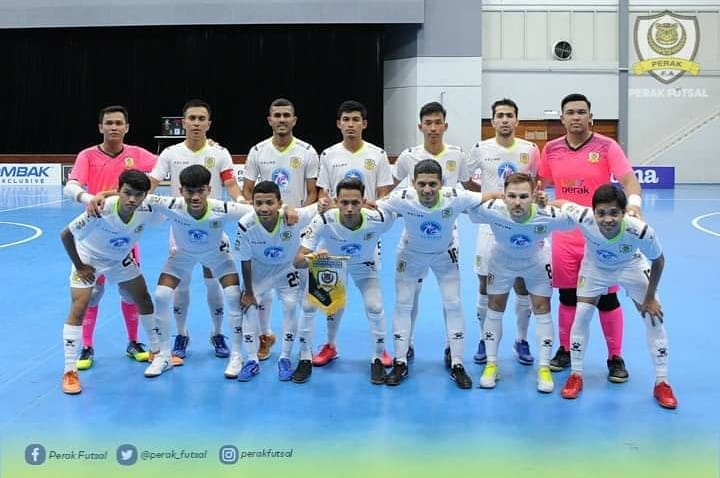 The biggest thing though, is the support from TV, media and of course the fans. I haven't yet had a home match, and even the match we played was behind closed doors (but on TV) so I can't wait to play in front of our fans!
Futsal Focus: Sport around the world has been impacted by the Coronavirus, what actions have the Malaysian Premier Futsal League and your club taken to safeguard players and fans?
Damon Shaw: The opening match was played behind closed doors as it preceeded a full announcement of a Movement Control Order which has stopped all unessential activity. The league was suspended until further notice and training was put on hold.
It's obviously a difficult time for everyone all over the World and as a club we're fully behind the measures taken and we've adapted to make sure the players stay fit. Fortunately, our season just started so there's no danger of it being voided, the government is handling it very well and the people are respecting the measures, so I hope we can get back to some form of normality sooner rather than later. It's a testing time, but we've allowed players to return home and have set training for them to do online. They are professionals and I am sure they are looking after themselves. We'll of course have to reintroduce them slowly to court training and we'll have another pre-season once we know more. We just have to be patient and be ready to return at a moment's notice and remember we are in a privileged position, where some people are being hit hard. I hope everyone stays safe and we get through this together!
Futsal Focus: What next for you?
Damon Shaw: First of all, I just hope we can get over this pandemic safely and then we can start to think about the future. I hope to stay with Perak for a few years. It's a club with ambition, and one of the key things for success is consistency and longevity. If the club wants, then I will stay as long as necessary to achieve those goals and as long as I feel I can keep improving. As always, I want to experience different cultures and leagues, while learning. Any project I take needs to be serious and have clear goals. I'd also like to spend a season as an assistant with a top coach at some point in the future, but first, all my focus will be on delivering here in Perak.
If you like the information provided, you can read more articles about global futsal by going to the top navigation bar or click here
If you like this article and would like to keep updated on Futsal news, developments, etc then please submit your email below in the Subscribe to Futsal Focus option.
Follow Futsal Focus by clicking on Facebook, Twitter or Instagram or on the social media buttons on the website.