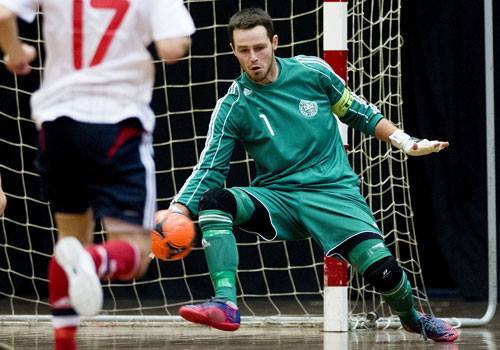 Estimated reading time:1 minute, 38 seconds
Futsal's popularity is growing in Denmark and so is their player talent pool.  Christoffer Haag is the second Danish Futsal International to move to Italy, this season Danish Futsal International Jakob Bonde Jensen won promotion to the A2 with Italian side Virtus Rutigliano but later decided to return to Denmark to play 11 a-side professional football for Nykøbing FC when he was offered a 5 year deal, the club currently competes in the second division.
Christoffer Haag is his nation's team captain and goalkeeper, he has had a successful career in Denmark and for his national team, being renowned for shot-stopping with his legs. His talent has not gone unnoticed with Italian side  A.S.A. Catanzaro signing him to compete in the Divisione Calcio a 5 – Serie A2  League.
" Haagh is a purchase of international level – declared President Antonio Alfieri – plus Danish futsal is on the rise and Haag is the leader of his national side. We will not only increase our club profile and awareness in Denmark but in Brazil and Norway after the signing of Juninho and Rafinha and Kenito from Norway. This is proof of our desire to contribute to our town and give it international visibility and interest and to the sponsors that support us and want to support us with interest even outside of Italy ".
Futsal Focus will watch Christoffer progress with interest and hopefully, his success will inspire more young people to play Futsal and potential play abroad.
If you like the information provided, you can read more articles about domestic futsal by going to the top bar navigation or click here
If you like this article and would like to keep updated on Futsal news, developments, etc then please submit your email below in the Newsletter section or by clicking on the Subscribe to Futsal Focus option on the header.
Follow Futsal Focus by clicking on Facebook, Twitter or Instagram or on the social media links on the website.