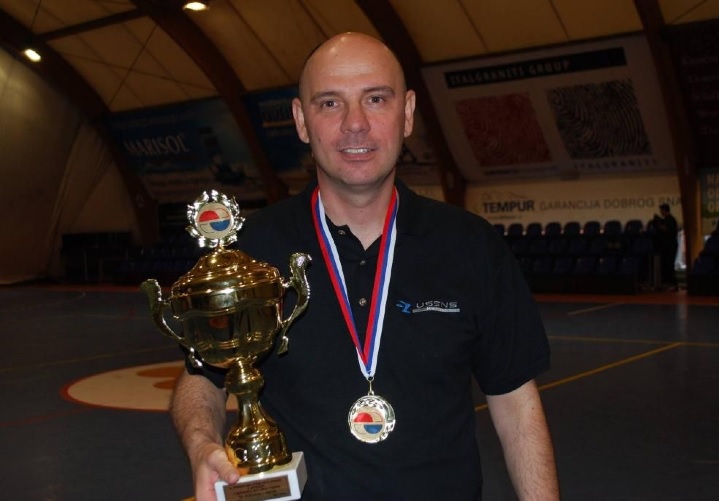 Estimated reading time:5 minutes, 10 seconds
Dusan Jakica Named Head Coach Of U.S. Futsal National Team, Set To Begin Preparations For 2020 Concacaf Futsal Championship
U.S. Soccer has appointed Dusan Jakica as the new head coach of the U.S. Futsal National Team. Jakica will prepare the Futsal NT for next spring's 2020 Concacaf Futsal Championship beginning with a training camp which started the 17 Sept and will finish on the 22 in Akron, Ohio.
Jakica brings a wealth of experience in the sport, having spent 15 successful years as a futsal coach at the international, collegiate and youth levels as well as 12 years as a player. A native of Serbia, Jakica spent six years as an assistant coach with the Serbia Futsal National Team and also led the University Team of Serbia at the 2014 EU Games. Holder of a UEFA B Pro License for Futsal, Jakica currently serves as a head coach with the Minnesota Thunder Academy and as a scout for the Minnesota United FC Academy.
"It's an incredible opportunity to lead the launch of a new era for the U.S. Futsal National Team," Jakica said. "While our immediate goal will be to qualify for next year's Futsal World Cup, the greater challenge will be to grow a futsal culture in the United States. I have seen the heights that this sport can reach and it excites me for the future. We have a tremendous challenge ahead of us, it's one that I am privileged to undertake."
With Serbia Futsal, Jakica primarily worked to develop young players for the highest level. As the head coach of the University of Novi Sad Men's Futsal Team from 2007-2015, Jakica led the squad to top three finishes at the Serbia University Futsal National Championships in eight of his nine years at the helm, including three national titles.
At the high school level, Jakica won numerous city and provincial titles, as well as guiding the High School of Mechanical Engineering, Novi Sad to a national championship in 2006 after a competition that involved more than 500 Serbian high schools. In 2014, he led the High School of Electrical Engineeering, Novi Sad to a runner-up finish in the same tournament.
Jakica holds a FIFA Futsal Coaching Certificate, UEFA B and C licenses and a national license in Serbia. Fluent in English, Bosnian, Croatian, German, Serbian and Russian, Jakica also played professional soccer for 16 years in the former Yugoslavia.
"Dusan's extensive experience around the sport of futsal makes him an excellent choice to lead the next chapter for our Futsal National Team," said U.S. Soccer Sporting Director Earnie Stewart. "We're excited to kick off consistent programming for this team as it begins to prepare for FIFA Futsal World Cup qualifying next spring."
Jakica will begin immediately with the Futsal NT, holding his first training camp from Sept. 17-22 in Akron, Ohio with 18 players. The six-day event will feature two-a-day training sessions and a number of scrimmages against local futsal teams as the squad begins preparations for the 2020 Concacaf Futsal Championship, slated for next spring.
The full roster, consisting of players from indoor soccer and futsal leagues around the country, can be found below. One player, goalkeeper Danny Waltman, returns from the USA roster that attempted to qualify for the 2016 Concacaf Futsal Championship.
U.S. FUTSAL NATIONAL TEAM ROSTER BY POSITION (HOMETOWN):
Mark Wysocki has kindly annotated the list in the article with club names (Taken from Futsal Japan group on Facebook)
GOALKEEPERS (3):
– Eduardo Macias (Utah Elite Futsal)
– Salvador Rodriguez (unknown),
– Danny Waltman (Takoma Stars – MASL / 2016 USA Futsal Team)
FIXOS (3):
– Alan Acevedo (NY Ecuador)
– Julian Escobar (NY Ecuador)
– Jim Cruz (Santa Fe Futsal Club)
ALAS (9):
– Stinson Justin (Ontario Fury – MASL)
– Slavisa Ubiparipovic (Utica City FC – MASL)
– Adriel Rodriguez (Naples Futsal)
– Andy Reyes (Ontario Fury – MASL)
– Jonnathan Pachar (St. Louis Ambush – MASL)
– Jonathan Orlando (Sporting Maryland Futsal Club / Baltimore Blast – MASL)
– Matthew Barbosa (unknown)
– Jeremy Klepal (Lansing City Futsal)
– David Amaro (Toros Futsal Club)
PIVOTS (3):
– Andre Carvalho (Safira)
– Lee Mitchell (Bay Area Futsal Club)
– Joel Vieira (Alianza Futsal)
Jakica has also assembled a veteran group of assistant coaches to serve on his Futsal NT staff: Otto Orf and Pablo Da Silva.
Orf is a former goalkeeper for the Futsal NT and represented the USA at the 1996 FIFA Futsal World Cup. He led the USA to the inaugural Concacaf Futsal Championship title in 1996 and was honored as the tournament's best goalkeeper. Orf enjoyed a 21-year professional career both indoor and outdoor, highlighted by 16 years with the MISL's Cleveland Crunch. Following his playing career, he participated in writing the first Concacaf Futsal Coaches Curriculum and led the first Concacaf Futsal Coaching Course in Guadeloupe last year. Earning coaching certificates with instructors from Argentina, Brazil and Spain, he has run Great Lakes Futsal leagues and the Heart and Sole Futsal Academy in Ohio for the past 12 years.
Da Silva brings 10 years of youth coaching experience and 22 years as a professional indoor soccer and futsal player in the U.S. and Brazil. Holder of a U.S. C License, Da Silva also has made a number of appearances with a National Indoor Soccer Team representing Brazil. At the club level, he led Safira FC to a Futsal North America Cup title as well as two national championships, while also helping Elite Futsal to a runner-up finish at the 2017 Concacaf Futsal Club Championship.
Futsal Focus also spoke with the head coach who stated his excitement to start the new role, to take on ths challenge and aid the growth of Futsal in the United States. More information is to come.
If you like the information provided, you can read more articles about global Futsal by going to the top navigation bar or click here
If you like this article and would like to keep updated on Futsal news, developments etc then please submit your email below in the Newsletter section or by clicking on the Subscribe to Futsal Focus option on the header.
Follow Futsal Focus by clicking on Facebook, Twitter or Instagram or on the social media buttons on the right sidebar.