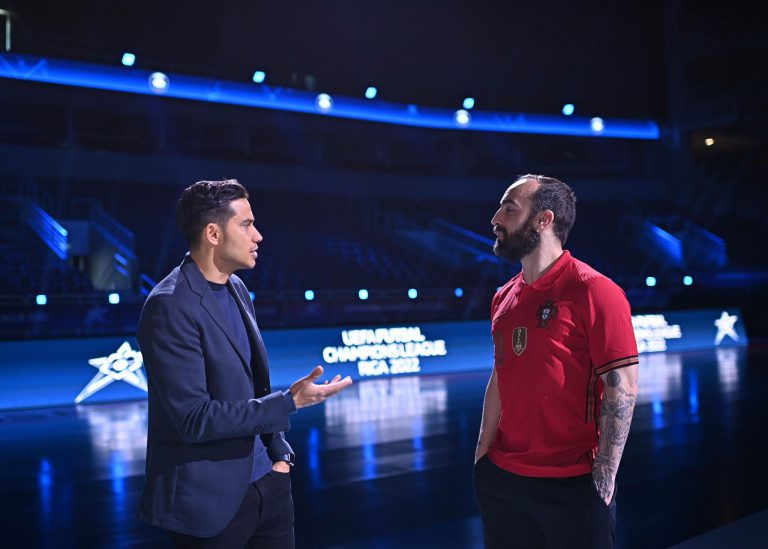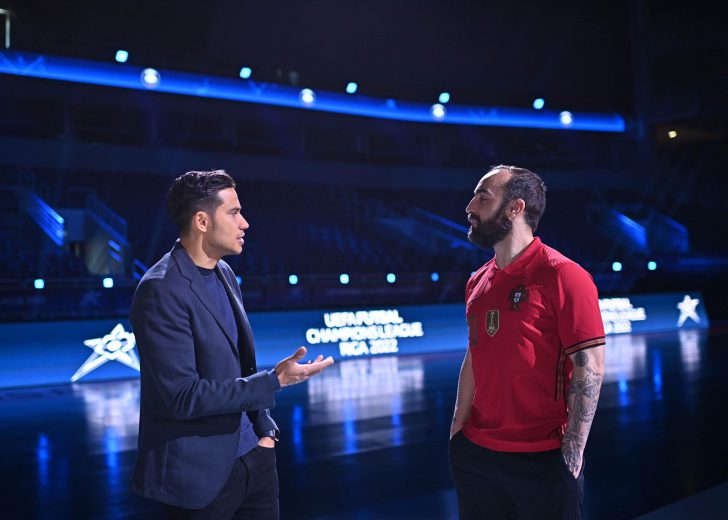 Estimated reading time:9 minutes, 17 seconds
Former England captain and futsal international Raoni Medina has developed his life through futsal, and he aims/ hopes to develop his career outside the futsal court in the business side of the industry as well. This article/ interview is a summary of the former pivot's story, and his thoughts about his journey.
Born in Londrina-PR, he left Brazil at 19 to play for Sporting Clube de Portugal (known outside Portugal as Sporting Lisbon) under 23s, in Portugal. There he shared the pitch for a short time with Cristiano Ronaldo, who is three years younger than him. The path through Portuguese football, however, was short-lived. After having problems with a manager, he moved to the UK to play English futsal.
"I was asked to join London Helvecia in the newly created English National Futsal League and I also had other opportunities during this period with the club. I would leave for several months then return to England. I got to experience different leagues in Spain, Cyprus and even America, when I accepted the challenge to play in the American Indoor Soccer League. However, I needed to make my way back to England to be eligible to get my British citizenship."
Returning to England, he played for Reading Futsal Club, helping them secure promotion to the top division but Helvecia wanted him back and he resigned with the club, playing multiple roles to contribute to the team and they quickly became successful. He also played for Baku United winning the league and FA Cup. His winning mentality and ability caught the eye of the England national futsal team very early, and he was naturalised in 2015. Knowing this opportunity was coming is why he turned down other overseas offers, playing for England meant everything to him and he was determined to see it through.
"The call, citizenship, everything was the result of a process of great dedication, a lot of commitment to a country, to a project, and to the team. Nothing has been easy in my life, my entire professional journey has always been with many obstacles, but I have always worked hard to overcome them. I wanted to make sure that I didn't apply for the British passport for any other reason than to play for England. I was already a Spanish citizen so there (before Brexit) wasn't a need. In 2008, when I won the first national league, won the Golden Boot, and scored 5 goals in the final, I was approached by The FA asking if I was entitled to play for England. Once they expressed their interest for me to play for England it became my goal, my dream and the reason to give the best of myself every season to become an England player and pay back to a country which has given me so much."
His debut took place in London against Sweden in 2015 with his parents in the stands. One year later, he led England out onto the court as the team captain in Norwich 2016 against Finland, scoring the winning goal again with his family present.
"As captain, I had the final speech.  I remember everyone's eyes widened as I spoke (he laughs). I held the national team badge and said, "Do you see these Three Lions here? None of you feel it more than I do. You may feel the same, but not more than I do. I chose to be here. I fought and suffered to be here with you, I fought, and I suffered for this moment to be real. So, let's get on the court, leave everything we have inside for the victory. And, the end could not have been better: victory with a decisive goal."
Without playing since the beginning of the pandemic due to restrictions in the United Kingdom, and the England national team sadly being suspended by the English Football Association, Raoni is now preparing for his post-career.  He devoted himself to his education, he has a degree in Sports Journalism and has taken courses with the La Liga, RFEF (Spanish FA) and now UEFA.
"Nothing has been easy in my life, my entire professional journey has always been with many obstacles, but I have always worked hard to overcome them."
Raoni finished a "Making of Sporting Events" course with the La Liga, a Sports Director course with the Royal Spanish Football Federation (Real Federación Española de Fútbol). And, currently, he is doing an Executive Masters for International Players (MIP) with UEFA.
"I had this Masters in my head for a few years, after speaking to my former England teammate Doug Reed who had done the second edition of the UEFA MIP. I applied while I was still playing. A few weeks before the Summer Showdown last year I received the confirmation that I was accepted. It was a mix of emotions, it was the happiness of being accepted to such an amazing course, but at the same time sadness, because I knew that would be my last tournament as a Futsal player. So, it was very emotional moment for me, I gave a lot of myself to be at my best and to win my last trophy. Thank God, it went as planned and I won my 16th National Title scoring in the final and lifting the trophy for the last time. I still miss it a lot, I am fit and, in my head, still an active player, but I always dreamed to finish at the top, as a champion, scoring and to be missed on court for my performances and to not be there is contrary to who I have been for so long.  Despite this, I am convinced it was the right decision, but the pain is still there. The journey at the MIP has been amazing, learning a lot from the top people in the industry and making good friends along the way."
"For the whole month of April, I was away with our third session in Amsterdam for a week, then from there heading straight to the UEFA Headquarters in Nyon to do an internship at the UEFA Futsal Department. I always wanted to see things inside out to understand the whys. After that, I was invited to be part of the organisation team at UEFA Futsal Champions League in Riga. What an experience it was! Another full week in Latvia to deliver the event with excellence, the feedback from the players to supporters was incredible.  A packed arena for both days and huge engagement with fans. It was a success! Furthermore, I was involved in a documentary development for UEFA which involved Ricardinho, Merlim, Ortiz and myself discussing the growth of futsal and Ricardinho's final bow in the Champions League."
"The three weeks with UEFA gave me the possibility to see things from "the other side" giving me enough information to have my own opinion. There is a long way to go, but I believe we are heading in the right direction, not at the pace we want but we are moving. Unfortunately, it may stay at this pace until "Futsal people" get into the positions where they can make things different. I am doing my part, preparing myself for when the opportunity comes be able to collaborate and help to change things for our sport so it will receive the respect it deserves."
"Now back home, I am preparing for our fourth session in Lisbon next month which is promising to be as good as the previous ones. In the meantime, I am looking forward to the NFS Finals on the May 21st as I am working with BT Sport as a pundit."
Raoni's experiences throughout his playing career and now business career has come with persistence, belief, sacrifice and his determination to succeed. Futsal has given him so much in return and as the sport continues to grow he will look to bring what he has learned to the industry.
"I want to make a difference. I believe my generation would be one of the first ones to have the real opportunity to be the "game changer". At the moment, we have football people in charge of Futsal in club sections, national teams, federations etc… with no idea what the sport is about and the benefits of it, they are there as I normally say "To tick the box". Futsal is clearly undervalued; we are still not self-sufficient ok, but how will we be if you don't have the appropriate investment? The awareness of the game could be and has to be much broader. If we use the example of Women's Football, the growth they had in the last few years was because of the investment made by the governing bodies which gave them the exposure and support they needed. A fun fact is that the number of women who play Futsal globally may be bigger than football. But, again, until educated/experienced Futsal people get inside the football organisations, we will not have what we know our sport deserves.
Futsal Focus supports the Donate4Dáithí campaign
To follow the Donate4Dáithí campaign, you can visit their website here: www.donate4daithi.org  or on Facebook at: https://www.facebook.com/Donate4Daithi you can also donate money to their campaign at: https://www.justgiving.com/crowdfunding/donate4daithi
Learn more about the Donate4Dáithí campaign by going to our article here
Futsal Focus
You can read more articles about domestic futsal by going to the top navigation bar or click here
If you like this article and would like to keep updated on Futsal news, developments, etc then you can now follow Futsal Focus via Google News by following our page which will send you an alert as soon as we publish an article so please click here and follow us on Google.
You can also keep updated on Futsal news, developments, etc then please submit your email below in the Subscribe to Futsal Focus option.
Follow Futsal Focus by clicking on Facebook, Twitter, or Instagram or on the social media buttons on the website.