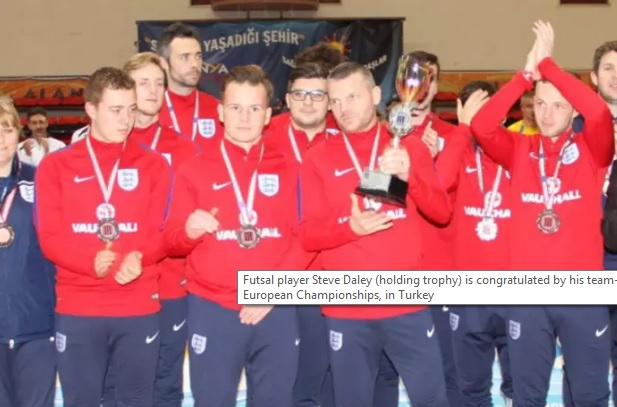 Estimated reading time:2 minutes, 59 seconds
Preston and England futsal ace Steve Daley has created his own piece of sporting immortality, surpassing Peter Shilton to become England's most-capped men's player
The 40-year-old has become the most capped England male footballer after making 128 appearances for his country's visually impaired team over a 21-year span.
His appearance against Spain in the opening match of the IBSA B2 B3 Futsal European Championship, in Alanya, Turkey, last month saw him equal Peter Shilton's record of 125 caps.
He then went on to surpass the legendary goalkeeper by making a further three appearances as England won a fantastic bronze medal at the Euros.
Daley, who is the principal leisure manager at Preston City Council, has traveled all over the world representing England after making his debut at the age of 19. He said: "It was massive to equal Peter Shilton's record and it was also great to win a medal with the lads. "It's my fourth bronze medal at major championships. I have won two World Championship bronze and now two European Championship bronze. The last 21 years have gone quickly, but I've loved it and I can remember making my debut at 19." Traditionally played in South America and in southern European countries such as Spain and Portugal, futsal started to become popular in the UK in the 1990s.
A form of five-a-side, the game requires a greater level of skill as it uses a smaller ball, bigger, hockey-style sized nets and the ball can go in and out of play. As a talented five-a-side player in his youth, Daley was encouraged to give futsal a go – and he has never looked back. In his early years with the national squad, Daley admits England were well behind the standard of other countries, but slowly and surely they have narrowed the gap. "I went to my first ever European Championships in 1995," recalled Daley, who is the captain of his country.
"I had never played futsal before until then – only five-a-side. "Futsal is big in South America and many other parts of Europe. They all grow up playing it. "So that first European Championships was a bit of an experience. We played Spain and they beat us 6-0, but we played Spain in the first match of this tournament just gone and we drew 2-2." After losing 3-2 to host nation Turkey and drawing with France and the Ukraine, England secured the bronze by getting revenge over Turkey 1-0. Daley was part of the England squad which secured bronze medals at the World Championships in Argentina, in 2009, and Japan three years ago.
Despite his longevity, Daley – who lives in Fulwood with his wife Sonya and their children Cameron, 11 and Deryn, six – has no plans to retire any time soon as long as he is still capable of doing himself justice. "I like to keep fit and stay in shape. The Spanish lads could not believe how old I was. They thought I was only 30," he added. Head of sport and lesiure at the council Jimmy Khan said: "All of Steve's hard work, the sacrifices he has made and dedication to his sport has finally paid off."
If you like the information provided, you can read more articles about International futsal by going to the top navigation bar or click here
If you like this article and would like to keep updated on Futsal news, developments etc then please submit your email below in the Subscribe to Futsal Focus option.
Follow Futsal Focus by clicking on Facebook, Twitter or Instagram or on the social media buttons on the website.