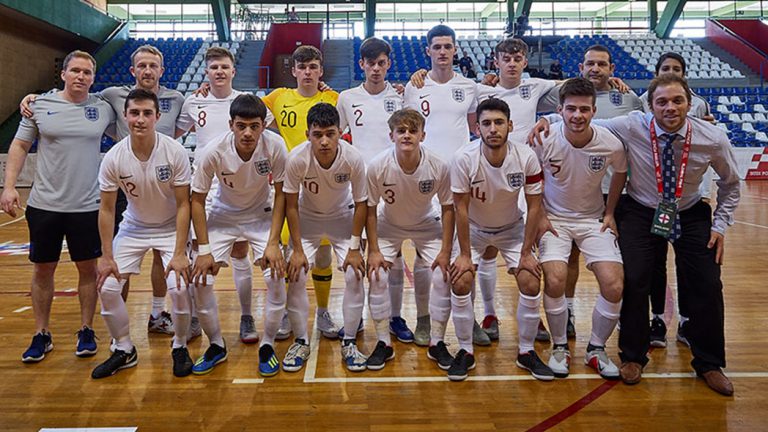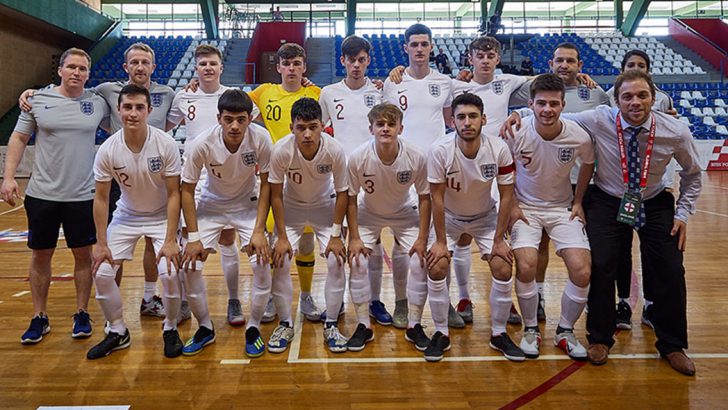 Estimated reading time:6 minutes, 24 seconds
England's long-awaited return to international futsal has this week been confirmed, with news breaking that the FA will enter a team into the 2023 UEFA Futsal Under-19 Championship qualifiers. In addition to this, the setup of a senior national women's team is now in progress for the first time in the country's history.
The upcoming Under-19 Championships are already on the horizon, with the preliminary rounds scheduled for 17th – 22nd January. However, we are still yet to learn who the new coaching team is, nor do we know when player recruitment will begin. Clearly, to establish a squad capable of competing with European nations of the highest stature, decisions will need to be taken promptly in this regard.
Speaking exclusively to Futsal Focus, former England U19 futsal captain Jared Rand opened up on his heartbreak when the FA cut funding to the much-loved sport two and a half years ago:
"I was absolutely gutted. An incredible amount of commitment and sacrifice went into striving to achieve my dream of playing for England. I quit football and fully embraced becoming a futsal player and playing futsal for England was my main motivation. Leading out an incredible group of boys at the England U19s first-ever Euros was the biggest honour of my life."
Rand scored a memorable goal whilst representing The Three Lions, netting the winner in a victory over Italy U19s three years ago. He had since gone on to play for the senior national team under the stewardship of Michael Skubala until it too was cancelled, and last season played for Bloomsbury in the National Futsal Series Tier One. The now 22-year-old continued:
"To read the England U19s have entered the next European Championships was amazing to see. I'm so excited for the next generation of players, as that is what it's always about. The talent we have coming through is always getting better and better, and it's exciting to watch. I wish the new group of lads success and look forward to seeing the new team captain lead the boys onto the court. Whoever it will be, he will love it and will remember it forever."
Furthermore, just as the news of an U19s team broke, more developments came via the Guardian in an article published by esteemed writer and author of 'Futsal: The Story of an Indoor Football Revolution', Jamie Fahey. He explained how The Football Association also intends to create a women's national futsal team, as it tries to grow female participation and capitalize on the Lionesses' monumental Euro 2022 success.
An FA spokesperson told the Guardian: "We are in the process of finalising exciting plans for futsal… which involve working with the sport's wider stakeholders and includes an England representative team at the U19 level. Full details will be announced in due course."
Undoubtedly, this is a positive sign and a definite step in the right direction, but far too often the English futsal community has been let-down by broken promises and empty statements of intent, so the aura of apprehension around the latest pledges is understandable.
Prior to the abolishment of futsal development plans when Covid-19 first spread across the globe, the FA had previously committed to implementing a strategy called 'Fast Forward with Futsal'. However, at the beginning of the pandemic, the English FA decided to dissolve their futsal pathway and programme at the international level, though the grassroots elements were retained.
This decision resulted in an angry reaction from not only international futsal communities, but also England international futsal players. A petition – 'Save Futsal in England' – was organised and attracted over 5,000 signatures. The campaign continued with a promotional video to educate and increase awareness of the situation, with many players and coaches expressing outbursts of emotion on social media, whilst others, such as former England captain Raoni Medina and England international Doug Reed, spoke to domestic and international media. The players sought to bring attention to a decision they felt was not only morally wrong, but also fundamentally damaging for the sport, and disrespectful to everyone involved who had, for so long, worked so hard to take the sport forward domestically.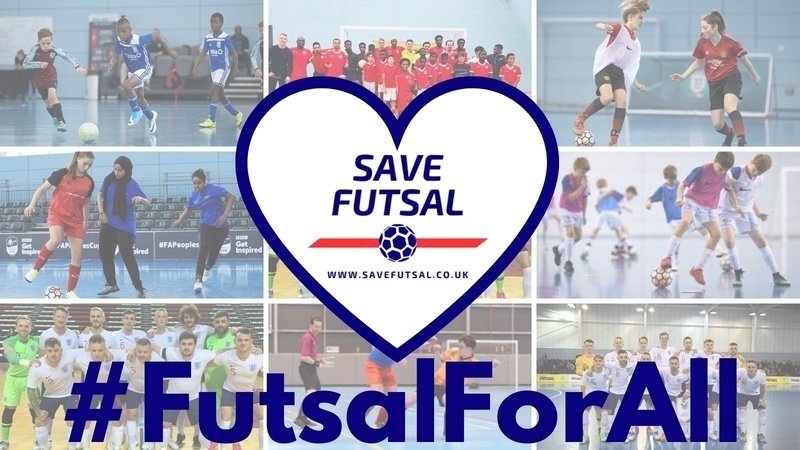 England has the potential to be a hugely influential market for futsal globally, hence it is important to cement the sport within the nation's culture and grow the game to a professional level, whilst encouraging the rest of the English-speaking world to follow suit.
On the back of the commercial success of the Premier League, the English FA is a hugely influential organisation, and their full embrace and backing of the sport would be a tremendous boost for English futsal and the sport globally. However, many questions still lurk over the picture of domestic futsal in the wider scheme of things.
When will the FA re-ignite their financial support to a sport that is flourishing in so many European countries?
The NFS has launched a men's Super Cup competition, but will the FA consider bringing back The FA Futsal Cup – a competition that helped to attract many clubs into futsal over the years of its delivery?
The FA states that small-sided football has grown immensely and rapidly in recent years and that they are keen for this to continue. So, why not follow international examples in diverting funds away from traditional forms of indoor football to fully endorse and support futsal development?
Currently, the English FA channels finances through their Small-Sided Football Development Fund, worth half a million pounds and specifically targeted at supporting the growth of small-sided football in England. However, only a minority of this is dedicated to futsal, with other small-sided formats of 4v4, 5v5, 6v6, 7v7, and Beach Soccer all benefitting as well.
One example of other Football Associations diverting their funds away from diverse forms of small-sided football, to fully focus on futsal development, is the DFB in Germany. Although initially criticized by fans of some of the other forms of football, this decision has since been proven to be successful, with rapid growth in German futsal evident. This, in comparison, is a stark contrast to the relative stalemate and small slice of the pie that, in reality, all forms of small-sided football have been left to contend with in England.
So, the question remains as to which direction English futsal will take. Will the FA finally realise the potential of the sport, and align with international practice in focusing funds on developing FIFA's official form of indoor football? There is certainly an ounce of optimism that may be a potential eventual outcome, but so much more assertive action needs to be taken if we are to ever reach that target and see futsal prosper as a professional sport in England.
Author
Isaac Barrington is a journalist for Futsal Focus and Football Match Commentator. He is also a futsal player in the FA National Futsal Series for Birmingham WLV Futsal and was the BBC's Young Commentator Of The Year in 2017!
Futsal Focus
You can read more articles about international futsal by going to the top navigation bar or by clicking here
If you like this article and would like to keep updated on Futsal news, developments, etc then you can now follow Futsal Focus via Google News by following our page which will send you an alert as soon as we publish an article so please click here and follow us on Google.
You can also keep updated on Futsal news, developments, etc then please submit your email below in the Subscribe to Futsal Focus option.
Follow Futsal Focus by clicking on Facebook, Twitter, or Instagram or on the social media buttons on the website.