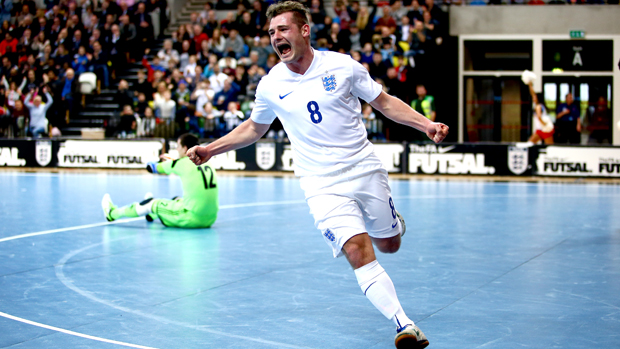 Estimated reading time:7 minutes, 15 seconds
Today, England announced their squad who will be traveling to compete in the FIFA Futsal World Cup Main Round qualifiers but this week an England great also hung up his shoes, Luke Ballinger.
Luke has called an end to his England career and the example he and the teammates he had along the way should be celebrated as among the pioneers of this sports history in England. In announcing his retirement from Futsal, Luke took to social media to post the following, breaking down his thoughts and feelings about his introduction to Futsal, competing for England and the players he had the honour to play with and should never be forgotten, this is his words:
"After 13 years of playing Futsal and 10 years as an England National Futsal player, I am sadly hanging the Futsal shoes up.
Futsal has had a huge impact on my life and for 10 years as an England player I let it dictate my life and I made sure that I was available for every training weekend and matches. I cannot tell you how much I have enjoyed my time on and off the court and the experiences I have had will stay with me forever.
Futsal has allowed me to meet some unbelievable people, people who will be my friends forever.
A thank you must go to my uncle who got me involved with the sport. A weekend to Sheffield in the FA Cup in 2007 was where it all began. A few weeks later, I received a voice message from Graeme Dell telling me I was included in the squad traveling to Izmir, Turkey. Making my debut against Azerbaijan followed by games against Holland and Turkey was only the beginning of a journey and career I am proud of.
Trips to Georgia and then our first ever win against Greece were two memorable trips for myself and the national side.
After trips to Kuala lumper and my first World Cup qualifiers, Graeme Dell left and I will always be grateful for the opportunity he gave me and I am lucky to say that we are still good friends.
Another man who I will always be grateful to and will be very close to is Pete Sturgess. This man came in, replaced Graeme and gave me the opportunity to not only carry on playing but captain England, this is easily the proudest thing I've ever done.
(Footage from 2010)
Memories were made throughout my captaincy and as Pete as our manager such as our first ever competitive win against Cyprus, going to Libya and beating them on their own patch followed by a  trip to Gaddiffi's compound which is still spoken about today. Other experiences include our first-ever qualification win in Lithuania, a trip for everyone who was there which will never be forgotten. Another qualification in Israel, First home Nations Tournament won in Newcastle are all momentous victories for the game to grow in this country.
Pete sadly decided to step down after the main round qualification in Hungary where I left on 98 caps. Something I do wish is that Pete had been around for my 100th cap in Germany. To be the first-ever player to do this in this country, again, is something I am very proud of. Never thought playing one game was a dream.
My last 10 games in an England shirt and being able to score 10/10 was not a bad way to go out especially scoring for the first time in every qualification game in the group which was something I had always looked to do.
I was able to score 60 goals and for me, this is a great achievement but it would not have been possible without the help of my teammates and I've had few in an England shirt – so to everyone, thank you. It would be wrong of me not to mention a few names though. Nick Colley was there from day one and played over 50 games with me. Ben Mortlock a great man who has gone on to do so well at the FA.
Rob Ursell, Alex Sykes, Marc Canham, Rich Follett from the early days of the games are people that again helped shape the way of the game in this country and must never be forgotten about. James Dalton, Doug futsal Reed, Ian Parkes and so many more need to be recognized in the game and the part they played on the court with me. Marc Birkett, who started around the same time as me and achieved the greatest of things in this game, I've given him abuse in my time but one thing I will always have for this man is respect. To referee a Futsal World Cup Final says it all.
A special mention to another good friend of mine is Stuart Cook #12, this man, as well as others, will be my friends for life. What this guy can do on the court is incredible. The amount of goals he set up for me is unbelievable, it was a privilege to play with him and everyone else.
A mention to everyone at the FA Futsal Committee especially Dave Henson who was always there, his famous shirts at games and dinners will be forever remembered.
Again, thank you to everyone and I mean everyone, the Committee, managers, staff, and players.
Nothing would be possible without you."
Luke Ballinger, we salute you, from everyone at Futsal Focus.
You can learn more about Luke and his Futsal journey in this interview he did for Futsal Discovered four years ago:
England's Futsal head coach Michael Skubala has named his squad for the World Cup qualifying main round in late October.
The Futsal Lions travel to Italy for the latest stage on the road to the World Cup Finals in Lithuania next year and will face games against the host nation, Belarus and Hungary.
And Skubala will have a 16-man squad for the games, which are held in Eboli at the impressive 8000-capacity PalaSele venue.
The most notable absentee from the squad is Stuart Cook, who recently suffered an ACL injury and is sidelined for the rest of the season.
But that absence has opened the door to the returning Agon Rexha, who will be hopeful to play some part in the tournament.
England progressed through the preliminary qualifying round in Latvia in February thanks to wins over Gibraltar and Cyprus and a draw with the hosts.
Only the top two nations will progress from this stage into the elite qualifying round which takes place in early 2020.
"We know our opposition teams are over 25 places above us in the world rankings, but we're prepared and we'll do our best and hopefully make the Futsal community proud.
"The players have worked really hard over the last few months to be in a position to challenge and compete and you never know, we could cause a bit of an upset if a few things do drop our way.
"It's great for the national futsal programme to be competing at this level of competition.
"For young budding football and Futsal players to have this to aspire to is great.
"Italy have always got to latter stages of FIFA Futsal World Cups and been Euro champions in the past, so to be playing three teams with strong national Futsal backgrounds in competition is great on so many levels."
England will kick-off their games against Hungary on Thursday 24 October, before playing Italy the following day. Their final match against Belarus will be played on Sunday 27 October.
The Squad
Mark Croft – Loughborough Students Futsal Club
Jonny Sim – Pro Futsal London
Joe Payne – Bolton Futsal Club
Raoni Medina – London Helvecia Futsal Club
Robbie Bettson – Durham University Futsal Club
Liam Palfreeman – ASD Olimpus Roma
Doug Reed – London Helvecia Futsal Club
James Webb – Gambette Futsal Club
Richard Ward – Pro Futsal London
Nathan Davis – Loughborough Students Futsal Club
William Wallace – ASD Lubrisol Futsal Regalbuto
Russell Goldstein – Pro Futsal London
Will Rooke – Loughborough Students Futsal Club
Matt Overton – Bolton Futsal Club
Agon Rexha – London Helvecia Futsal Club
Calvin Dickson – Pro Futsal London
If you like this video and the information provided, you can read more articles about International Futsal by going to the top navigation bar or click here
If you like this article and would like to keep updated on Futsal news, developments etc then please submit your email below in the Newsletter section or by clicking on the Subscribe to Futsal Focus option on the header.
Follow Futsal Focus by clicking on Facebook, Twitter or Instagram or on the social media buttons on the right sidebar.