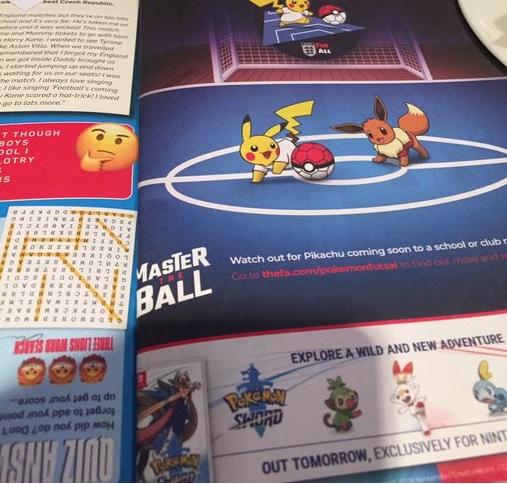 Estimated reading time:3 minutes, 5 seconds
NEW POKEMON PARTNERSHIP AIMING TO HELP INCREASE FUTSAL PARTICIPATION
Earlier in the year, the English FA and Pokemon announced their visionary partnership with the aim of increase Futsal participation across England.
Both organizations stated that it was a three-year partnership to support the National Futsal Programme that the deal would begin immediately, with the aim of making the sport a natural part of children's football development. The focus in year one of the partnership will be on increasing participation of school and club teams from across England in our National Youth Futsal programme.
Throughout the partnership, Futsal and Pokémon will use their shared values of evolution and progression through training to help appeal to children; raising Futsal's profile, creating a clear identity for the game and developing a twin tracking pathway that will mean boys and girls can play Futsal as a part of their overall experience of the game.
Dan Kiddle, our head of commercial partnerships, added: "We're delighted to welcome the Pokémon Company International as a partner to support our National Futsal strategy and help grow participation in England.
"Pokémon is an instantly recognisable brand across the world and we're excited to work with together to encourage young players, of all abilities, to play the game of Futsal."
We'll work closely with Pokémon to create and deliver an exciting range of initiatives at participating schools and clubs, culminating in The FA National Youth Festival in May 2020, as well as supporting the England men's national Futsal team.
Though the English Futsal family was delighted to such this new development for Futsal in England, not everyone in the media who decide to the cover the story reacted well such as the18.com journalist Travis Yoesting who wrote an article about the partnership saying,
"Honestly, this may be the worst Pokémon ploy since Hillary Clinton asked young people to "Pokémon Go to the polls," which of course they didn't and thus Donald Trump won the electoral college.
Futsal Focus, however, disagrees with Travis and thinks this is a great initiative and will definitely ignite an interest in young people across the country. Especially, when you see the public interest in the Pokemon movie when it was released in the UK out grossing Marvel's Endgame in its first 3 days in UK cinemas making 2.7 million and 8.9 million over its first 2 weeks, staying top of the cinema chart.
Today, content, and promotion for the national programme were launched online. Graeme Dell, Futsal representative on the FA Council, former England Futsal National Head Coached and commentator on BBC Sport's England National Futsal games tweeted:
Would never have got this 2 years ago, Senior team programme tonight & lots of noise around the room on the partnership between @FA & @PokemonNewsUK on our #Futsal partnership ??????? . This is progress. pic.twitter.com/eD5TsplB5s

— Graeme Dell (@graeme_dell) November 14, 2019
England National Futsal Head Coach Michael Skubala also posted:
Great to be joining forces with @PokemonNewsUK to inspire the next generation!!! #fastforwardwithfutsal #futsal @FA @England ????????⬇️⬇️⬇️ please RT https://t.co/MyACVQtH83

— Eng Futsal Coach (@mskubala) November 14, 2019
And, if you haven't seen their Futsal video promotion, you can watch it below:
If you like the information provided, you can read more articles about domestic futsal by going to the top navigation bar or click here
If you like this article and would like to keep updated on Futsal news, developments, etc then please submit your email below in the Subscribe to Futsal Focus option.
Follow Futsal Focus by clicking on Facebook, Twitter or Instagram or on the social media buttons on the website.