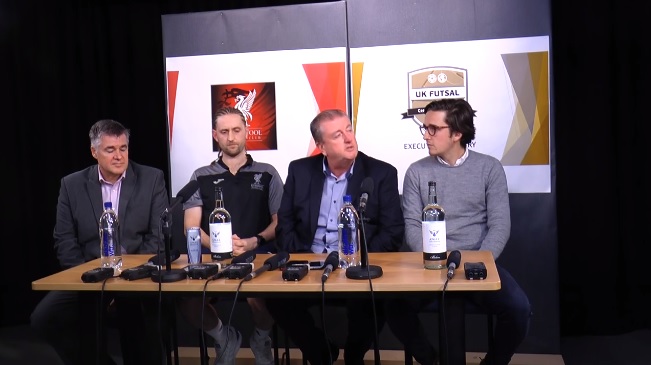 Estimated reading time:1 minute, 54 seconds
UK Futsal press conference to discuss idea of a state of the art facility in Liverpool
UK Futsal members and founders held a press conference at Liverpool John Moores University to inform the public of their plans for a new Futsal facility in Liverpool.
Peter Sharples, founder of UK Futsal centre of excellence and CEO of Liverpool Futsal club, opened by discussing how he started with Futsal as the technical ability of English players was dropping. He believes the solution for this is Futsal as it is giving kids a chance who may not normally get such a chance to improve their ability in full side football. The game is much more inclusive and gives kids more touches of the ball as the pitch is smaller so there is more action and the more they will improve. Sharples, also goes on to say that this will lead to better decision making in how they will play football even if they do go on to play football at a larger scale.
Overall, The Liverpool Futsal CEO believes that we still do not have the facilities for Futsal. By all accounts they are trying but ultimately still failing. The end goal for UKFutsal is to reach and potentially surpass the standard of Futsal in Spain.
Peter also believes Liverpool already is the hot-bed of Futsal in the UK and the new facilities would definitely cement that. The main issue is that Futsal facilities are very expensive. One of the reasons for this is that Futsal requires a specific type of flooring as it has to allow a bit of give for the player's ankles to be unaffected by the flooring which does cost a lot of money.
To find out more listen to their interview below:
If you like the information provided, you can read more articles about grassroots futsal by going to the top navigation bar or click here
If you like this article and would like to keep updated on Futsal news, developments, etc then please submit your email below in the Subscribe to Futsal Focus option.
Follow Futsal Focus by clicking on Facebook, Twitter or Instagram or on the social media buttons on the website.