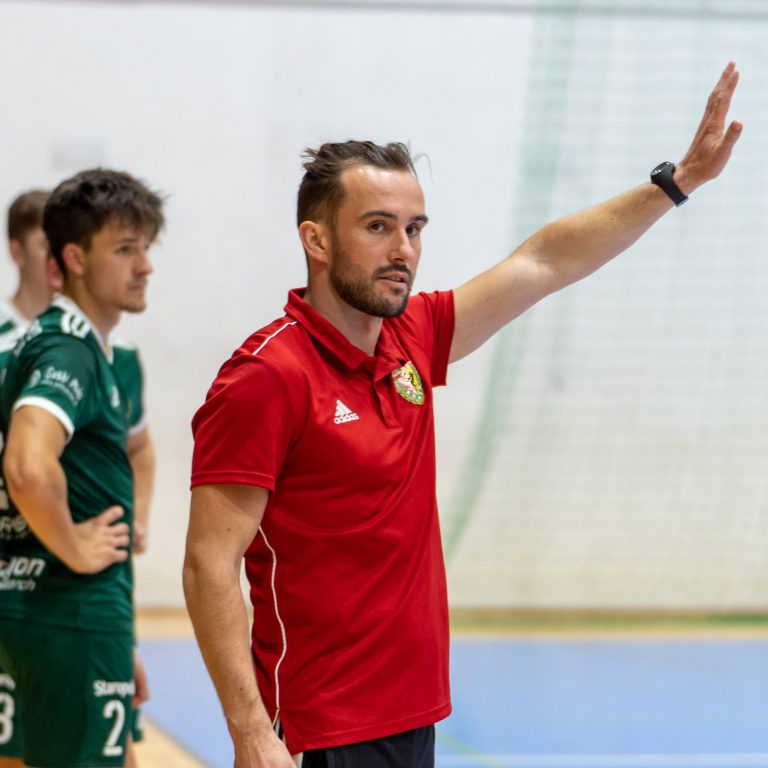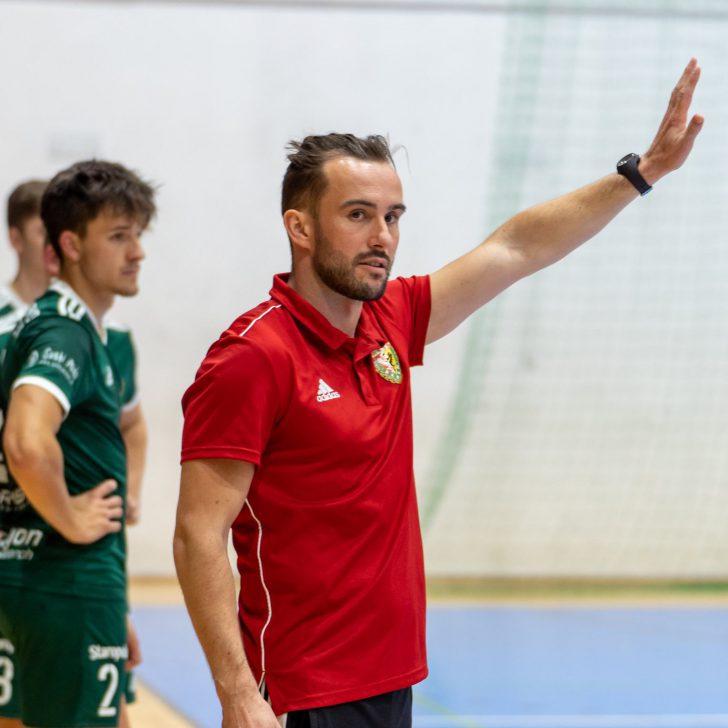 Estimated reading time:16 minutes, 20 seconds
Damon Shaw has been a pioneering English futsal coach for over a decade.
In England, Damon Shaw drove futsal development at the University and grassroots level, along with taking his club Middlesbrough into domestic national competition and to competitions in Europe and North Africa. He also did his utmost to provide young players in England with the opportunity to play futsal regularly at a time when futsal was still in its infancy at the grassroots level for players younger than 16 years old. Outside of this, he has worked hard to provide players in Spain with the opportunity to travel to England in order to play futsal and study English. In relation to his own coach education, Damon moved to Spain to develop his coaching skills, to take coach qualifications, and to learn under the best coaches possible across a number of clubs in the Catalonia region, among his mentors are former FC Barcelona coach, Carmona.
Damon Shaw's desire to improve and develop as a coach has also taken him to Malta, Malaysia, Poland, and now Sweden. Recently, he was announced as the new head coach of Skoftebyn Futsal, who compete in the Svenska Futsalligan (National League). In 2017, the Swedish Football League (SEF) and the Swedish Futsal League (SFL) decided to work together to develop the Svenska Futsalligan. A historic decision for Swedish futsal as the futsal clubs are a part of the Swedish Football League (the organisation that develops the league, much like the Premier League), tapping into the knowledge, expertise, and contacts of the SEF, but still with autonomy over futsal. Games are broadcast on Eurosport, and domestic futsal is increasing in participation and interest. Since the new season kicked off, Damon's new club has gotten off to a great start, winning their first two games against IFK Göteborg Futsal, 0-3, and 1-4 versus BAIK Futsal, a club who last season were one of the highest scoring teams, yet they kept their opponents out until the dying seconds. Up next is FC Rosengård Futsal who are new to the SFL and under the tutelage of Alex De Santana – a name fans of English futsal might be familiar with – his brother, Andrew, instrumental in the success of Helvecia.
It has been a while since we spoke with Damon, so we decided to get in touch to find out about his experiences in Malta, Malaysia, Poland, and now Sweden.
Damon, it is great to be in contact again, a lot has happened in that time, and though we have promoted your career developments we haven't spoken about them in more detail, so I am looking forward to learning more and for our readers to get an insight as well.
Futsal Focus: You moved to Malta to coach Swieqi United in the Maltese Futsal Association Futsal League, can you tell us why you decided to go, what the standard of the league is like, how is futsal developing there and why you decided to leave?
Damon Shaw: Pretty much as soon as I was made redundant at Tranmere someone from Malta got in touch with a proposal which was to grow an academy at Swieqi United. Because of the success we had at Tranmere with the youth – we had over 100 kids playing regularly – they saw that and wanted something similar. I went as technical director and assistant coach to player-manager, Bobo Marev, former Bulgaria international and the first season was really good. I took over as head coach in January as the club and Marev parted ways and while I was already doing some coaching and managing the games it represented a great challenge for me. We finished joint third that season and unfortunately, we didn't get to play in any finals because that was only for the top 2. We managed to close the gap a little bit, pushing Luxol to the dying seconds in a cup game to lose 5-4. A good result considering most encounters with Luxol were one-sided.
The second season was a disaster. Lots of things changed. The league went from 12 teams to 4 and with that, we lost a lot of local players to football, and we only had nine league games plus a short playoff series with three teams. Naturally, when we were almost out of reach of the playoff, having lost two against our direct rival, the season was over. From a business point of view, I understood the club's position and we agreed to part ways. It was a low point for Maltese futsal and I'm happy to see things getting back to how they were now with a strong league, Luxol in the Champions League main round, and my old club Swieqi United back involved after a couple of seasons not competing.
Futsal Focus: Your next move was to Malaysia to coach Perak Futsal Club in the Malaysian Premier Futsal League, but this experience was affected by the COVID outbreak. Can you tell us about your experience there during the lockdown and how it impacted you? During the time you had with the club what were the standards like, and what was your impression of the league? Is Malaysia developing a successful futsal culture, and would you be interested to go back to Southeast Asia?
Damon Shaw: I loved my short time in Malaysia with Perak. The people, the culture, the weather food, and the club was just a dream to be a part of. We had everything. A fully professional squad, staff, and a league that was serious – a spectacle and some very strong teams that would have made for a very interesting season. We had pre-season and then played the first match behind closed doors when the pandemic hit. Then about halfway into the initial three-month lockdown, the MPFL was canceled. We did manage to train for a month in September and play (and win) a tournament in preparation for a potential return to action, but it never came. I'd shaken on a contract extension, but with the league not making any announcements and my boss suffering a stroke, the club wasn't willing to honour the extension. I waited as long as possible to see if the league would restart but as things returned to normal, and the league was nowhere in sight I had to leave to find work, which led me to Poland.
I was really lucky with Perak; they honoured the contract despite Covid-19 whereas some clubs around the world were not so good with players and staff. Lockdown, away from family and friends was tough; living alone, with no Wi-Fi, not allowed out to exercise even. Like everyone, I got through it with Netflix, quizzes with friends, home workouts, and a lot of time to ponder. Further lockdowns meant the league didn't get up and running until 2022, but I made the most of the waiting, spending a lot of time by the beach and considering my future post-covid.
Malaysia looks to be back on track as of 2023. In 2022 they ran a short season and now it seems like it's full steam ahead for the MPFL to return to where it can be. Malaysia, like Indonesia, has the potential to be a big player in Southeast Asian futsal. There are lots of players who love the sport, grow up playing and with the potential to earn a living from futsal in the top teams, coupled with the low cost of living it's a realistic dream for youngsters there to play at the top. Of course, I'd love to return. I feel like I have unfinished business in Malaysia and didn't get to experience the crowds (they get 3,000 plus at big games) and I made some close friends there.
Futsal Focus: When the lockdown lifted, you made your way to Poland to lead the futsal project at WKS Śląsk Futsal Wrocław, but this experience was cut short. What happened in Poland and what was your impression of Polish futsal?
Damon Shaw: I was sold an excellent project and signed a 3-year contract with the club. The objective was to build a club that could reach the Ekstraklasa and be a serious player in Polish futsal. I put together a 3-year plan that the club liked, and we signed the contract in June 2021. I've long had an affinity with Poland. My first international tournament was the World Universities Championship in 2006 in Poznan and I coached in the Champions League in Bielsko-Biała with Perth Saltires in 2013. Plus, at Middlesbrough, Lukasz Samek was my right-hand man and close friend while living in the North East. So, the chance to go and live and work there seemed like a good option. To be honest, after some time away from futsal due to covid and not being particularly successful up to that point, I didn't have many options, and that maybe clouded my decision, because there were certainly a few red flags about the president, not least from people who knew him and his previous club that he left with large debts and having to drop out the top league. Had I had other options, I may well have avoided this, but in the end, I had to hope that he had the things in place for this new project with a very reputable football club.
It turns out that when I signed the three-year deal, they hadn't yet confirmed the main sponsor and by the time the first payment was due, I was told they couldn't afford to pay me. I would have been willing to renegotiate and defer it somewhat to finish the season, but the rest of the club was a shambles too. I arrived four months after signing the contract and accommodation wasn't ready for when I arrived and the food they promised as part of the deal never materialised – there were days when I had to ask for money just to eat. Then with regards to the team. we trained once per week with the full squad and once more with those that lived locally. I brought Ignacio de Leon from Uruguay for his 5th stint with me, who was playing in return for accommodation (he has online work) and the club messed up his registration, so he missed the first two matches. My work permit wasn't applied for, so I ended up being illegal in Poland, and to top it off, while we were losing 3-0 at halftime in the final game, the president had the audacity to attack me after an exchange of words.
So, as you can see, what started out with a lot of promise spiraled into an extremely low point for me that left me doubting if I ever wanted to work in futsal again. I was so down. In isolation, all the problems might not be a big deal but when you aren't being paid, no food provided and living in a house that is being built around you, yet you still do the work – I couldn't ever give up on the players, it becomes a tough reality, even for me.
I'll always try to see the positives and in Poland, we welcomed the Solomon Islands national team that I went on to become a part of for the World Cup in Lithuania. For any coach, this is the pinnacle. We played three group games against Morocco, Portugal, and Thailand – three huge teams in futsal and an honour for me to be on the court with the likes of Ricardinho. An experience that I'll cherish forever and use to ignite my passion if it ever dwindles again!
Futsal Focus: Now the head coach of Skoftebyn Futsal in Sweden, how would you compare this league and club to the previous experiences you have had outside of Spain? Swedish futsal looks quite advanced in terms of its domestic league, how would you describe the developments going on in Sweden, and what excites you about this new opportunity?
Damon Shaw: It took a couple of months of soul-searching after going home to Blackburn before I decided that I wouldn't give up. I was looking at other jobs, in hotels, bars, and social media and really considered living a "normal" life and being around friends and family, at least for a while. I actually did a few bits as an extra on some upcoming movies rather than committing to a real job and that meant I was free to go to the Copa de España in March and run a Futsal Camp UK in the Easter holidays. That trip to Cordoba and Jaen, seeing the futsal family and mingling with old friends, and making new ones got me back on track. At this point, I already had a few tentative offers on the table in the UAE, Austria, Spain, and Sweden so I knew I was going to be back coaching in 2022-23, I just wasn't sure where. I had to think about the long term and what move would be best for me. I love moving around, but I also value stability and was looking for a place to call home.
I remember a conversation with Pulpis in Riga after the Champions League and talking about his Benfica side and his experiences all over the World, I decided to go to a place where we could compete for titles, but also that valued sustained progression. Skoftebyn offered both and I turned down some "better" offers to come here. Better, not when you look at the whole picture – I chose the best option for me – but I certainly could have gone elsewhere for more money. However, the decision had to look at my long-term future and to avoid a repeat of what happened in Poland.
The SFL is one of the most organised leagues I've experienced. They put a lot into the production value of the matches and have an open platform for the league to be watched by anybody. The clubs are serious, the players are dedicated, and the level is growing with foreign influence helping the local players. Skoftebyn, I was told by a few people, is one of the best ran clubs in all of Scandinavia and the people I met here on my first visit gave me that feeling too. So, while it took me time to finalise my decision, I always felt drawn to Sweden and so far, it feels like I made the right choice as we go into our first home match on the back of two wins. I'm really excited about the potential of this team and this league. Of course, our aim is always to win, but we're not putting any pressure on the results. That comes from above too, which really helps a coach. I believe results will come if we focus on getting everything else right and above all having a happy environment in which to work. So far, I think we're on the track in that sense. My aim is for the players to enjoy the process, enjoy being around each other and enjoy the training and I know if that happens then we'll be in a good position come the end of the season and the playoffs.
Futsal Focus: Futsal Focus gets contacted by coaches asking us all the time how they can get coaching jobs abroad. With the ups and downs, you have experienced with your nomad lifestyle, what advice would you give to coaches wanting to go abroad? And, how have you created so many opportunities for yourself?
Damon Shaw: You have to go out there and give it a shot at your own expense. I went to Spain to learn and got an opportunity in the 5th tier of the under-19s league, while also teaching English in a school. This was coming from the top tier of England. You have to be willing to work your way up. What you know in one country might not necessarily work in another. You have to show a willingness to adapt and embrace a new culture, all while probably not being paid.  It's hard, especially now with Brexit meaning, you can't just up and leave for another country, live there, and volunteer at a club for the experience. You'd need a visa and a job to do what I did in 2013. You should perhaps find a club to spend some time in as a holiday. Identify an area with good futsal. Lisbon, Catalona, Andalusia. Spend a few weeks at some top clubs, get to know the coaches and decision-makers, and offer yourself for some work in the future, maybe in the academy or helping with analyzing matches online. Without these experiences, I wouldn't have got my first job in England at Tranmere, and it certainly helps my CV that I've spent three years in Spain. My doors are always open if coaches want to visit Skoftebyn, see training and matches and get an insight into how we work.
Futsal Focus: What do you hope the future holds for your career Damon from all these experiences you have had so far?
Damon Shaw: It's a cliché, but I'm fully focused on this season. I have dreams of building something successful here and if all parties are happy, it could be a long-term relationship. I do want to coach at a World Cup as head coach one day and of course, top leagues like Spain and Portugal are where I think most coaches would like to get to. Here I have all the tools to fulfill a lot of my ambitions, such as competing in the Champions League, winning leagues, building a club based on a strong youth, and living a happy life – Sweden is a beautiful country with a good quality of life, so I'm in no rush to leave.
Even though I've been at it for almost two decades, I'm young for a coach, 38. I know I have time to experience other places. As I mentioned before, Southeast Asia is a place I love, and I have a feeling one day I'll return. I'm so grateful to all the clubs and people I've worked with for giving my life this variety. It could come to an end someday so I just focus on being happy and healthy in the moment and doing the best I can for the players I serve and the club I represent.
You can continue to follow Damon Shaw via his own blog at https://damonshaw.co.uk/
Futsal Focus
You can read more articles about domestic futsal by going to the top navigation bar or by clicking here
If you like this article and would like to keep updated on Futsal news, developments, etc then you can now follow Futsal Focus via Google News by following our page which will send you an alert as soon as we publish an article so please click here and follow us on Google.
You can also keep updated on Futsal news, developments, etc then please submit your email below in the Subscribe to Futsal Focus option.
Follow Futsal Focus by clicking on Facebook, Twitter, or Instagram or on the social media buttons on the website.