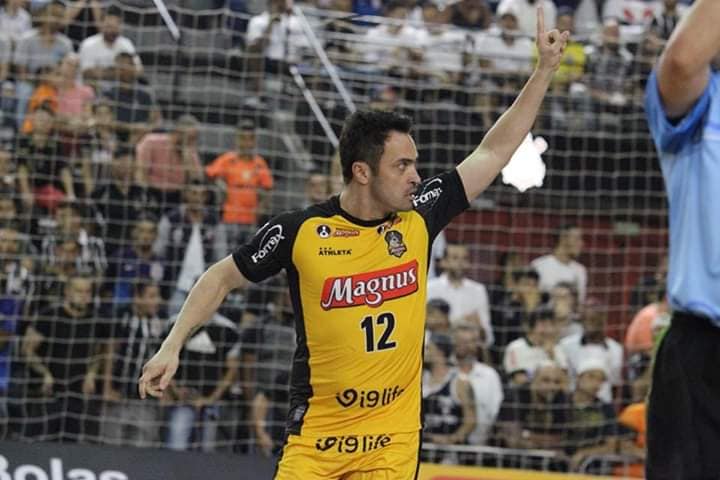 Estimated reading time:3 minutes, 30 seconds
On Thursday at the Wlamir Marques gymnasium in São Paulo, Falcão took to the court to play his final competitive Futsal match and bring an end to his lustrous career.
His team, Magnus Sorocaba Futsal were taking on SC Corinthians Paulista in the Liga Paulista Futsal Final and what a match to end such an impactful career in. Falcão wrote the last chapter of his more than two decades dedicated to futsal without the title, without losing, but with a legacy that will be eternalized in the sport.  End to end action saw Magnus Futsal take the lead through a wonderful goal by Leandro Lino who met a long pass with a back headed flick past the keeper, but Corinthians struck back through Caio. Magnus Futsal reacted to this due to the depth of a squad filled with quality players, extending their lead by four goals by Rodrigo, Falcão, Eder Lima and a second by Leandro Lino from a very tight angle. However, SC Corinthians were not out of sight yet and struck twice in front of goal through Vander Carioca and Wilde to make it 3 -5.  This scoreline forced extra time due to previous fixture accuracy and with the whistle-blowing in this time period as 0-0, SC Corinthians Paulista were the title champions.
If you haven't see the match highlights then don't miss out below and watch them provided by TV Futsal HD:
For the last two days, Futsal Focus has watched social media channels explode with emotion as fans, admirers, players and coaches the world over posted, tweeted their thoughts as they watched Falcão leave the court and continue to post heartfelt messages. Steve Harris who runs Futsal Japan on Facebook provided this image of Falcão's last moments on the court:
After the match, Falcão took to Instagram to post his thoughts on this historic day with this image: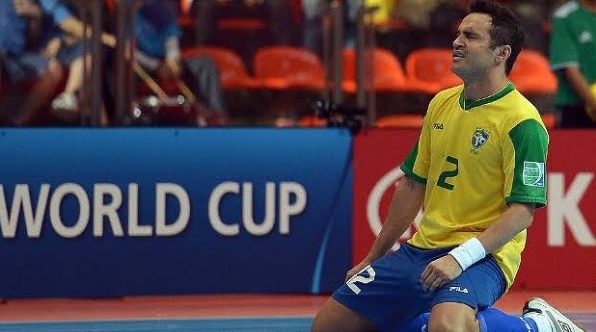 "Dear Futsal,
Since the first day that I started to roll up my father's socks, kick yogurt pots in my high school and jump off walls to find places to play, I fell in love with you. A love so deep that I gave myself to you completely. From head to toe, my spirit and my soul. Remember this picture? When I had facial paralysis, a calf injury but a historic miracle, remember?
A dreamy kid like many others in the world who chose you 'Futsal' to fall in love with you. You asked for my grit determination, strength but I gave you much more, I gave you my heart!
I played tired, often injured and in a lot of pain but just because you asked me to. I did everything for you because you made me feel alive, useful and happy!
You fulfilled a boy's dream and I will always love you for this reason!"
Falcão competitive career is over but his legacy is not, a legacy on the court will now become a legacy off the court and we will no doubt continue to celebrate the life of Falcão and his impact on the sport of Futsal all around the world.
If you are a novice to Futsal and this is the first time you are reading about the legend, Falcão and you have never seen him play before, then check out these highlights of his skill and genius.
Thank you for the memories Falcão, thank you for your genius and your continued contribution to the sport of Futsal.
If you like the information provided, you can read more articles about global futsal by going to the top navigation bar or click here
If you like this article and would like to keep updated on Futsal news, developments, etc then please submit your email below in the Newsletter section or by clicking on the Subscribe to Futsal Focus option on the header.
Follow Futsal Focus by clicking on Facebook, Twitter or Instagram or on the social media buttons on the right sidebar.