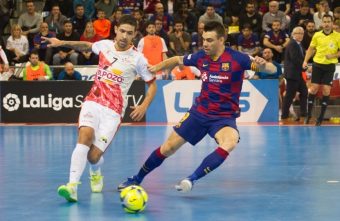 Estimated reading time:1 minute, 41 seconds
Initially, it was thought that the RFEF competitions would begin on October 18 but this has now officially confirmed as beginning on the 4 October for the First Division of Men's futsal.
The RFEF Management Commission approved the competition rules for all categories of soccer and futsal, both male and female. In addition to launching the competition calendar and approving a proposal for a 'Reinforced Protocol' of the official competitions that it exclusively regulates, thus ending the roadmap for the start of the federation's competitions, after it was confirmed last week the sanitary protocol approved by the High Council for Sports  (CSD) for these competitions.
The competitions will begin on October 18, except for exceptions such as the First Iberdrola and the First Division of Men's Futsal, which will start on October 4. Both competitions, like the Women's Futsal First Division, are also an exception in the general criterion of dividing the categories into subgroups.
There will be a Co-financing Fund
Regarding the protocol, the RFEF commits to creating a Co-financing Fund for those Covid-19 control tests that the public health and sports administrations at the state and regional level advise and define. Chaired by Luis Rubiales, undertakes to contribute a part of the costs of said tests and also to facilitate the purchase of the tests to those clubs that, deciding to have to do them, have difficulties accessing them.
You can read more articles about domestic futsal by going to the top navigation bar or click here
If you like this article and would like to keep updated on Futsal news, developments, etc then you can now follow Futsal Focus via Google News by following our page which will send you an alert as soon as we publish an article so please click here and follow us on Google.
You can also keep updated on Futsal news, developments, etc then please submit your email below in the Subscribe to Futsal Focus option.
Follow Futsal Focus by clicking on Facebook, Twitter, or Instagram or on the social media buttons on the website.