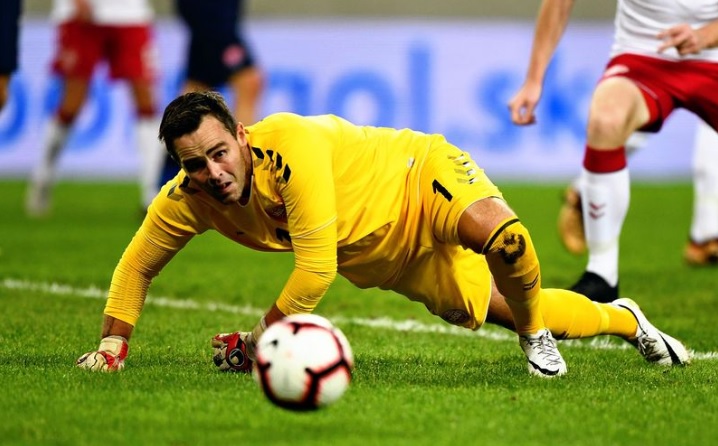 Estimated reading time:4 minutes, 3 seconds
Last week, the Danish Football Association was forced to pick a squad containing players from the third tier of the national league and futsal players because of a pay dispute involving their national team players, and the team was beaten 3-0 by Slovakia in a friendly at Trnava on Wednesday.
The home side went ahead when Adam Nemec beat the Denmark goalkeeper, with a header in the 11th minute. Albert Rusnak made it 2-0 before half-time and a substitute, Adam Fogt, a futsal-playing political science student, unluckily put through his own net with 11 minutes left.
Little was expected of the Danes with all 11 starting players making international debuts but the defeat turned out to be a moral victory as 31-year-old Christoffer Haagh, a futsal goalkeeper for Jaegersborg Boldklub  played the game of his life. Coached by the former Arsenal midfielder John Jensen, the Danes looked well-organised and even created a few chances of their own. The Danish football association called the result an "honourable defeat". You can watch highlights of the match below:
For Football, Futsal players playing in an international Football match before the game was humiliating, fans across the U.K and elsewhere joked about their call up. But, what was a chaotic event for Football caused an awareness explosion for Futsal all around the world as Christoffer Haagh's performance was praised in articles on every continent and had many people who had never heard of the sport before, asking what is Futsal.  If you have not seen the development of Futsal goalkeepers then you want to watch this video below:
For the first time, Futsal Focus saw in the U.K on the news, in the newspaper, on the radio for days, people discussing what Futsal was. This was music to our ears, and many people started to ask, isn't that what you promote. Since then, Futsal has featured in many more articles in the U.K with clubs such as Mansfield Town FC proudly promoting how their U21 player Alistair Smith, who previously appeared for the England U23 Futsal Team, has now been called up for the  England Senior Futsal Team training camp at St George's Park at the weekend. The Guardian published an article concerning England Futsal International Max Kilman, after his move from National League side Maidenhead United to  Premier League club, Wolverhampton Wanderers. And, today the BBC published an article about Futsal player, Ahmed Aloulou.  When Ahmed Aloulou came off the bench for Alloa Athletic at Dundee United last Saturday, the Tunisian became the first player to graduate from Scotland's futsal set-up to 11-a-side senior football. Aloulou is optimistic about his ability to adapt to the 11-a-side game, citing the fact Celtic's Tom Rogic, Sevilla striker Wissam Ben Yedder and Dunfermline Athletic Faissal El Bakhtaoui all came from futsal backgrounds as have many of the greats of football as well, Cristiano Ronaldo, Ronaldinho among many more.
It completed a circuitous route to the professional game that began in the Tunisian city of Sfax and has taken the 22-year-old to Recreation Park via Aberdeen, Romania, and Dundee. Aloulou had long planned a career in senior football but delayed his move for four years while attending university, playing for Dundee Futsal and turning out five times for Scotland's national futsal team. Within weeks of graduating this summer, he won a one-year contract with Alloa, freshly promoted to the Scottish Championship, after standing out in trials against seasoned professionals. Now he is hoping to emulate players such as Celtic's Tom Rogic in making the transition from the five-a-side game played on indoor hard courts to the top of the sport – and inspire others in Scotland to do so.
Could we see Football clubs in the U.K now looking to scout Futsal leagues as well? Outside of this, is the increased interest in the coaching methods used to develop Futsal players along with learning more about the sport. Hopefully, this increase in interest and awareness will contribute to the growing Futsal grassroots across the U.K and get more people to play the sport and learn about the opportunities there are within Futsal as a separate career to Football for those more suited to the sport or who would enjoy the sport more than Football. Futsal is exploding in Europe.
If you like the information provided, you can read more articles about international futsal by going to the top bar navigation or click here
If you like this article and would like to keep updated on Futsal news, developments, etc then please submit your email below in the Newsletter section or by clicking on the Subscribe to Futsal Focus option on the header.
Follow Futsal Focus by clicking on Facebook, Twitter or Instagram or on the social media buttons on the right sidebar.