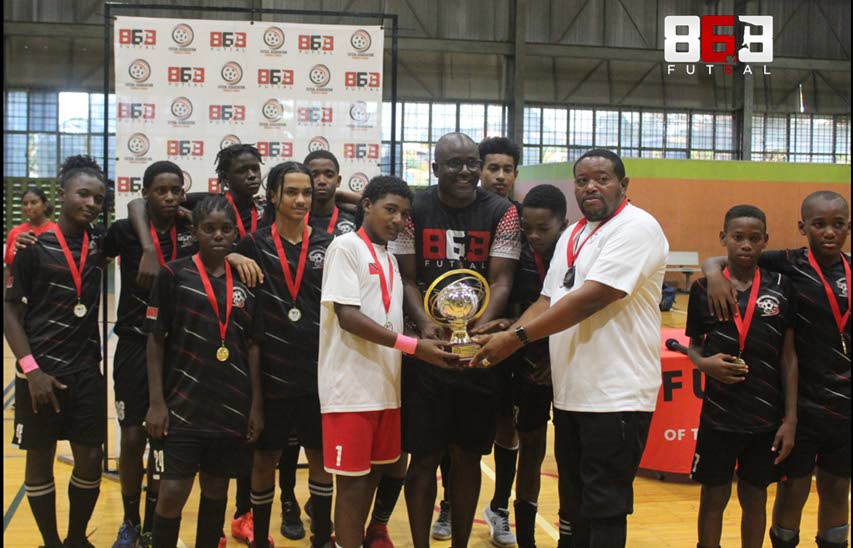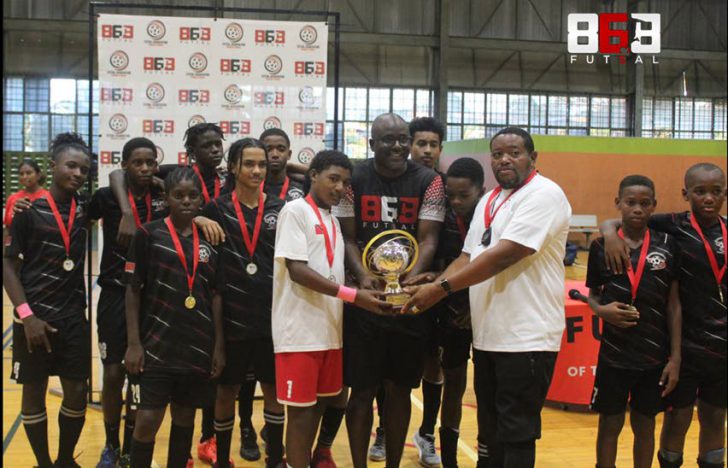 Estimated reading time:2 minutes, 18 seconds
On November 5, at the Southern Regional Indoor Sports Arena in Pleasantville, the inaugural Under-14 Male Futsal Development tournament took place and was organised by the Futsal Association of Trinidad and Tobago (FATT) which is led by Geoffrey Edwards.
A total of eight teams featured in the day-long event – Cox Football Academy, St Mary's, Presentation Chaguanas, Gasparillo Youth Academy, Coryal Secondary School, Port of Futsal (Port of Spain), Smart Football Academy (San Fernando), and Ste Madeline Strikers FC.
The FATT will host the female version of the U-14 Developmental Tournament on December 11, at the Southern Regional Indoor Sports Arena.
Cox Football Academy defeated St Mary's College 3-2 to win the tournament, the winning goal was scored in the last minute of regulation time.
In the semi-final stage, Cox Football Academy brushed aside Presentation College, Chaguanas 5-0 and St Mary's College whipped Gasparillo Youth Football Academy 3-0.
Geoffrey Edwards, FATT president, speaking after the event said: "This Developmental tournament was in the making since December 2019, with its original scheduled date being January 2020. However, the covid19 pandemic curtailed our original plans.
After successfully hosting two futsal youth camps, one in Tobago during Easter and the other in Trinidad during the July/August vacation, our executive team revisited the idea of hosting this tournament. We are happy to have executed a fun, timely and successful event, as lauded by players, coaches, managers, and spectators.
Initiatives like these are succinctly aligned to our strategic plan, and we commit to facilitating similar activities to these as we commit to increasing awareness of the sport of futsal."
Geoffrey has been doing great work in Trinidad & Tobago, trying to raise the profile of the sport, developing projects in relation to mental health and emotional intelligence in sport whilst also launching a successful and insightful podcast Futsal 868 Corner Talks, you can go to their YouTube channel here to see the interviews: https://www.youtube.com/channel/UCF1JIzvUAskZlQXbc_ZSUnA/videos
Related article and another project by the Futsal Association of Trinidad and Tobago: Mental Health & Emotional Intelligence in Sports
Futsal Focus
You can read more articles about grassroots futsal by going to the top navigation bar or by clicking here
If you like this article and would like to keep updated on Futsal news, developments, etc then you can now follow Futsal Focus via Google News by following our page which will send you an alert as soon as we publish an article so please click here and follow us on Google.
You can also keep updated on Futsal news, developments, etc then please submit your email below in the Subscribe to Futsal Focus option.
Follow Futsal Focus by clicking on Facebook, Twitter, or Instagram or on the social media buttons on the website.