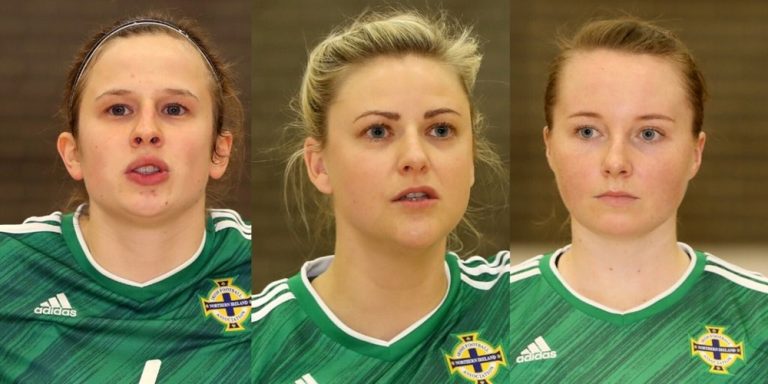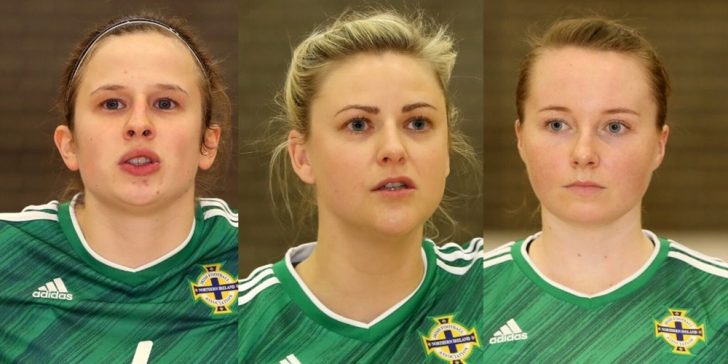 Estimated reading time:3 minutes, 21 seconds
Current and former international players applauded for their 'remarkable bravery'
Northern Ireland Senior Women defender Julie Nelson has applauded a raft of current and former female international players who are working for the NHS and other essential services in the front line during the coronavirus crisis.
Crusaders Strikers player Nelson, who was the first woman in Northern Ireland to win 100 caps for her country, said her team-mates and former team-mates were showing "remarkable bravery" in the face of the Coronavirus pandemic.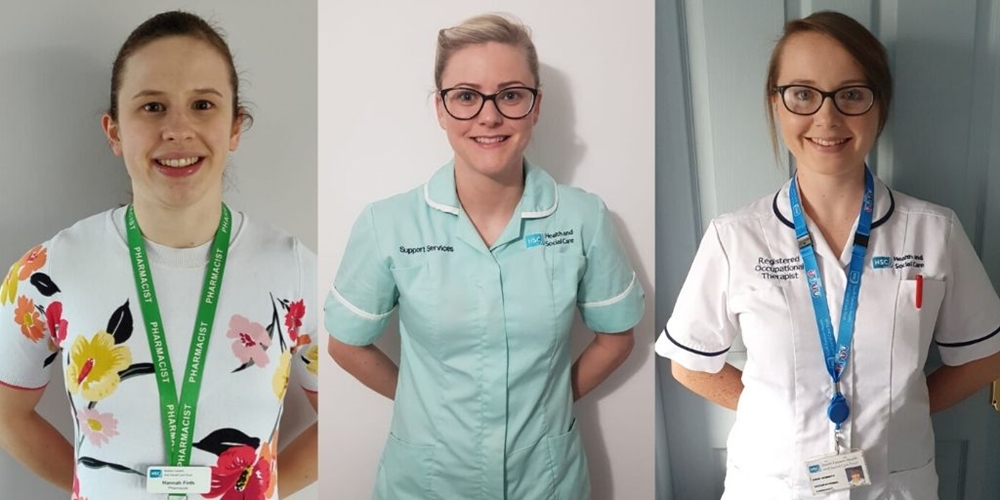 Main pic: NI women's futsal players Hannah Firth, Nadene Caldwell and Erin Hennity and above in their jobs as key workers as the battle against the Coronavirus continues
"I think what they are doing is incredibly brave. While the rest of us are working at home and staying at home in a bid to stop the virus spreading, they are out there putting their lives at risk to help others. They are true gladiators," she said.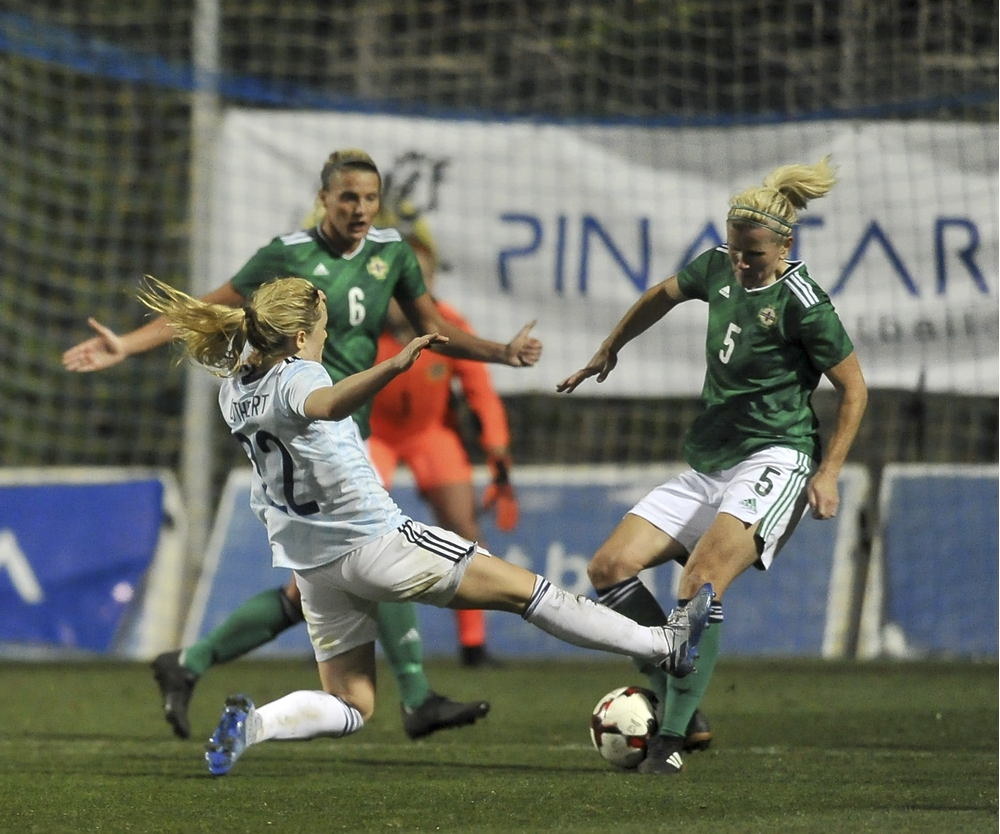 Above: Northern Ireland senior women's international Julie Nelson in action during last month's Pinatar Cup tournament in Spain
Among the current internationals working for the National Health Service is Nadene Caldwell, who has won more than 50 caps for her country.
Nadene, who also captains Northern Ireland's international women's futsal team and plays for Glentoran Women, works at Belfast City Hospital.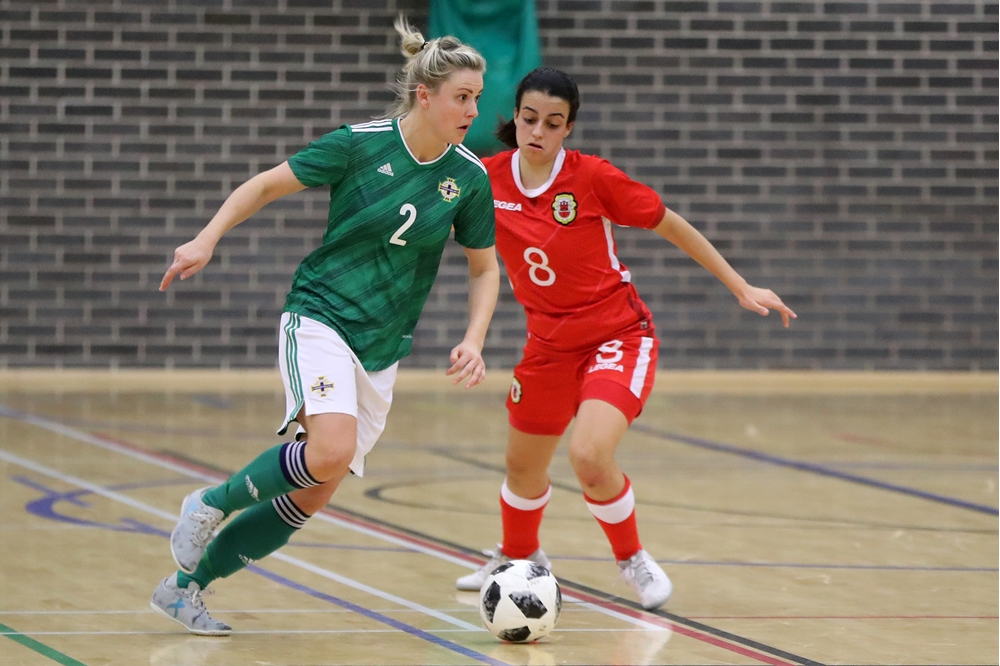 The midfielder (pictured above playing futsal for NI) has not featured in the senior women's team since she had a sojourn in Australia for a couple of years and then picked up an injury on her return to Northern Ireland. However, she was included in senior women's team manager Kenny Shiels' squad for the home Euro qualifier against Wales last year and just missed out on being selected for the squad that competed at the Pinatar Cup in Spain last month.
"While the rest of us are working at home and staying at home in a bid to stop coronavirus spreading, they are out there putting their lives at risk to help others. They are true gladiators."
Also delivering essential services in the frontline at present are Julie Nelson's centre back partner for Northern Ireland, fellow centurion Ashley Hutton (Linfield Ladies), and international striker Alison Smyth (Linfield Ladies), whose long term aim is to get back in the green and white shirt following an horrific injury.
Three other members of the international women's futsal team are also helping to tackle the pandemic these days.
Instead of looking forward to European qualifiers in Lithuania in early May – against Serbia, Lithuania and Slovakia – Erin Hennity is facing the bigger challenge of thwarting the virus. The Comber Rec Ladies defender works in the Ulster Hospital, Dundonald.
Her Northern Ireland team-mate Hannah Henderson, who operates in midfield for Ballymena United All Stars, is on the front line at the Royal Hospitals in Belfast, while midfielder Louise McFrederick (Linfield Ladies) is providing essential services.
Former Northern Ireland internationals stepping up to the plate include Lisa Armour (pictured below, Crusaders Strikers), who is a nurse at the Royal, while Hayley O'Donnell (Linfield Ladies) and Kendra McMullan (career cut short last year through injury) are both working for the NHS in the west of Northern Ireland.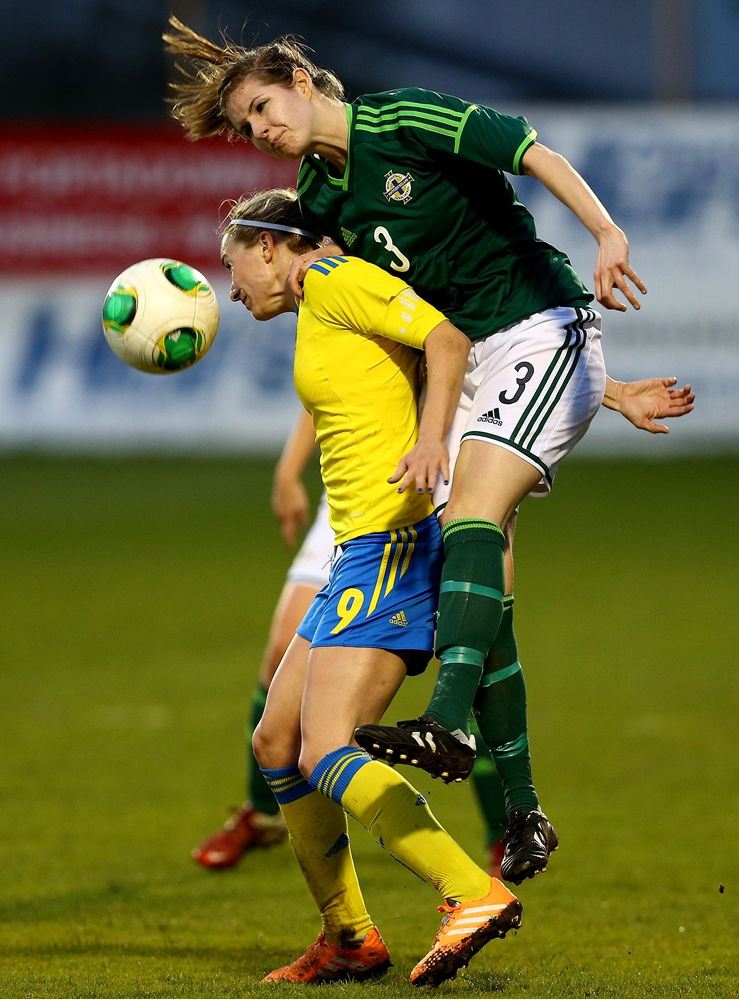 Also operating in hospitals in the west of the country is former international Chloe McGlade (Sion Swifts Ladies), who is a radiographer, while Makayla Mulholland (Glentoran Women) is a trainee nurse with the NHS on the North Coast.
And former Northern Ireland captain Dr Aine Macdonald, sister of Northern Ireland goalkeeper Michael McGovern, is helping to save lives with the NHS in Scotland.
If you like the information provided, you can read more articles about International futsal by going to the top navigation bar or click here
If you like this article and would like to keep updated on Futsal news, developments, etc then please submit your email below in the Subscribe to Futsal Focus option.
Follow Futsal Focus by clicking on Facebook, Twitter or Instagram or on the social media buttons on the website.