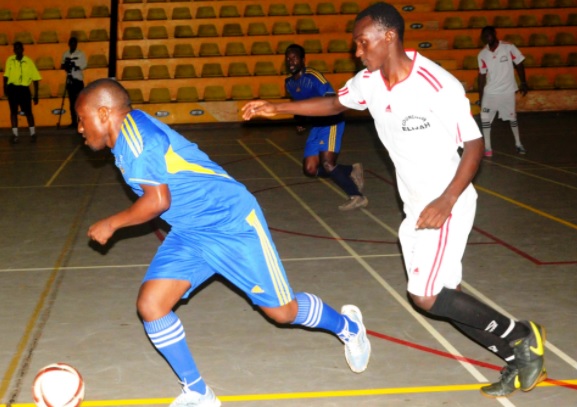 Estimated reading time:4 minutes, 43 seconds
Hamza Jjunju is the Futsal Association Uganda (FAU) President. In a question and answer interview, he talks about the evolution of this 5-aside version of football, its development, hiccups and future aspirations in the country.
There is excitement about the game, why the hype?
Excitement, True because it's now formal game with competitions in the country under FAU because majority Ugandans took it for leisure but now they realize it can be competed for locally and internationally.
Give us a brief background about the sport?
Futsal began a long time ago in South America. Later it was taken up by FIFA and has competitions in the form of a World Cup for men and women and depending on the confederation they have Youth Competitions to Senior levels though UEFA have announced their intentions to launch under 19 competitions for girls and boys. Plus, the sport is now a part of the Youth Olympics taking place in Argentina next year. But in Uganda, formally we began developing the sport in 2015 with Corporate Gala won by Wazei Club and Inter University Gala won by Mubs.
In 2016 we moved a step further with Corporate Gala won by Coca Cola team and this paved way for the Futsal Mini league won by Sauna. Later that year we had Futsal Boxing Day Gala won by Team Brotherhood.
On 14th January 2017, we ran the Futsal Classics Knock out gala won by SK13 team and now we run the Futsal Super Cup ongoing with 12 teams playing 2 rounds which is to run till the end of May 2018.
However, one major milestone in 2016 was when we were admitted as an Associate member of the Federation of Uganda Football Association (FUFA).
Where is Futsal today and what are the future aspirations the game?
Today the game is governed by FAU under the supervision of FUFA. At the moment we are to run a number of local competitions starting with the Futsal Super League and later Futsal Copa Uganda (knock out), Inter University Challenge and Women Futsal Cup all this to run on our calendar 2017/18.
All this with local referees, coaches and administrators seminars.
All in all Futsal is just a new sport but to grow into bigger game loved and liked by Ugandans future aspirations of the game as FAU we are interested in getting regional countries like Somalia, Kenya, Tanzania, Rwanda etc to start the game so that we start regional competitions.
In the long run, we are to do whatever is possible within our means to be ready for 2021 Futsal Afcon qualifiers.
And with FUFA President as Chairperson Futsal and Beach soccer Committee we believe sky is the limit.
What are the opportunities in this sport?
Futsal comes along with a number of opportunities for starters employment of youths as Futsal players as all our clubs are registered business entities, Coaches, Referees and administrators for all clubs.
Further still, for players as we grow the sport within the next 5 years we shall have started exporting players to outside countries as professional players bringing in revenue to the government and the country at large plus many Ugandans that associate business with the sport, Futsal diversifies the sports market for all Ugandans to benefits.
What challenges have you encountered so far?
In everything starting normally challenges come up. For starters, majority Ugandans still take it as a leisure sport hence we have found it a challenge to twist their understanding but we shall keep strong and moving.
Resources to run a number of activities for the game to grow still scanty but as we strengthen base and foundation we shall overcome.
Masterly of the laws of the game still down but as a body, we are to run a number of seminars to make it a success.
And lastly making clubs understand that the game is part of sports business and need to run clubs as a business entity is still a big challenge and a hurdle we need to overcome as soon as possible. Plus, specific futsal facilities and access for communities which will come in time but we have to use what we have at this moment in time which isn't always ideal starting off but you have to start somewhere.
Briefly, talk about the structures of the association?
Majority sports facilities during construction hadn't catered for Futsal as a sport and spreading the game had turned out to be tricky. However, through FAU initiative we managed to sign a formal agreement with a business partner Yahya Ease who put up International Futsal Courts in Mengo where we run a number of FAU activities.
However, a number of private facilities have cropped up in the city center in Busega, Kyebando, Buwatte, Kyambogo, and so many others as well as at many International Schools and we plan to use all of them to develop game but as FAU we plan to have a facility by 2017.
What are the future plans for the game in Uganda?
Plans for the game in Uganda are as follows; have 200 qualified Referees, 200 Coaches and 200 administrators by 2021, have competitions at all levels from Primary schools, Post Primary, University, Copa Uganda, National league plus using the FUFA regions to have regional competitions all over country.
BY David Isabirye
If you like the information provided, you can read more articles about global futsal by going to the top navigation bar or click here
If you like this article and would like to keep updated on Futsal news, developments, etc then please submit your email below in the Subscribe to Futsal Focus option.
Follow Futsal Focus by clicking on Facebook, Twitter or Instagram or on the social media buttons on the website.