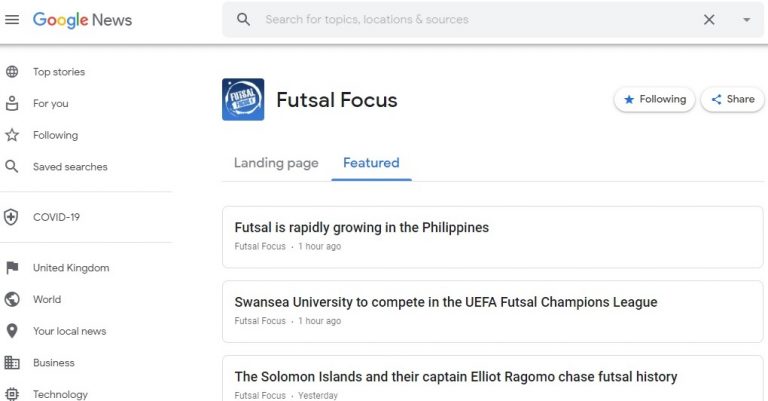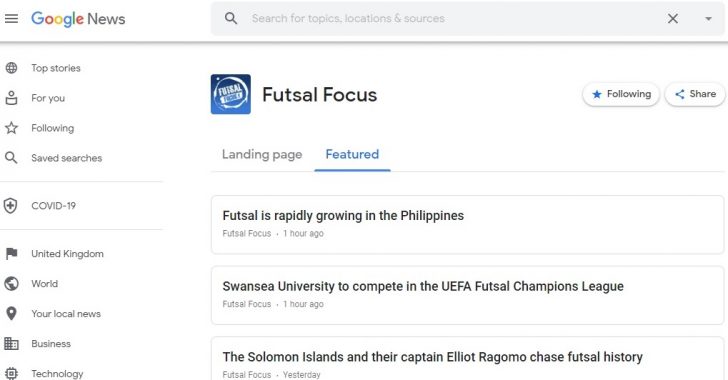 Estimated reading time:5 minutes, 24 seconds
Futsal Focus continues its pioneering steps for futsal with another bit of history made due to being accepted by Google News as its first futsal specific news source for the sport
Futsal Focus has made another bit of history for the sport of Futsal. Recently, we submitted our website to Google News and were accepted. The process was not easy as the website had been rejected previously but with a lot of hard work, Futsal Focus has made history for the sport of Futsal by being the first-ever futsal specific news source on the Google search engine.
When you go to news.google.com and type in Futsal, you will see that we now appear as the recommended news source for the sport in the Google search bar in the picture below:

Should you continue with a Google search using the word Futsal, you will also see we are now the recommended website on the right as the news source for the sport: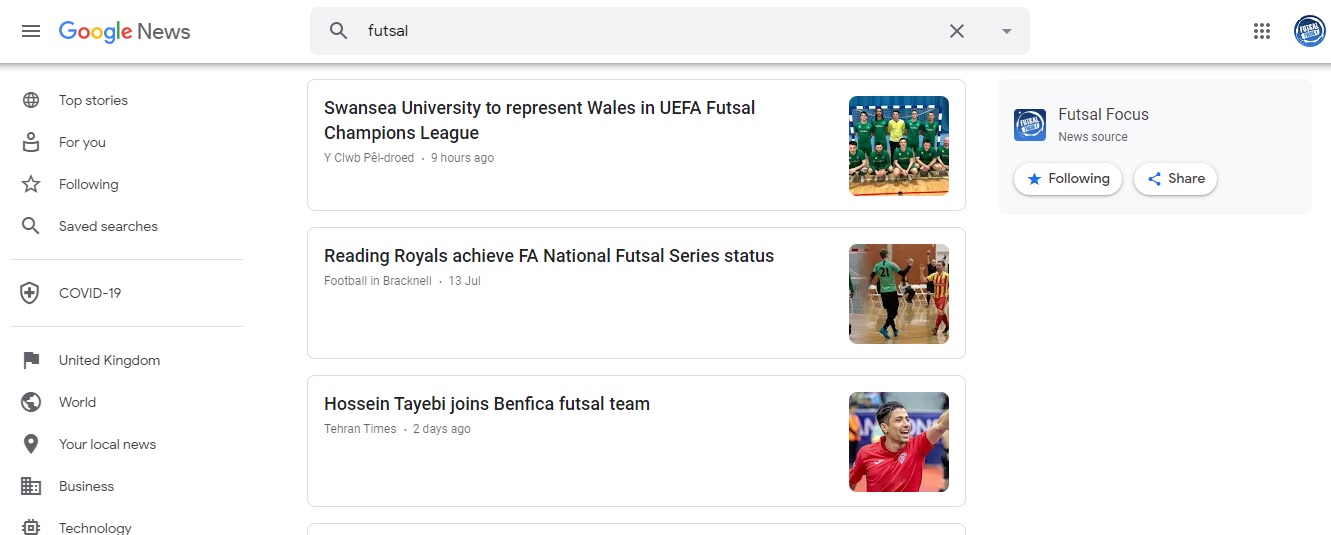 When you type in Futsal and click the recommended news source being Futsal Focus or if you type in our name you will now see that Futsal Focus has its own page on Google News with all our featured articles and landing page articles available for you to read: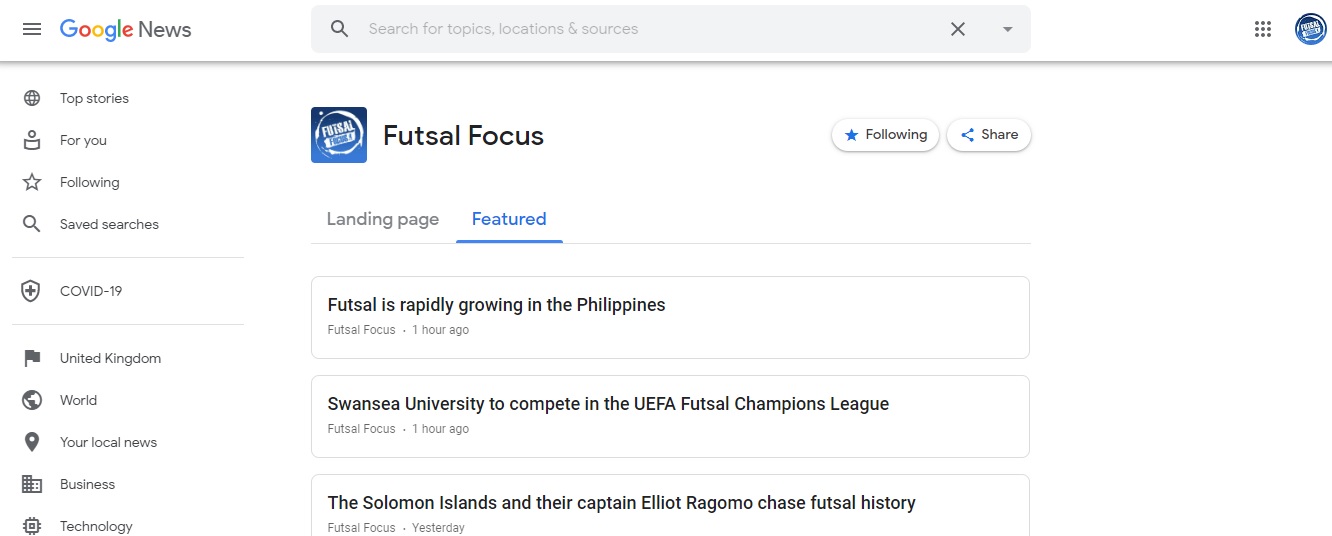 In each picture, it gives you the option to follow us, when you follow, anytime we publish news you will get an alert to your phone so you can read the article. Therefore, we encourage all our followers to follow us on Google News as this will help to drive our articles up the Google News Ranking and aid our goals to increase awareness of futsal around the world.
Futsal Focus regularly posts information that is exclusive to our platform, an example being when we recently broke the news that Angola was launching the first-ever professional futsal league in Africa next February (You can see below). Though we were able to drive awareness of this development among our social media following of close to 140,000 global followers, and to those who visit our website directly, by climbing the Google News ranking we will be able to make this news available to many more people and increase interest and awareness around the world.

When it comes to a normal Google search via www.google.com and you click the news tab in the top bar like the picture below;

Futsal Focus articles may not show up yet, like they will by going directly to Google News via news.google.com. If you are wondering why this is, as mentioned, we have just been accepted by Google News, but be assured that in time due to our growing global following, Futsal Focus articles will start to climb the Google News Rankings and start to appear on page one of Futsal searches.
Other developments by Futsal Focus
Futsal Focus started this article by stating that this announcement is another bit of history made for futsal by Futsal Focus. If you are wondering what other developments we are talking about; Our site was founded by Stephen McGettigan in 2012 making it one of the longest-running futsal news sites for the sport in English. Furthermore, in 2016, we organized the first-ever international futsal tournament and coaching conference in partnership with the Irish Football Association in Northern Ireland called the Irish FA International Futsal Cup and Coaching Conference in partnership with Futsal Focus:
In addition to this competition, the following year, we organized the World's First Futsal Business conference in partnership with Tranmere Rovers FC based in Birkenhead, Merseyside, England at their stadium, Prenton Park in 2017. The conference was called the Futsal Focus Network Business Conference in partnership with Tranmere Rovers FC: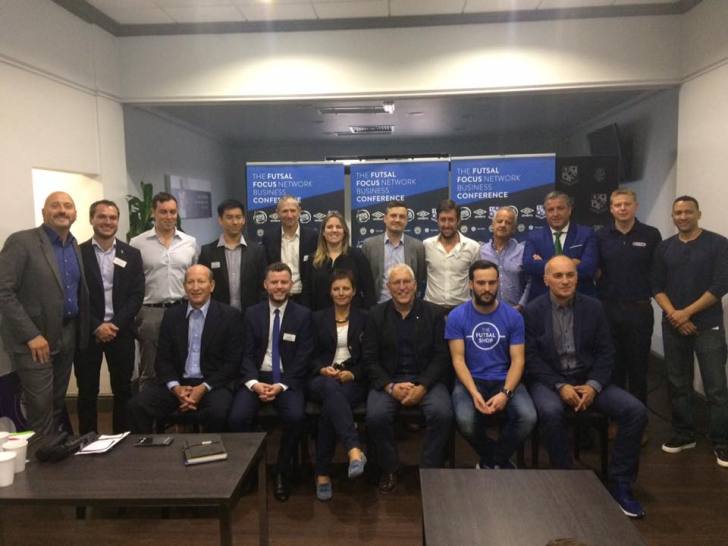 The event was sponsored by Umbro, the Professional Footballers' Association and mycujoo and was attended by (Title provided are those at the time, they may have changed roles since):
United States of America: Keith Tozer, U.S.A National Futsal team head coach and Commissioner of the Professional Futsal League launching in 2019
Portugal: Antonio Paisana, Head of Futsal at Sporting Clube de Braga/ AA Universidade de Minho
Thailand: Tachapat Benjasiriwan, Chairman of AFC Futsal Club Championship winners, PPT Chonburi Bluewave Futsal Club
Spain: Pablo Vilches, Director of Futsal and Women's Football at Real Betis FC
Croatia: Mico Martic, Head Coach of Finland, Futsal Dinamo and founder of Futsal Planet (Croatia)
Australia: Eldon Abrahams, Founder and Co-Director Western Australia (WA) State Futsal
Brazil: Luciana Silva, Head Coach of the England National Futsal deaf team (Representing the women's game and disability Futsal)
England: Mark Palios, former CEO of the English Football Association and chairman of Tranmere Rovers FC Ian Bateman, FA Lead Futsal Coach Educator, Michael Skubala, England National Futsal Head Coach and Technical Director of Futsal for the FA and Damon Shaw, Head of Futsal at Tranmere Rovers FC. Jez George, CEO Cambridge United FC, and Mark Dick, National Futsal Development Manager, English Football League Trust.
Since the conference, we have focused on developing Futsal Focus as a news platform for the sport, and in 2019, we were the first futsal specific news site accepted on NewsNow as well. If you don't know NewsNow. NewsNow.co.uk is the UK's first and leading home-grown and independent news aggregation service. Fully-automated, and on a continuous basis, NewsNow displays breaking headlines linking to news websites all around the world.  NewsNow is among the UK's top news destinations, is generally visited by over 14M unique monthly visitors, and receives in excess of 120 million page views per month.
The future
Futsal Focus will continue to develop and be a leader in the futsal industry to increase awareness of the sport around the world. More Futsal developments will be announced soon, keep an eye on our website and social media channels for our announcements.
If you like the information provided, you can read more articles about global futsal by going to the top navigation bar or click here
If you like this article and would like to keep updated on Futsal news, developments, etc then you can now follow Futsal Focus via Google News by following our page which will sent you an alert as soon as we publish an article so please click here and follow us on Google.
You can also submit your email below in the Subscribe to Futsal Focus option on our website.
Follow Futsal Focus by clicking on Facebook, Twitter, or Instagram or on the social media buttons on the website.