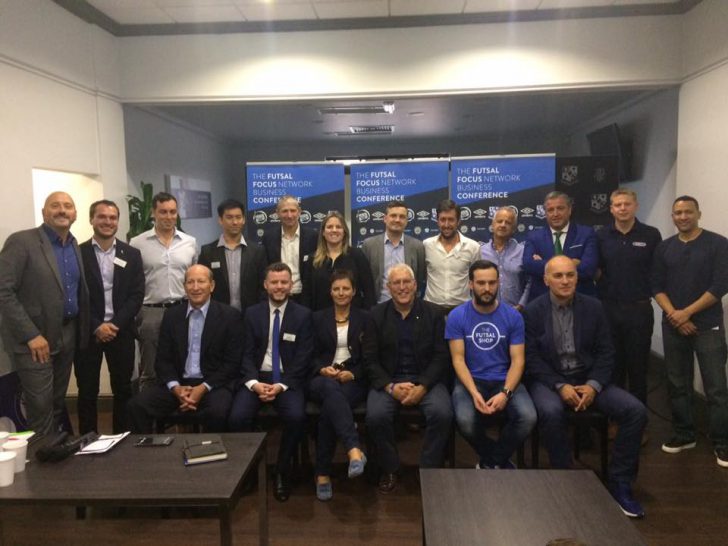 Estimated reading time:9 minutes, 46 seconds
In November 2012, Futsal Focus (FF) was launched, firstly via Facebook, then across Twitter, Instagram, YouTube, LinkedIn, and an official website was created. Today, FF has over 182,000 global social media followers, and many more visiting the official website. The platform's content has reached millions of people from across the world. The reason for this article is to give followers an insight into why Futsal Focus was established, what has happened over the last 10 years, and to celebrate reaching this important milestone.
My name is Stephen McGettigan, and I am the founder of Futsal Focus. I was born in the Republic of Ireland, but I grew up in Northern Ireland. When I was 23 years old, I decided to move to Japan in 2005, and I lived in a city called Nagoya, in Aichi Prefecture, which is considered the hotbed of Japanese futsal, and it was here where I was first exposed to futsal. In 2009, I met and became friends with, internationally renowned football development coach, Tom Byer, affectionately known in Japan as Tom San. Tom invited me to a camp he was delivering for German giants, Bayern Munich Football Club. The camp was held at Nagoya Oceans Futsal Club's outdoor futsal courts which at that time were across from the arena. After the camp, Tom invited me to have lunch with him and the President of Nagoya Oceans, Yoshihito Sakurai. During lunch, Tom informed Mr. Sakurai that I was moving to Liverpool to do an MBA in Football Industries at the University of Liverpool Management School. On hearing this information, Mr. Sakurai turned to me and said, "forget about the football industry, the future is futsal". This stuck with me for a long time, especially due to the wonderful arena I was looking out at whilst enjoying lunch with these two experienced, humble, and kind gentlemen.
Liverpool 
Living in Liverpool and studying at the University of Liverpool Management School I met students from all over the world, and I discussed futsal with some of them and enjoyed learning about their love for the sport. But it was at the YMCA in Southport (where I worked during my studies), that my love for futsal started to ignite. I developed a futsal club at the YMCA's sports facility called the YMCA Hurricanes Futsal Club, and they competed in the FA Futsal Fives in Croxteth. When recruiting the team's coaching staff and players, I invited former England Futsal International Onua Thomas Obasi to come and speak with the players. I also put up an advert in the local paper, encouraging people to come and try out for the team, and it was seen by one of Australia's most successful Futsal referees, Scott Kidson.  Scott didn't reveal who he was until the end of the training session, and he kindly spoke along with Tom Obasi to the players about their experiences. Tom discussed his time with the England national futsal team, and Scott talked about his experiences officiating at major AFC competitions and FIFA Futsal World Cups. The players and coaching staff were hooked. It was the only time they were completely silent during the session, listening to the opportunities they never knew were out there. It was an evening that I will never forget. I will always be thankful to Tom Obasi, and Scott Kidson for taking part, and to the coaches and players who competed for the YMCA Hurricanes in the exciting league campaign that year.
After finishing my MBA, I got opportunities to work for Everton FC, the Irish Football Association, and UEFA. I moved to Poland for the UEFA EURO 2012, and it was at this competition when talking about futsal with broadcasters, journalists, and coaches such as Arsene Wenger, that a question began to repeat itself over and over in my head. I didn't understand why the English-speaking world didn't know about Futsal. A sport that has been around since the 1930s and influenced the development of some of the best football players in the world. Futsal also offers a career path in its own right. The answer soon became clear; awareness, education, and respect for the 5 a-side format were seriously lacking, hence the start of my journey for futsal, to help change this.
Upon returning to Northern Ireland, I launched Futsal Focus, and this wonderful rollercoaster ride of emotions and experiences took off.
Futsal Focus
Building relations across the futsal industry and promoting the success of individuals, clubs, associations, confederations, and businesses at all levels of futsal resulted in Futsal Focus' following growing every year. In 2016, I reached out to the Irish Football Association and convinced them to launch their first-ever international futsal competition and coaching workshops in partnership with my platform. The competition was won by Wrexham Futsal Club from Wales:
I followed this event with another in 2017, launching the world's first futsal business conference called the Futsal Focus Network Business Conference (main picture). In order to do this, I connected with Damon Shaw who was the Head coach of Tranmere Rovers FC, and pitched him the event idea, and to my delight, he agreed to help me. A few weeks later, I was on a plane to Liverpool, and having lunch with the former CEO of the Football Association, and the Executive Chairman of Tranmere Rovers, Mark Palios.
Tranmere became the event partner, and I secured Umbro, the Professional Footballers Association, and Mycujoo as the event sponsors. I invited guests and speakers to come from around the world, speakers such as Keith Tozer, the former U.S.A National Futsal team head coach and now Commissioner of the Major Arena Soccer League; Antonio Paisana, Head of Futsal at Sporting Clube de Braga/ AA Universidade de Minho (Portugal); Tachapat Benjasiriwan, Chairman of Bluewave Chonburi Futsal Club (Thailand), and Pablo Vilches, Director of Futsal and Women's Football at Real Betis FC (Spain), Mico Martic, former Head Coach of Finland and the founder of Futsal Planet, among others. The event was watched by over 3,000 people via Mycujoo from across the globe. You may wonder why I haven't followed this event with another, but I assure you that I aim to bring it back in due course.
From 2017 to 2021, I focused on developing the Futsal Focus website, social media following, and content engagement. But, in 2021, during a time of stress for the public around the world due to COVID, and with sporting events being suspended, a chance introduction came my way. I was introduced to the most followed sports website and social media platform in the world, GiveMeSport. The conversation I had with them led to the creation of the Futsal Focus Street Futsal Championship. When the lockdown was eventually lifted, I invited teams from across the UK to compete in the event which was set to take place in London.
Shortly, before the event was due to happen, the FA decided to stop the competition even though I had been promoting it for months and they were fully aware of what it was I was trying to do. And, despite the rumours that later circulated, I had secured sanctioning for the event with a County FA, but two days before the event, that sanctioning was pulled. Their reasoning for this decision was based on advice I was given by one of their own County FAs. But even when knowing this information, that I had been misinformed by one of their own County FAs, and that clubs were flying in from Northern Ireland and Scotland to take part, the association still refused to reverse their decision. Therefore, an event that would have had a significant online impact, aiding the sport's awareness, and given the clubs, a competition they could have been proud of was cancelled. However, I still put on an exhibition event, and this event was promoted on Futsal Focus and GiveMeSport and watched by thousands of people in the UK, helping to increase awareness of futsal. I will always be grateful to the clubs and players who took part and supported my efforts.
FeedSpot
Recently, I was contacted by a company called FeedSpot which monitors the performance of websites and blogs online to identify who the best is so they can provide their own site visitors with the best sources for information. They informed me that Futsal Focus is the number one Futsal Blog on the internet. Although Futsal Focus isn't a blog, it is a news website, the site was only classified this way due to the regularity I post content in comparison to media websites like Sportsbible, GiveMeSport, etc. So, it makes sense at this stage in Futsal Focus development why they would view the site in this way. It is still a great achievement, and I couldn't be prouder that Futsal Focus is the number one futsal blog on the Worldwide Web. Going forward the goal is to advance Futsal Focus development further in order to help our beautiful sport become the next great entertainment product of the 21st century.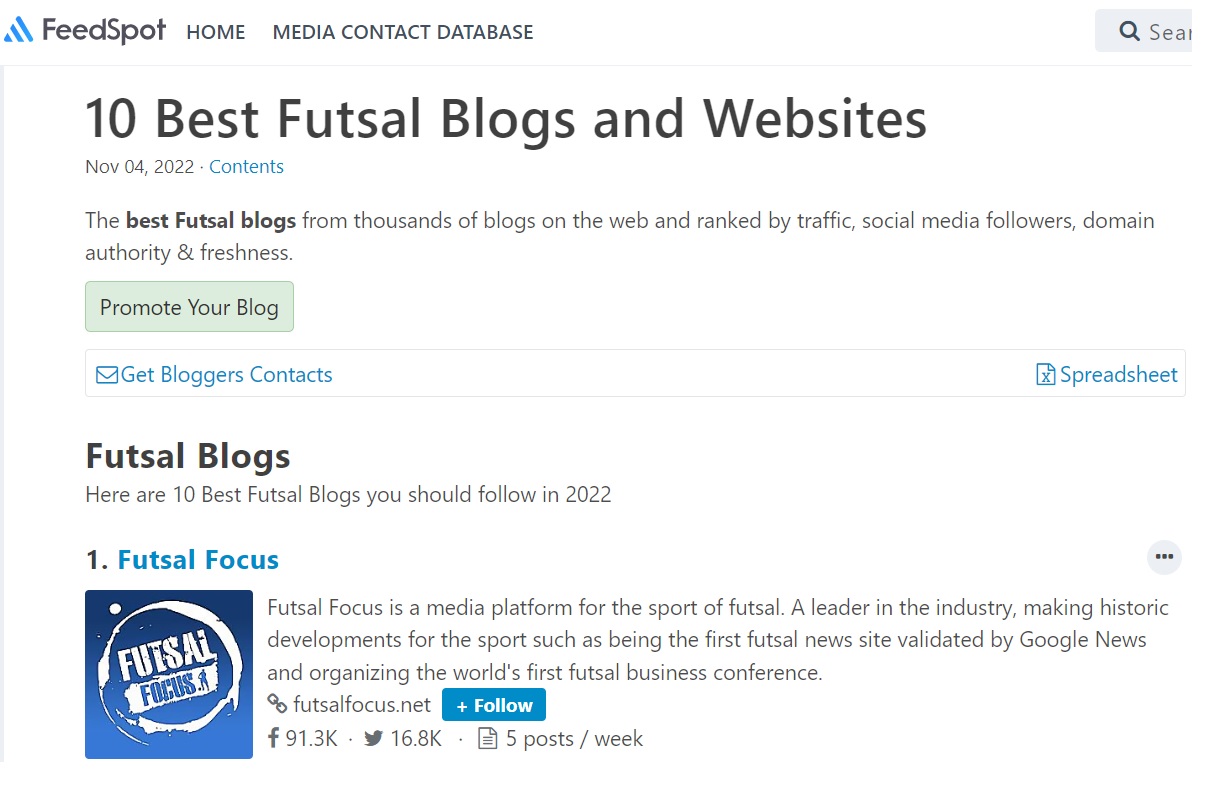 10-year Anniversary
From today, Futsal Focus is going to celebrate its 10-year anniversary, but don't worry, I am not going to bombard you with too much content. I reached out to people from across the industry, asking them what their thoughts are about Futsal Focus, and for the next 10 days, I will post comments across our social media channels for you to read. Here is an example from the captain of FC Barcelona and Spain, Carlos Ortiz: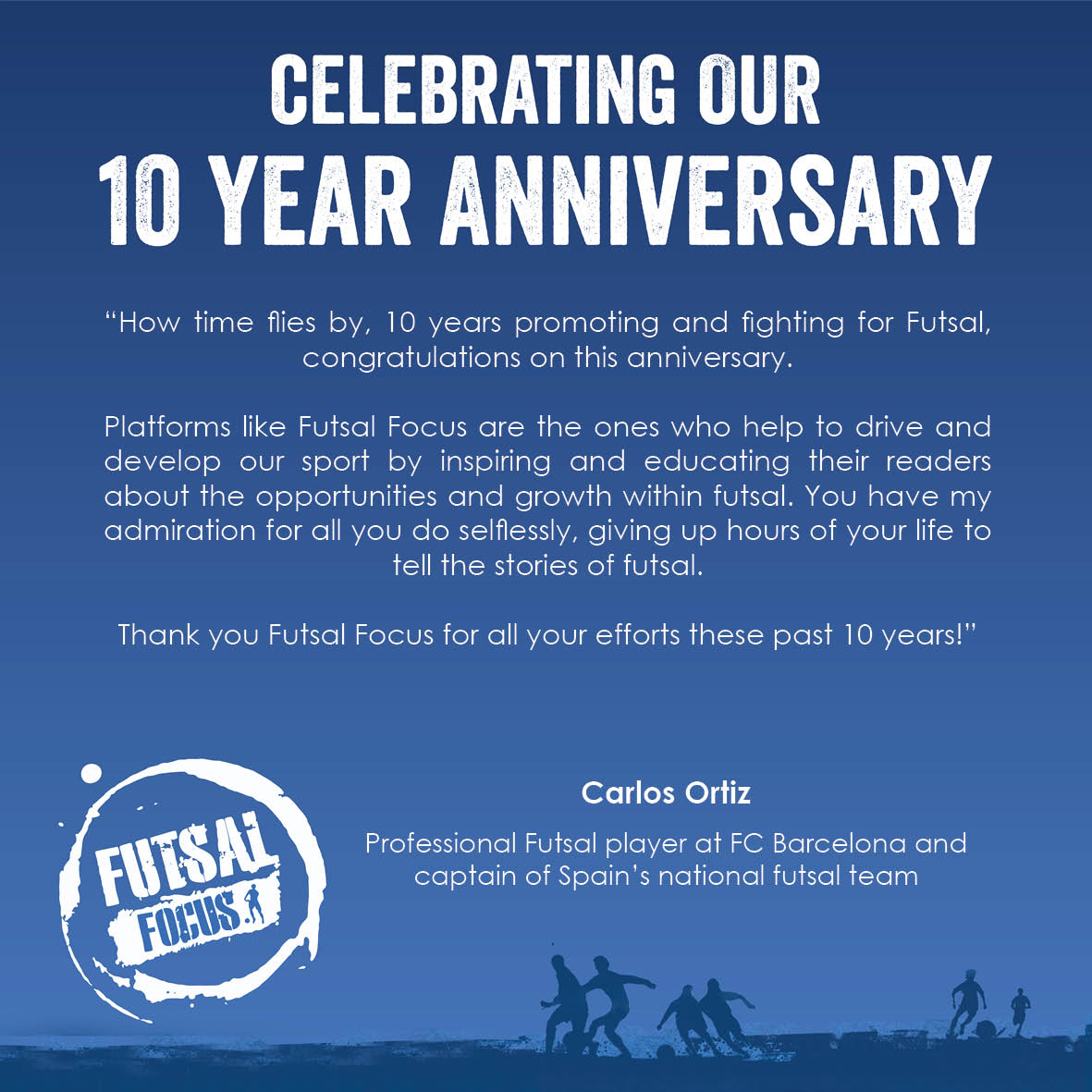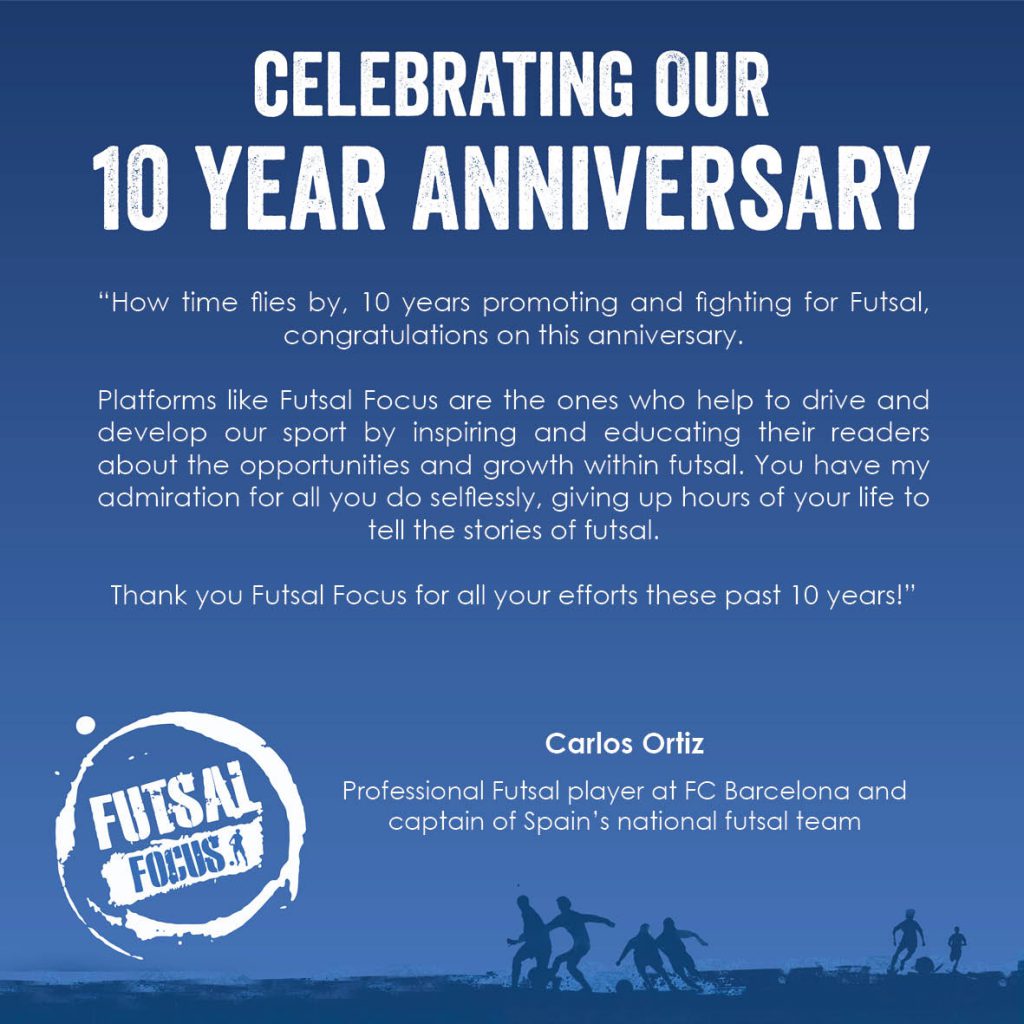 Thank you to everyone who provided me with their thoughts, I am grateful for your kindness and recognition of my passion and commitment to the promotion and development of futsal.
I would like to thank everyone who has collaborated with me and supported me over the past 10 years. There are too many to list but a big thank you must go to my family, and my close friends who have put up with me on this crazy but fantastic journey. Thank you also to those who have helped me by creating content such as André Caro (Futsal Focus' Futsal & Proud podcast host), Alejandro Méndez, Isaac Barrington, and Roberto Boi, and many others who have kindly written for me over the years. And, to the global futsal industry/ community, who have consistently assisted me with information, agreed to do interviews, and took part in my events. Your support will never be forgotten, and it will always be appreciated!
Futsal Focus
You can read more articles about global futsal by going to the top navigation bar or by clicking here
If you like this article and would like to keep updated on Futsal news, developments, etc then you can now follow Futsal Focus via Google News by following our page which will send you an alert as soon as we publish an article so please click here and follow us on Google.
You can also keep updated on Futsal news, developments, etc then please submit your email below in the Subscribe to Futsal Focus option.
Follow Futsal Focus by clicking on Facebook, Twitter, or Instagram or on the social media buttons on the website.