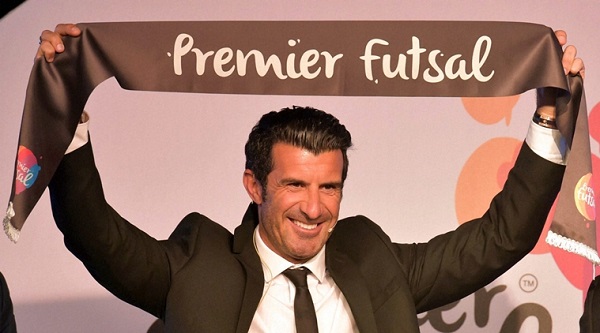 Estimated reading time:2 minutes, 18 seconds
Portugal football legend Luis Figo is in India to launch the country's first ever Futsal League in Mumbai on Tuesday called Premier Futsal.
The first ever Futsal league called Premier Futsal will feature eight city-based franchise teams. The 10-day tournament will be held in the country from July 15. Figo, who played with distinction for top Spanish sides Barcelona and Real Madrid, will be the president of the first-ever futsal league, started by Indian entrepreneurs under the entity Premier Futsal Management private limited, it was announced at a media conference in Mumbai.
The tournament is to bring together 56 top futsal players from 21 countries across the world with each team comprising three international players, one international marquee soccer player and one Indian player. Each squad would be made up of 12 players.
The league, in association with Futsal Association of India (associated to AMF), would launch a talent programme across eight cities to identify five regional players for each team. The eight cities/states having franchise outfits are: Delhi, Mumbai, Kolkata, Chennai, Bengaluru, Kochi, Hyderabad and Goa.
Figo, the 43-year-old former FIFA World Player of the Year, said that it was a new challenge for him and he looked forward to succeeding in it as he had done as a player.
"It's a new challenge and an adventure I have taken up which I hope to make as a success and that's why I said yes to this new project," he said at the press conference. "People love soccer and cricket out here. India has a huge population, a huge market and it offers a huge opportunity for doing sporting events with great success. I am doing something positive for the sport and the country and my experience as a soccer player will hopefully help me in this development," said Figo at the launch.
"Back in Portugal I played futsal extensively growing up as it instilled quick decision making, skills and close ball control," he added.
Balu Nayar, one of the Indian promoters of the league who was formerly with IMG that developed the highly successful Indian Premier League, said that the event "is a made, for TV product." The others who are involved in Premier Futsal are: Xavier Britto (Chairman), Dinesh Raj, Abhinandan Subramanian and Nityashree Subban.
If you like the information provided, you can read more articles on Global Futsal by going to the top bar navigation or click here
If you like this article and would like to keep updated on Futsal news, developments etc then please submit your email below in the Newsletter section or by clicking on the Subscribe to Futsal Focus option on the header.
Follow Futsal Focus by clicking on Facebook, Twitter or Instagram or on the social media buttons on the right sidebar.