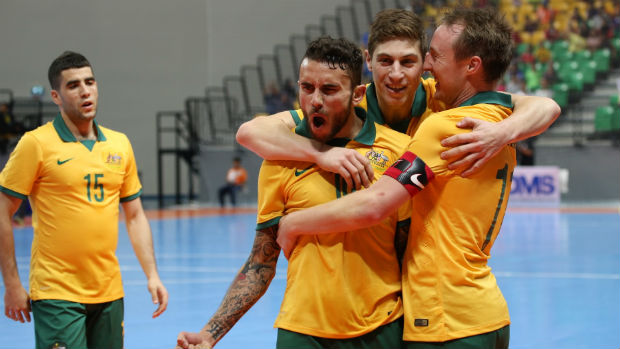 Estimated reading time:6 minutes, 34 seconds
For the first time since 2016 the Australian Men's Futsal team, the Futsalroos, will take to the pitch on Sunday the 13th of October 2019 in a friendly match against the Solomon Islands at Valentine Sports Park.
The fixture will be Australia's chance to witness the team in action before the squad departs to Vietnam for the 2019 Futsal Championships. They last competed in the 2016 Futsal World Cup in Colombia, where they were knocked out in the Group stage.
The match will be invaluable preparation heading into the AFF Futsal Championships, where they have to finish in the top 3 places to qualify for the 2020 AFC Futsal Championship, which in turn acts as a qualification for the 2020 FIFA Futsal World Cup.
Rising star
Included in the Futsalroos squad is a rising star with a Brazilian football pedigree through his dad Adriano, young gun Ethan De Melo may seem destined for on-court stardom. And although he admits his inclusion in the recent Futsalroo squad travelling to Vietnam next week for the AFF Futsal Championships came as a complete shock to him, it was little surprise to many pundits who have been observing the 16-year-old's rising talent for quite some time.
Still, it produced a magical moment for De Melo.
"I was driving home from an outdoor game and my mum (Claudia) got added to some WhatsApp group that had an article about the 2019 Futsalroos squad and we were looking through the names but didn't think much else of it," he began.
"Then later that night we got an email saying I was selected for the national train-on squad going to the AFF tournament [in Vietnam].
"It just felt so surreal… I was very excited but also anxious because I really didn't know what it all meant."
"We leave next week, we've already had 15-16 training sessions, and it still hasn't clicked in yet – maybe at the airport?"
'Take-off' is certainly the right metaphor to describe De Melo's Futsal journey.
The North Bondi teenager started playing proper competition with Sydney Futsal six years ago before hopping to second-division club Hakoah where his side dominated the 12-14 age groups and led to a natural step up to Premier League with Mascot Vipers as his grandfather was good friends with club president Zvi Ben David.
His 16 Boys team (coached by Ben David) romped to victory and De Melo was named player of the competition in his first top-flight season.
The next summer he had a familiar face at the helm with dad Adriano coaching 16s and Youth as they featured similar line-ups – the two sides lost one game between them on the way to dominated titles.
Then, in the middle of last summer's competition, the Vipers men's team fell short of players in a game against eventual champions Enfield and the youth side was asked for volunteers – De Melo raised his hand.
"I spent most of the game at the back versing Michael Kouta, and I think we won," he said. They did, a 5-3 upset.
"The game felt even faster than the junior competitions, more intense, and you have a lot less time on the ball.
"It showed me that at higher levels the speed and intelligence of the game continue to increase."
With the Mascot men's team currently on top of the ladder, De Melo pointed to Ben David's spirit as a driving force.
"Zvi's not your typical president," he said. "He cheers every team on, from the junior games to the seniors, always laughing until his blood pressure boils over and he can't even watch anymore.
"He's just a character that makes you happy to play and such a positive light for Futsal."
But a young De Melo wouldn't be wearing the green and gold Australian colours if it wasn't for his biggest influence – his dad.
Like many Brazilians, Adriano was born with a football in his crib and signed his first professional paying contract with Joacaba Futsal Club at the ripe age of just 13. He plied his trade against South America's best until packing his bags and moving to Australia in his late 20s so he could improve his English skills. First, he fell in love with the country and then encountered an even greater love, Claudia, and Brazil was suddenly in the rear-view mirror.
Outdoor and indoor tuition was instilled in De Melo from a young age, but it's clear where his passion lies.
"I do still play outdoor but, for me, Futsal has always been more enjoyable and exciting to play," he said.
"There's a misconceived notion that futsal and football are the same, just the size of the field is different, but I don't think so at all; I think the games are very different to play.
"In Futsal, you touch the ball a lot more and involves a lot more movement, quicker, more focused – you have to be ready all the time."
And you'd think with all of De Melo's success that he mightn't be used to losing, but again he sees it differently.
"Losing is something everyone endeavours not to do, but it's also a lot easier to be successful when you're surrounded by great players, a good coach and a positive organisation," he said.
"But some of my greatest lessons have come from losses; Dad always said that it's better to lose than win 10-0 because there's really nothing to gain from that."
It's sound advice that should hold him in good stead with the rest of his ambitions.
"Futsal is my main love, but I need to focus on my education first," De Melo said.
"In the future I'd like to travel to Brazil or Europe and see what the level is like there.
"[Futsalroo team-mate and mentor] Jarrod Basger's playing Futsal in England and actually coached me when I was 11.
"He gave me his Australian training jersey which didn't fit me then, but it does now and I wear it all the time, so it was special to be named in the squad with him."
De Melo was relishing the upcoming Futsal test and experiencing another culture, but it won't all be fun and games as he'll also be conducting an accelerated HSC Maths exam during the visit. Despite the various pressures, he's been made to feel super comfortable about being the team's junior member, and the only one still at school.
"The squad's been really welcoming and done everything they can to make feel part of them, from the players to coach Rob Varela who believed enough in me to put me in the squad as a 16-year-old," De Melo said.
The Futsalroos leave Sydney on October 16 for Ho Chi Minh City where they play warm-up games against two top Vietnam Futsal League outfits before the AFF Futsal Championships start on October 21. Australia's Group B opponents will be the host nation Vietnam, Malaysia, and Indonesia, with Group A comprising Thailand, Myanmar, Timor-Leste and Cambodia.
A top-three finish will secure a place at the 2020 AFC Futsal Championship held in Turkmenistan next February, and a chance to qualify for September's FIFA Futsal World Cup in Lithuania.
If you like the information provided, you can read more articles about International Futsal by going to the top navigation bar or click here
If you like this article and would like to keep updated on Futsal news, developments etc then please submit your email below in the Newsletter section or by clicking on the Subscribe to Futsal Focus option on the header.
Follow Futsal Focus by clicking on Facebook, Twitter or Instagram or on the social media buttons on the right sidebar.