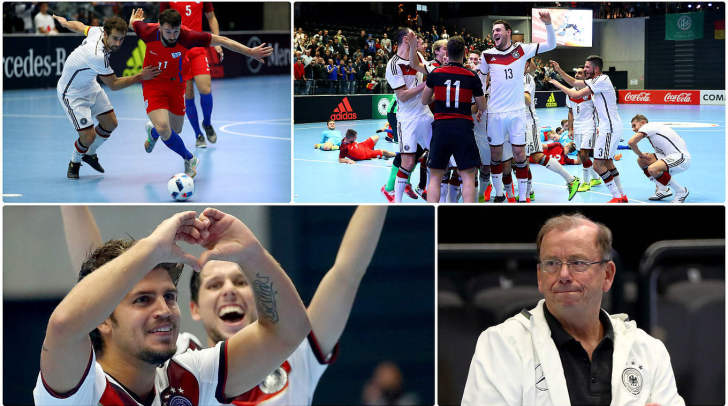 Estimated reading time:3 minutes, 10 seconds
Today, England will take on their German hosts for the second friendly match hoping to rectify their first match 5-3 loss.
The English fought back to level the match at 2-2 going into the second half but in the second half the German's took a commanding lead securing their first victory in an official international match. In today's game the English will look to learn from the first match and it will no doubt be another entertaining match to watch plus a proud day for Luke Ballinger who pulls on the England jersey for the 100th time. Germany's futsal head coach Paul Schomann warns the players not to be too confident. "We will have to keep improving if we want to beat England again. They will want to get revenge."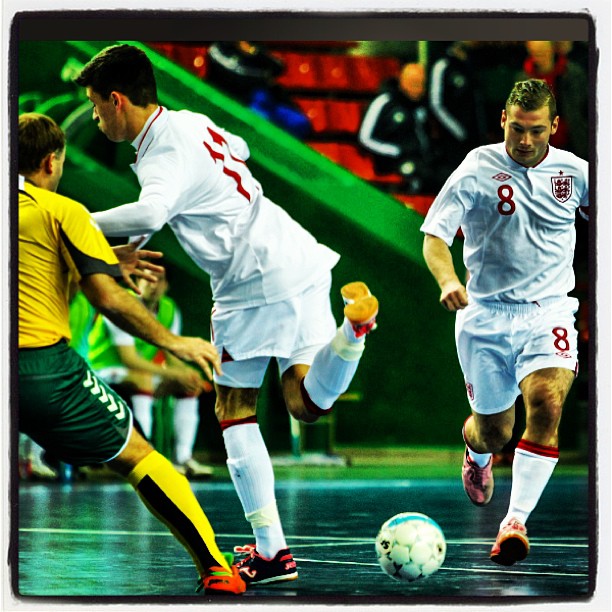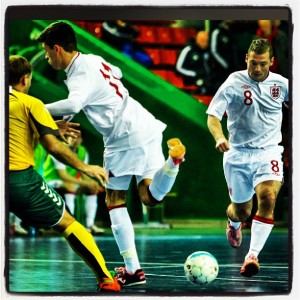 Tim Baumer, Christoph Rüschenpöhler and Daniel Majdancevic look likely to feature in tonight's match against England. "Some players who didn't play at the weekend are going to get their chance to play today," said Schomann. They face the 'Three Lions' at 18:00 CET and want to put on another good performance like they did on their debut.
Germany entering the international stage is a huge achievement for everyone at UEFA and across the Futsal world who have been encouraging the DFB to get involved for a number of years. Germany is a football power house and their backing for Futsal has been remarkable, the DFB already ruled that all future 5 a-side competitions organized by them at a grassroots level will be under Futsal rules in accordance with FIFA. Now that an international team is competing in the 2018 UEFA Futsal EURO qualifiers and the Hamburg Panthers have reached the elite round of the UEFA Futsal Cup, this progression to the elite round from the preliminary round is a great achievement and a first for any German club to get this far and all the above are impressive development steps. The club overcame opposition from Wales (Cardiff University), Norway (Sandefjord Fotball – they drew) and Moldova (FCA Classic Chisinau) in the preliminary round then in the main round from Bulgaria (FC Grand Pro Varna), Latvia (FK Nikars Riga – their only loss) and Sweden (IFK Göteborg Futsal). In the elite round they have been drawn in an extremely difficult and experienced group with holders Ugra Yugorsk (Russia), Araz Naxcivan (Azerbaijan) and Nacional Zagreb (Croatia), though a hard group to try an qualify from the experience will be of much benefit to all the players and coaching staff's development.
High Viewership
Germany's first match against England on the 30th October was a positive step forward, there are many nations, England included, who didn't launch their national team with live coverage, the same media interest, a sold out indoor arena and successful TV viewership.  Sport Business reported that the match recorded "high viewership ratings" than the German Hockey League (DEL) on German sports network Sport1 over the weekend, according to Alexander Krei of DWDL. The game between the Iserlohn Roosters and Dusseldorf EG attracted 170,000 viewers in the target demographic 14-49 whereas 400,000 watched German take on England live on Sport1 and the Inselparkhalle in Hamburg was sold out with an attendance of 2092 fans. The match's high viewership ratings also meant the fixturesgot impressive media coverage which you can watch here:
If you like the information provided, you can read more articles about International futsal by going to the top navigation bar or click here
If you like this article and would like to keep updated on Futsal news, developments, etc then please submit your email below in the Subscribe to Futsal Focus option.
Follow Futsal Focus by clicking on Facebook, Twitter or Instagram or on the social media buttons on the website.