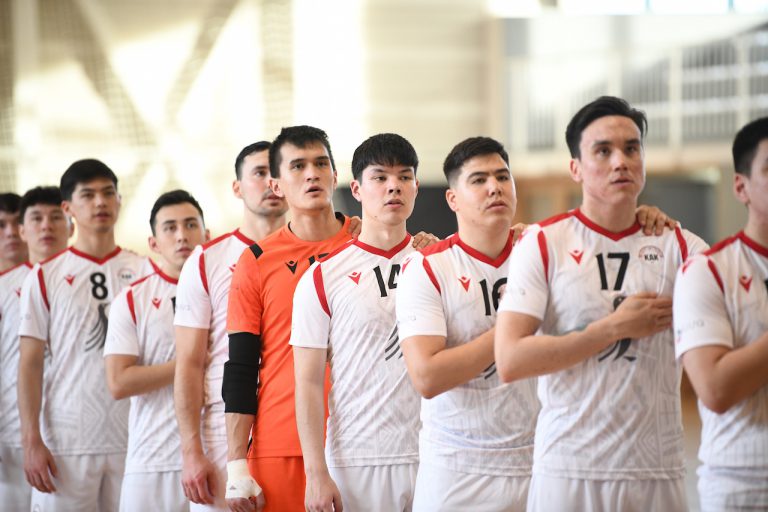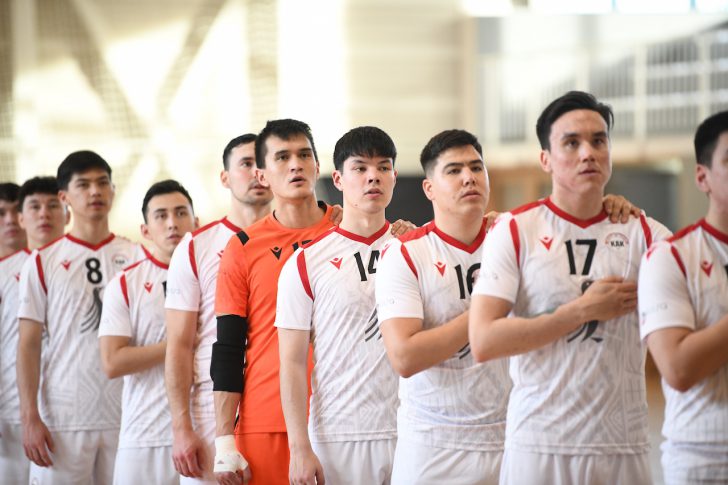 Estimated reading time:8 minutes, 13 seconds
Greenland is the largest island in the world, and 85% of its landscape is covered by ice. It has a population of only 56,000 people and futsal is one of the most popular sports in the territory.
Futsal arrived in Greenland in 2013. At that time, "everything was based on 1 vs 1 and the teams with one or two outstanding players were the ones who won the matches. Now, it is tactics and physical ability that counts and wins games". This is how the development of futsal in Greenland is described by Kaassannguaq Zeeb, a grassroots consultant and the head of futsal at the Greenland Football Association (KAK) and whom Futsal Focus contacted to learn more about the development of the sport in this territory.
Main picture source: Futsal Week – The Greenland National Team players before a match at the Futsal Week January Cup
The same feeling is explained to us by René Olsen, Greenland's National Futsal Team head coach, "the growth of our futsal is reflected in our results abroad. It has improved a lot in recent years, and I think a part of this is due to more experience in international matches". The news coming from Greenland from their representatives is good, but even better is what is expected for the future. "We continue working on increasing the number of futsal coaches and creating more local tournaments and matches. This is our way forward," says René.
The last point that René mentions is one of the most important development steps, increasing the number of competitions. Currently, in Greenland, only one championship is played, which only lasts for one week. "When this tournament ends, you have to wait a whole year to play again," says Kaassannguaq. This is due to the adversities that this territory presents. Greenland extends over more than 2 million km2, leaving much of the territory covered by ice throughout the year. To further complicate the situation, there are no highways connecting the cities by land. There are only two options if you want to move from one city to another, either by boat or by plane. The first option is complicated due to the time it takes to sail, and the second because of how expensive it is.
Despite these conditions, they have managed to get around 30 clubs to participate in the KAK Futsal GM every year. This tournament is also divided into different male and female categories: U15, U18, and Senior. Over the years, it has grown in popularity, thanks in part to the competition being broadcast on the Greenlandic national television KNR. The last edition, held in 2022 was followed by 20,000 people. "Our tournament is very popular. A lot of local people follow it, including people from the United States and the United Kingdom," says Kaassannguaq. In this edition, B-67 was the team who lifted the men's title after beating N-48 in extra time.
In that final, Lars Erik, from N-48, was the best futsal player in Greenland in 2022 and the captain of the Greenland National Team who talks with us about the superiority of the B-67 team, "it is the biggest team in Nuuk", the capital of Greenland and where most of the futsal teams are based. In addition, the captain says that B-67 is the team that "has had the greatest growth in recent years thanks to the active work of its board of directors and coaches, in addition to the fact that it is the only club that cooperates with other European clubs."
One of the clubs it collaborates with is Futsal Gentofte, the current champions of the Danish league and the representative team of Denmark in the current edition of the UEFA Futsal Champions League. Two Greenlanders, Niklas Thorleifsen and William Gantzhorn, currently play there. The former is recovering from a long knee injury and the latter has recently been called up by the Danish National Team. William, 19, has followed in the footsteps of Frederik Funch, the first Greenlander to play for the Danish National Team. Now, the young man from Nuuk has become the second Greenlander to do so after the call from Nikolaj Klein for the preparatory camp for the World Cup qualifying matches. Although in the end he was not called up for the matches, his countryman Lars Erik says he has it all, "good at shooting, dribbling, technical, smart, and he is fast".
Playing for the National Team of another nation is the highest aspiration for any Greenlandic players. Greenland is not an independent country, but rather is a constituent nation of the Kingdom of Denmark. This condition prevents them from joining international football federations such as FIFA or UEFA despite having a soccer federation (KAK) and a National Team like any other country. However, not being independent, they are not allowed to play in official competitions. This is a clear impediment to their development, "these types of competitions and matches are the ones that really give you experience and allow you to grow. This also makes it difficult for us in the KAK to develop our plans for the future as we don't know which tournaments we will play in", says Kaassannguaq. More forceful is Lars Erik, "I can't accept it, I feel neglected. I would like to represent my National Team more like the rest of the nations do. For example, in handball, our National Team plays in the World Cup qualification. I think we should be able to do so as well".
The only solution for the Greenland team to reduce the consequences of this fact is to play in open tournaments such as the Nordic Futsal Cup or the Futsal Week in which they participated at the beginning of the year and where they finished fourth. René Olsen sees ​​this result positively, "the result of the tournament in Porec, Croatia was what we were looking for. Although anything can happen in futsal we aim for realistic results when facing opponents of this caliber like Hungary, Bosnia, and Romania. Our hope was to show strong defense and some good opportunities in our attack. This was, in our opinion, more or less the case, in all games except against Hungary where we felt the physical load of playing 4 days in a row. The results reflect the hard work we do despite not being able to participate in official competitions, although this may not last much longer".
Kaassannguaq Zeeb confirms that the KAK is working to end this situation as soon as possible, "we are in the preparation phase to enter CONCACAF. We are working on our application, I am not sure when it will be sent, approximately this year, hopefully, but it's still in process". Although the road will not be easy, "the way forward towards membership is very hard for me to see – too much politics for me to do so", says René. For his part, Lars is somewhat more positive and believes that "in the future Greenland will participate in official international futsal competitions. I still have hope for that to happen."
Greenlandic women's futsal on the rise
Greenland can also boast of having a good level of women's futsal. It is one of the few countries where the women's branch arrived at the same time as the men's branch, both in 2013. Since then, it has also been in continuous growth, currently having a total of seven clubs and it is expected that in the coming years, the development will be even bigger: "There are a large number of young girls playing futsal and that will see the number of women's clubs grow in the coming years," says Kaassannguaq. In addition, there is also a women's National Team, but whose activity is limited due to the lack of sponsors that provide financial aid, something vital in a place like Greenland where financing something like this is very expensive due to travel, etc.
2023 marks the 10th anniversary of the arrival of futsal in Greenland. 10 years in which KAK has managed to overcome all the difficulties posed by a place like Greenland to develop futsal year after year, even surpassing European countries. The future seems to be even more promising, but it will also depend on their application to CONCACAF and to be able to participate in official international competitions, a development that is key for the growth of futsal in Greenland.
Futsal Focus thanks René Olsen, Kaassannguaq Zeeb, and Lars Erik for accepting our interview invitation and contributing to this article, giving us and our allowing the opportunity to learn more about Greenlandic futsal.
Author of the article
Alejandro Méndez, born in Cartagena (Spain), is a journalism student at the University of Murcia. Passionate about futsal, he collaborates with different local, national, and international media about Futsal such as Futsal Focus, Efesista.es, Futsal Corner, and Cadena Ser Cartagena.
Futsal Focus
You can read more articles about global futsal by going to the top navigation bar or by clicking here
If you like this article and would like to keep updated on Futsal news, developments, etc then you can now follow Futsal Focus via Google News by following our page which will send you an alert as soon as we publish an article so please click here and follow us on Google.
You can also keep updated on Futsal news, developments, etc then please submit your email below in the Subscribe to Futsal Focus option.
Follow Futsal Focus by clicking on Facebook, Twitter, or Instagram or on the social media buttons on the website.