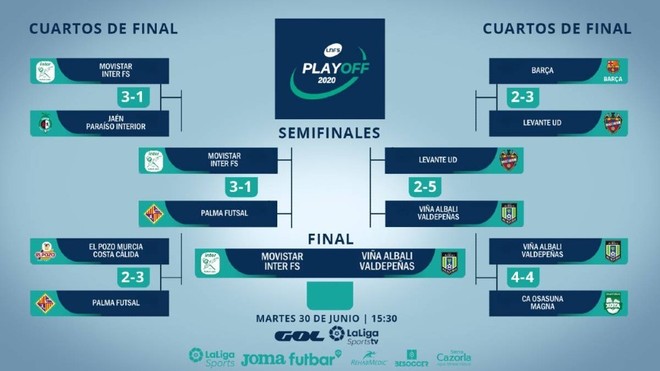 Estimated reading time:2 minutes, 19 seconds
For Movistar Inter, being in a final is almost common and even mandatory for the players. Today at 2.30 pm, Movistar Inter will play their sixth title play-off final out of the last seven. For Viña Albali Valdepeñas, a year ago this achievement, to reach the first division play-off final was unthinkable. Now they will play their second title match in just over three months after playing in the Spanish Cup.
Whoever wins today, this League Final will be historic for many reasons such as the suspension of the league due to the coronavirus, for the express format of the playoffs, and for what the title means for the winner. If it is Movistar Inter, it will be the finishing touch to a winning cycle, with the farewell of two historical figures such as Ortiz, who today celebrates his 496th game in the team, or Ricardinho, who has been left out in the qualifying rounds of the title, in addition to Humberto, Bebe….. In September a new chapter begins.
If the winner is Viña Albali Valdepeñas, the underdog from a town of just 30,000 to the top, and with a player, Rafael Rato, who was a crucial part of that Movistar Inter champions success in recent years. The Brazilian wants to remove two thorns from that cup final defeat and not being able to play due to injury. "It hurt a lot to not be able to compete in the Cup and now I have another opportunity from the inside as I like. I never imagined playing a final in the first year here and against my former teammates, where I had been for many years, where I spent many wonderful years. Today will be a great match, and whatever happens, futsal still wins ", recognizes Rafael.
Europe is on the horizon as the title will give the winner the ticket to UEFA Futsal Champions League. The loser must wait until October and see if either Barça or ElPozo win the Final Four which they may not.
Movistar Inter – Viña Albali Valdepeñas – where to watch the final – Movistar Inter and Viña Albali Valdepeñas starts at 2:30 p.m. (UK time) at the José María Martín Carpena Sports Palace. You can watch it on GOL television channel and LaLigaSportsTV app.
Yesterday, the second division promotional play-off took place and Besoccer UMA Antequera became the fourth Andalusian team who will compete in the First Division in 2020-21. Besoccer UMA Antequera returns to the First Division, the Malaga team, second in the league won the final against Elche 4-3, and will play for the third time in the top flight after having done so in 2015-16 and 2018-19. The club joins Real Betis who won the second division.