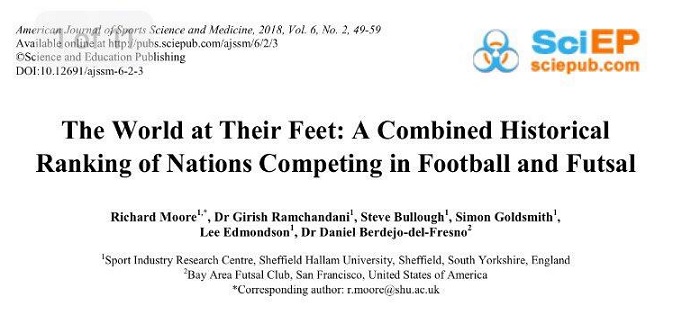 Estimated reading time:1 minute, 49 seconds
"The World at their Feet: A Combined Historical Ranking of Nations Competing in Football and Futsal" a study just published in the American Journal of Sports Science and Medicine @sciepub by Sheffield Hallam University & Bay Area Futsal Club researchers.
Some elite football players (e.g. Cristiano Ronaldo, Lionel Messi, Neymar and Andres Iniesta) endorse the benefits of futsal and express how it has helped them to develop as football players. This has contributed to an increase in futsal development activity, in some countries, leading to interest into the relationship between the two sports. A lack of research exists to explain the developmental relationship between the two sports, aside from anecdotal evidence from players, coaches and media commentators, some of whom acclaim futsal for its role in developing elite footballers. This study investigates the relationship which exists between the two sports, by providing the first ever combined historical rank of nations competing in futsal and football. The results highlight the most successful nations as well as a 'select group' that appear to be in an advantageous position to develop in future. It also provides indicative evidence as to the relationship between the two sports and recommends that both sports may be able to benefit from a more collaborative approach to development.
If you like the information provided in the research paper below, you can read more Research papers by going to the top bar navigation or click here
If you like this piece of research and would like to keep updated on Futsal news, research, developments etc then please submit your email below in the Newsletter section or by clicking on the Subscribe to Futsal Focus option on the header.
Follow Futsal Focus by clicking on Facebook, Twitter or Instagram or on the social media buttons on the right sidebar.